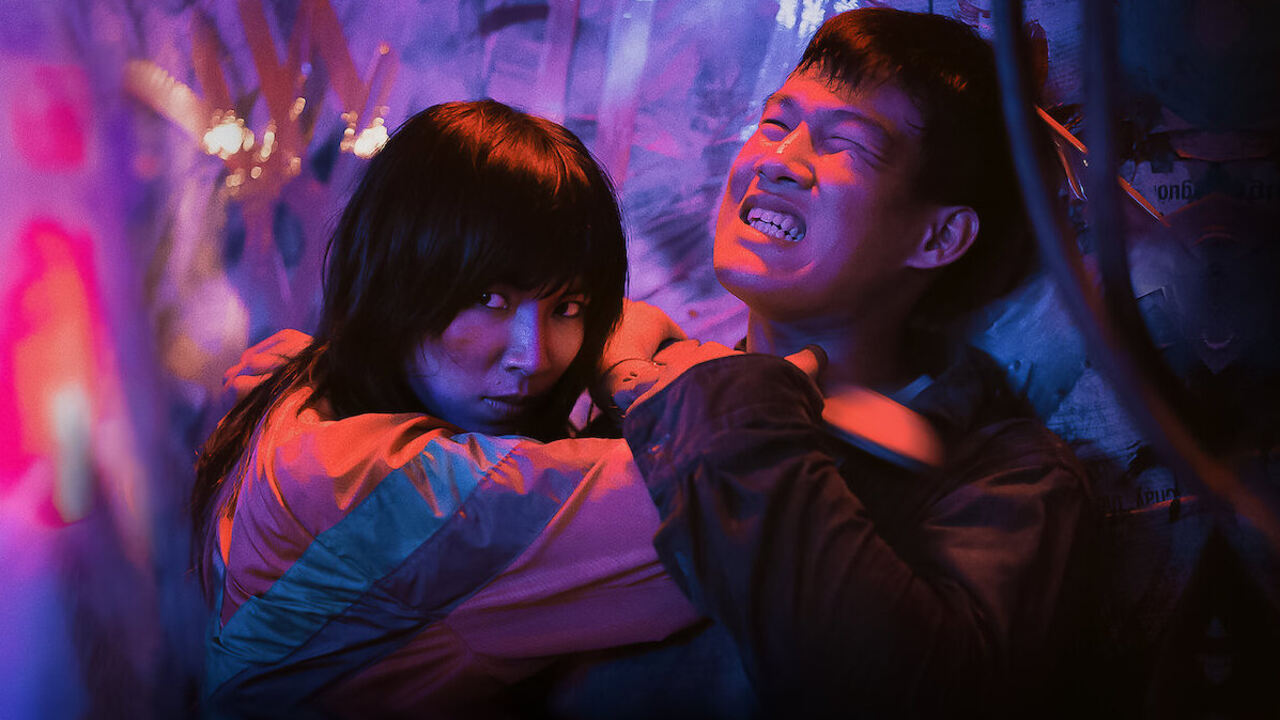 Furies directed by Veronica Ngo is a Netflix Original film from Vietnam. In fact, it happens to be the first of its kind since there have been no other Netflix originals from Vietnam before this. It has a runtime of 1 hour and 50 minutes and is an action/crime film.

I'd like to give a disclaimer that this film deals with a lot of sensitive topics such as rape, violence, drugs, etc, and depicts them in a very gratuitous manner. Hence be advised to watch this at your own discretion.

The film revolves around Bi who is a victim of sexual assault and roams the streets of Vietnam alone. She suffers from PTSD because of a rape attempt that led to the death of her mother. It is very tragic and the sequence makes you uncomfortable instantly from the beginning. As she comes of age, during a terrible encounter with some ghastly men she meets Jacqueline who saves her by kicking those men to the curb.

Jacqueline or Aunt Lin then takes Bi to her hideout where she houses and trains two other girls. Thanh and Hong. Their purpose? To defeat the big 4, the 4 members of a gang that controls the turf. Mainly the sex-crazed maniac Hai. The gang is involved in the torture, murder, and trafficking of countless women, and with the help of the three girls that she's trained, Aunt Lin intends to stop it.

I didn't enjoy this film. Majorly because I feel like it was too over the top for my taste. The stylistic choices in the film with the nightlife presented at Ho Chi Minh City, the flashy clothes, and the color palette though cool for a bit come off as so excessive. Everything is drenched in this pink and reddish neon. I know it isn't fair to rank it lower for that but then there are films that have used a setting like this better without it feeling excessive.

It has all the recipe for a good fighting film but it still manages to make me feel just exhausted and irritated. I have to say that the fighting is definitely very cool in the film, a lot of sequences have really swift and punchy fight choreography. Every landing feels like it has weight to it and that is very impressive. Where the film lacks though is everything else. It has a storyline I couldn't care much about because of how generic it felt, the same goes for the leads and the villain. Nothing felt that original or worth investing emotions in.

The bond shared by the three lead characters is a very big plot point but then I felt that it didn't even work that well. The acting is mostly recent except for the main villain Hai who is very over the top and cringe-worthy. The ending is supposedly a twist but then I genuinely saw it coming from the longest distance and felt no surprise at all.

There are a lot of impressive sequences in the film, and a lot of the time the characters do look quite interesting. However, none of it mattered because I just couldn't seem to care much about the characters. The music was abrupt and a mixed bag. Sometimes it was good, other times it wasn't. There's some bizarrely unnecessary VFX and CGI in the funny chase sequences.

The film also takes itself very seriously, which reduces the entertainment in it even further. Everything is supposed to be dark and gritty, but it just feels serviceable at best.

I didn't feel that impressed by the film and felt that it was a case of style over substance more than anything else. I'd say if you are into ensemble films where girls kick ass and look good while doing so, this could be your film. I'd pass on this one though.

Final Score – [5/10]
Reviewed by - Aayush Chaurasia
Follow @AayushC44 on Twitter
Publisher at Midgard Times