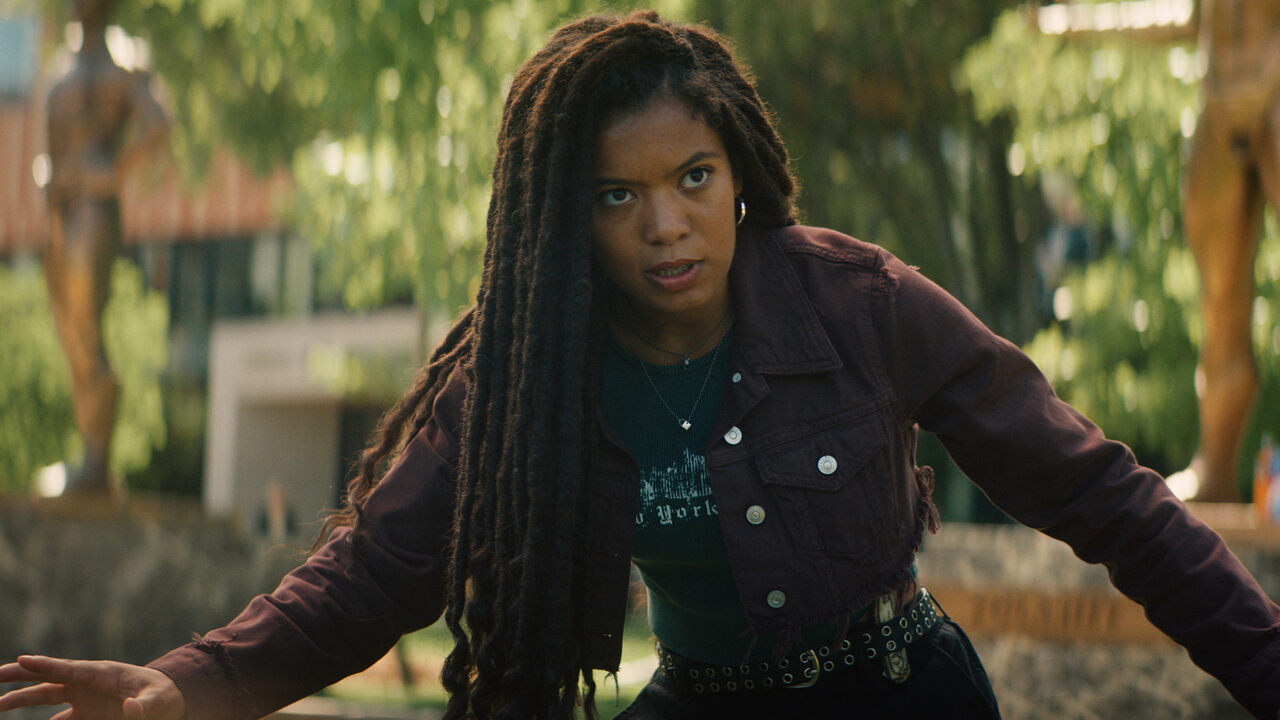 In the season finale, titled "Guardians of Godolkin", the campus is in total chaos as Cate (Maddie Phillips) and Sam (Asa Germann) free the people being held in The Woods, a secret lab where experiments are conducted on supes. They unleash a wave of violence and destruction, hoping to expose the truth and get revenge on those who harmed them and their friends.

Meanwhile, Marie (Jaz Sinclair), Andre (Chance Perdomo), Emma (Lizze Broadway), and Jordan (London Thor and Derek Luh) try to stop them and save the innocent bystanders. Ashley (Colby Minifie), the stressed-out PR manager of Vought, arrives on the scene and offers a spot in The Seven, the elite superhero team, to whoever can end the rampage. The episode culminates in a bloody showdown between Cate and Marie, who have very different views on what it means to be a Guardian of Godolkin.

The episode is packed with action, drama, humor, and surprises. It delivers on the promise of the series to show a different perspective on the world of The Boys, focusing on the younger generation of supes who are still figuring out who they are and what they stand for. The episode also ties in nicely with The Boys Season 4, setting up some potential connections and conflicts for the future.

One of the highlights of the episode is the character development of Sam, who goes from being a timid and traumatized victim to a confident and ruthless leader. He also has some emotional moments with Emma, who tries to reason with him and remind him of who he used to be.

The humor and sarcasm of Ashley also provide some comic relief in the midst of the chaos. She constantly berates and insults everyone around her, especially Tek Knight, whom she calls a "washed-up has-been".

One of the most surprising and shocking moments in the Gen V season 1 finale was the cameo appearance of Homelander, the leader of The Seven and the most powerful and feared supe in the world. Homelander shows up at the end of the episode to intervene in the bloody battle between Cate and Marie, two of the main characters of Gen V.

He used his laser eyes to blast Marie, who had just severed Cate's arm with her blood crystallization power. It also sets up a possible connection and conflict between Gen V and The Boys, the main series where Homelander is the main antagonist. Homelander's cameo was a clever way to tie in Gen V with The Boys and to create more excitement and anticipation for the next seasons of both shows.

However, not everything is perfect in this episode. There are some flaws that I noticed and disliked. One of them is the lack of explanation for why some supes turned rogue after being freed from The Woods. It is unclear if they were brainwashed, infected, or simply angry. It would have been nice to see more backstory and motivation for them, rather than just having them act as mindless killers.

Another flaw is the underutilization of some characters, such as Emma, Jordan, Dean Shetty (Shelley Conn), Dr. Cardosa (Marco Pigossi), and Professor Brink (Clancy Brown). They either had very little screen time or were killed off too quickly. They deserved more development and closure for their roles in the story.

The episode also made some shocking revelations, such as Marie's ability to control blood. In some scenes, she seems to be able to manipulate any blood around her, even if it is not hers or from someone she has touched. In other scenes, she seems to need physical contact or a blood sample to use her power. And she is not killed by Homelander's powerful laser attack which cuts through rocks like butter! This shows how powerful she is and how important she will be in the next The Boys season.

In conclusion, Gen V Episode 8 is a thrilling and satisfying end to a gripping spinoff series. It delivers on the action, drama, humor, and surprises that fans of The Boys expect and love. It also leaves enough room for more stories and adventures in Season 2. We highly recommend watching Gen V if you are a fan of The Boys or of superhero shows in general. You will not be disappointed.

Final Score- [8/10]