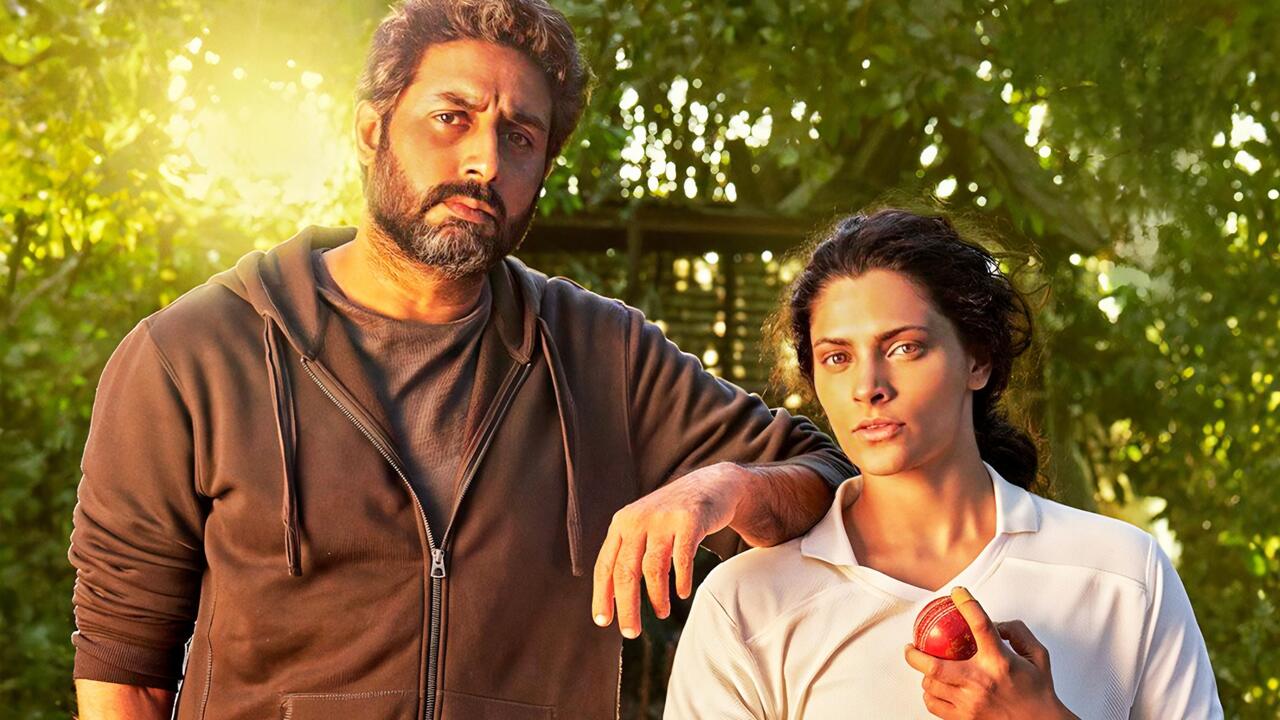 Ghoomer starts with two boys standing near the women's cricket playground. They were sexualizing them while these girls were busy playing cricket. Anina (played by Saiyami Kher) hits a sixer which hits on one of them's faces. The start of the film is powerful as it shows that Anina knew how to give a befitting reply.

She is dedicated to her game and likes to study physics as it allows her to apply science to the game. Angad Bedi has played the role of Jeet, Anina's lover. He cheers Anina and is like her shadow. Whenever she comes after finishing practice, she drops off her cricket kit and Jeet picks it up and goes after her. They have been lovers since childhood.

Anina gets selected in the Indian Cricket Team for the England tour but Paddy (played by Abhishek Bachchan) wasn't happy with it. He is an ex-cricketer who no one respects. While Anina's dad was busy calling everyone and telling them that his daughter has been selected for the team, the grandmother said, "Ye chacha, bhua, foofa ki izzat rkhne k liye kahin India ko sharminda na krde". Good dialogue delivery by Shabana Azmi makes this film fun to watch.

One day Anina lost her right hand and that incident changed everything for her. She wasn't the same bubbly girl but the depressed one who likes to keep herself locked in the room just so that she doesn't have to face the world. Emotional and heartbreaking scenes have been depicted perfectly by Saiyami Kher.

Paddy initially was against the idea of Anina playing in the team, but something changed inside him and he put his best efforts into this girl. Paddy was her only hope and the best person who could uplift her from this situation. Another fabulous line is "Peeche mud kr apni chaap dekh kr khush wo hota h jo aage kuch kr nhi skta".

I just have one complaint with R Balki and that is why did he have to include that revelation in the last ten minutes of the script. The movie was and would have been fine without it. I was enjoying the movie until that scene came as it changed the way I looked at Abhishek Bachchan's character.

When Anina came to the ground and showed her ghoomer tactic, even the crowd did ghoomer with her. It was as if the crowd was cheering for the hard work she did. People might think that how is this possible in reality that a player with just one hand will be allowed to play international cricket?

Ghoomer is a motivational film and it proves that if you have will then anything is possible. R Balki had a very clear concept in his mind and thus the beautiful representation of this young girl Anina. Saiyami Kher has done a fabulous job as Anina and after watching her performance, no other actress comes to mind who could have pulled the role better than her. Her hard work and dedication to the film is evident and the actress has miles more to go.

Abhishek Bachchan as Paddy is a mysterious character with many layers. His failure to continue playing in the Indian Cricket Team brought sorrow in his life hence, the drinking habit. However, if we see his nature like the good deeds he did he seems like a simple character. Paddy's character has been intricately woven and there is both darkness and light in him. I am amazed by his character because, till the last minute, you don't know what lies underneath that thick skin.

Junior Bachchan has won the masses with his portrayal of Paddy. The dialogues given to his character had a variety as sometimes he can be sarcastic, but other times there's no one more serious. Just like his character, his dialogues also had their phases. He might have said very bitter things to Anina, but ultimately they were meant to prove as a motivation. If he hadn't stepped forward to help her, she might have been the same Anina who liked to stay locked up in her room and her name wouldn't have been passed down to the history.

The guest appearance by Amitabh Bachchan in the game Anina has played will make the audience smile. The thing to look out for in Ghoomer is the plot, dialogues, and emotions. Don't expect lavish sets or good costumes when you have been given quality content. I didn't walk in with expectations when I started watching Ghoomer, and the movie hit me with a surprise.

Watch Ghoomer with your family as it is perfect for a family outing. You'll like the way Anina's family supported her throughout her journey and her biggest supporter was her grandmother (played by Shabana Azmi). The positivity her grandmother brought to the screen and in her life is unmatched. She would sit in the crowd with page and pen and record her runs or the wicket she would take. The old woman was analyzing Anina's performance and making healthy shakes to boost her performance.

Final Score – [9/10]
Reviewed by - Riya Singh
Follow @_riyasinghhh_ on Twitter
Publisher at Midgard Times