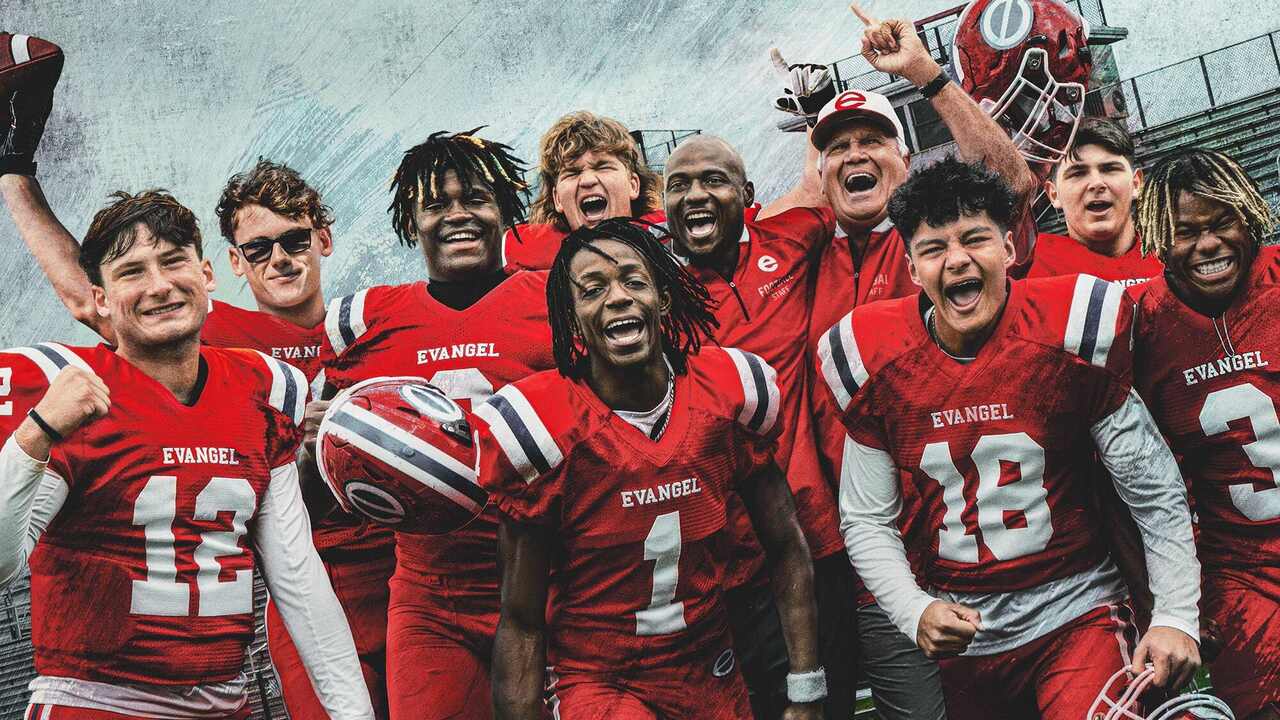 Most of the documentaries that I get to review turn out to be bland, lifeless, and unexciting. Every time I see a bad documentary film/series, I wonder if many filmmakers think that this genre is all about pointing the camera at the talking heads and mixing it with carefully selected and unimaginatively assembled footage. There are many hacks out there for whom film-making seems equal to a chore that needs to be completed in order to receive money. Since their eyes are on the cash, their shows/films look clumsy. If the act of watching such productions feels tedious, I can only imagine how mechanically they must have been shot and edited.

God. Family. Football. is one of those documentaries that uses the medium as a machine to dump information. It's about a high school football coach named Denny Duron and his mission to lead the football program he founded at Evangel Christian Academy back to national prominence. The academy, winner of 29 District Championships, 14 State Championships, and 1 National Title, had its worst season in 2020, scoring 0-9. Hence, Duron came out of his 30-year retirement to lead the football program.

According to the press material, executive producer Russell Wilson was inspired by "Duron's faith-first approach to the game." The coach's formula for success is "God first, family second, and football third." The docuseries, however, doesn't follow this chronology. Its formula is "Football first, family second, god third." The documentary prioritizes and gets high whenever it shows us the football matches. Not every game is shot with vigor, though. God. Family. Football. remains content with what exists on the surface. It takes a cursory glance at its subject and merely records the ongoing events. The docuseries never displays any sense of excitement or curiosity. It's so passive it becomes uninvolving.

We learn about the personal lives of the players when we are not witnessing the matches. Perhaps "learn" is inappropriate, given how the docuseries reduces familial matters to mere footnotes. One of the players met his dad after many years, and the effect of his absence is presented through a disposable line like "I saw children in my class had both their parents and used to think where my father is" or something. After winning a match, Rodrigo "Ro" Ballesteros calls his mother, but the conversation is heavily truncated. God. Family. Football. is only interested in telling us how many matches Evangel Christian Academy has lost or won and how they prepare themselves for the game. This aspect consists of banal moments like pep talks and training sessions. Even these scenes are devoid of thrills or inspiration.

While watching God. Family. Football., I kept thinking about Surf Girls Hawai'i. Both shows are about players who sometimes lose important matches/tournaments when they are close to reaching the next level. Their failure is packaged as a motivation that teaches them - and the audience - that you should not let defeat become an obstacle preventing you from reaching your target. Surf Girls Hawai'i beautifully delivered this message and had surfers who exuded charm and friendliness. Their friendship was strong and palpable. God. Family. Football fails to establish a genuine sense of camaraderie between the players. They refer to each other as brothers, but their companionship has traces of artificiality. The docuseries desperately wants to present this team as the epitome of togetherness. There is a hint of tension between them when someone complains about how Peyton and Parker Fulgham only pass the ball to one another, but it's dropped as soon as it's mentioned. The show doesn't allow ugliness to stay on the screen.

When a sportsman becomes unconscious, everybody prays and points their hands toward the ambulance. The series uses this incident as a cliffhanger (it's not revealed what precisely happened to him), further proving that it merely wants to tell a rigidly controlled and planned-out story instead of sincerely exploring the vulnerabilities of the people in the documentary.

Final Score- [4/10]
Reviewed by - Vikas Yadav
Follow @vikasonorous on Twitter
Publisher at Midgard Times
Premiere Date: September 1, 2023, on Amazon Freevee