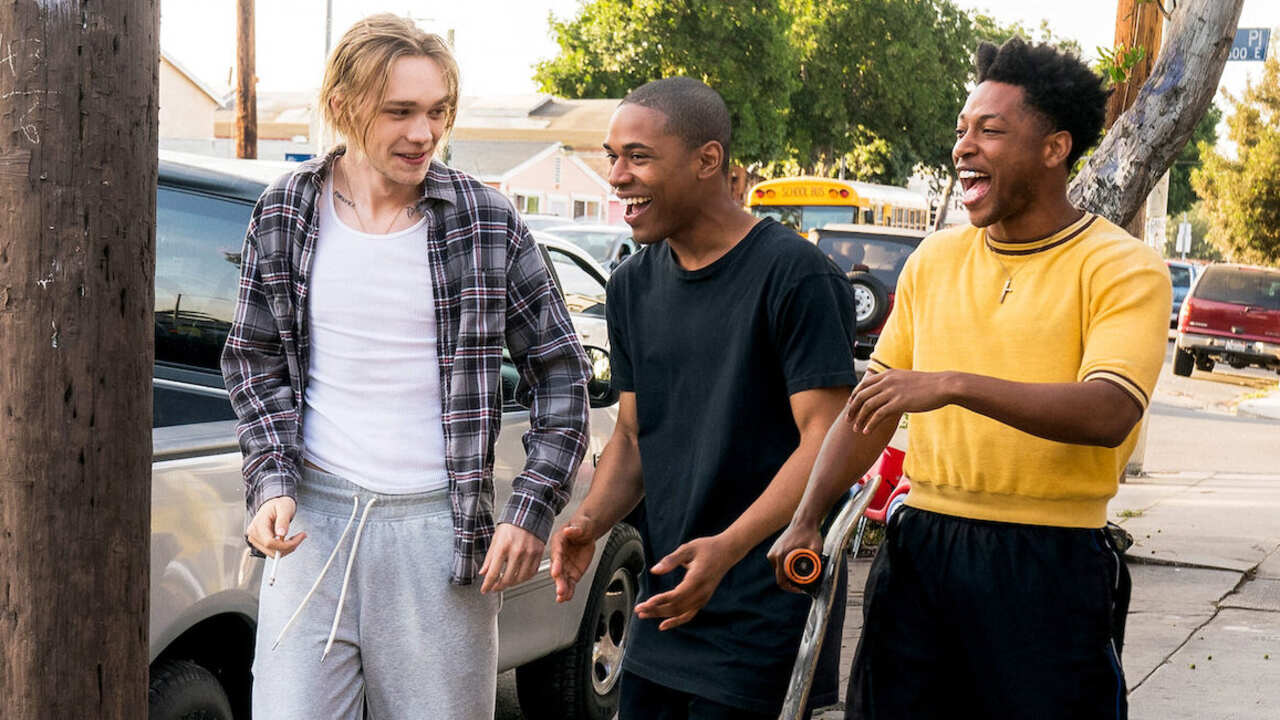 Gully is a 2019 movie available on Netflix. The film runs for about 1 hour and 25 minutes and covers some social issues as one of its major genres. Three teens named Jesse (played by Kelvin Harrison), Calvin (Jacob Lattimore), and Nicky (Charlie Plummer) have had traumatic childhoods and a messed up teenage life. These three reach a breaking point and goes on a nihilistic rampage in the modernized world of Los Angeles.

The three boys have problems of their own be it their messed life or families. Nicky has issues with his mother (played by Amber Heard) and his pregnant girlfriend, Jesse doesn't want live with his abusive father, Calvin has issues with his mental health and also deals with his mother who pushes him to take medicines all the time. Beyond this, the boys also take drugs, skip school, and have no hope for the future.

The film's storyline is certainly not everyone's cup of tea. Even though it does cover some important concepts happening in the world, the way the makers have aligned everything is kind of messy, and the film looks like it is all over the place.

Since the film focuses majorly on several characters there are a lot of plotlines and subplots which add to the messiness. Many unnecessary characters and plotlines are brought up, and it does not add any substance to the film and only decreases the will to continue with the movie. Even though the actors have done a pleasantly decent job, it does not add on since the story is not catchy.

Greg is another character that we will see a lot in the film other than the main three boys. He has just been released from prison and is trying to live a clean life and make an honest living, unlike his past. As we proceed with the film, we are also given insights into the lives of the guardians of these boys which might come as surprise to the audience, but it doesn't increase the value of the film. Amber Heard who plays the role of Nicky's mother, turns out to be a drug addict, but then she receives very little screen time, therefore, there isn't much time given for the development of her character.

The movie is loud with its dialogue. There is a lot of shouting happening, and the environment is not peaceful. And this is might become another major reason for a majority to not enjoy this movie. Even though the film had a chance to do amazingly well with all the good concepts it covers it fails in doing so majorly because of how the concepts are executed. If the film had been put together it would have been a good watch since it shows how traumatic experiences can affect children on large scale. It also has covered some areas which are usually avoided by the media especially when it is concerning the African American youth, but everything goes in vain because of how the story has been delivered.

Even though the film has all these beautiful messages it might not be a good watch for all the viewers. Gully is one of those films which requires a mindset that can ignore all the major flaws this film has while it has tried to bring forth these ideas. Only give this movie a try if you are capable of handling a film like this because otherwise, this film might not be enjoyable at any point.

Final Score – [5/10]
Reviewed by - Poornima Balsu
Follow @BalsuPoornima on Twitter
Publisher at Midgard Times