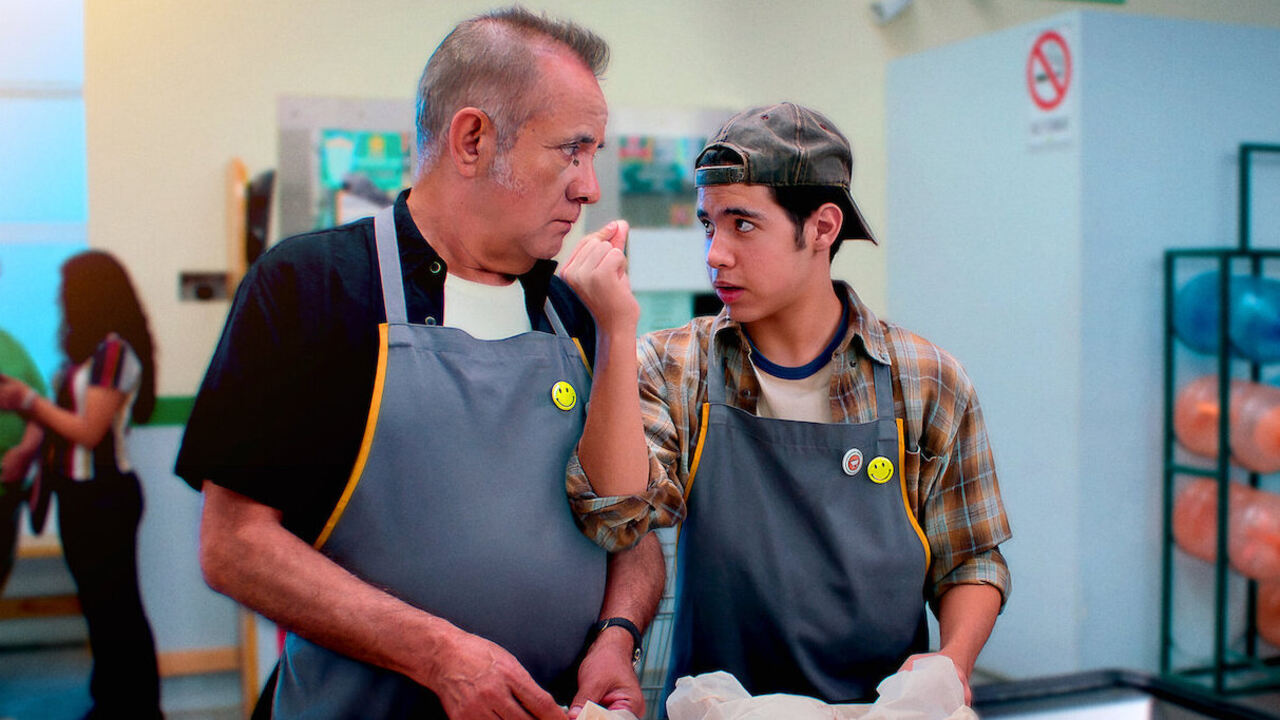 Have a nice day! begins with three old men sitting in a barber shop, chatting about women, and other issues of old age. The audience is then taken to Enrique's home where he can be seen sitting and reading an invitation from the Universal Musicals for attending a party in Mexico.

Enrique needs money to repair his car and take a trip to Mexico. For the same, he joins a supermarket where he meets Picho and Amanda. The old man is in dire need of earning money and hence starts stealing things from the stock. Picho doesn't like him and one day he spots him stealing goods. On the next day, Enrique brings a proposal to Picho of selling the worthless cardboard lying on the premises of the market. They both start doing this and develop a bonding over time.

Enrique learns how Picho's mother abuses him and just wants money from her son. He also notices how this young boy admires his co-worker Amanda. Hence, Enrique decides that he'll help Picho. Our old man used to work at a radio station alongside the legend La Bomba but soon, he was kicked out as the station people thought that just La Bomba would be sufficient to run the show. So, Enrique moved from Mexico and started working at other jobs. The audience will feel sympathetic towards Picho and Enrique and how life hasn't been treating them well.

Have a nice day! tells the audience not to wait for things to happen as sometimes it might get too late. I liked the bonding Enrique and his old friends shared. You could spot them sitting in the barbershop with liquor and chatting about normal things. The best part of the film is that it begins and ends in the same barber shop. They were a group of four and always had each other's back. Enrique's love for La Bomba was very different from what Picho had for Amanda. In that difference lies the concept of old-school love and modern relationships.

In my opinion, Have a nice day! has a simple and sweet story. The writers didn't have anything, in particular, to show the audience and the film covers the journey of three very different people. The total duration of the movie is 93 minutes. Initially, the film was too slow and it wasn't until the first hour that it gained its pace. In the beginning, the audience might find the film to be very boring and I was busy searching for the plot as I was unable to understand where is this film going and what is the purpose of making it. Only in the last half an hour will the audience understand where the film is going. The movie covered the lives of these three characters superficially and had they shown us a few of their previous lives, especially Enrique's, it would have been more engaging.

If you decide to watch the film then, it would be better not to expect a lot as it is just a simple film with a minimum plot. I liked the bonding Enrique and Picho developed over time. Though it began with a cardboard stealing deal, it reminded me of the Korean show Navillera where Shim Deok-chul and Lee Chae-rok also shared a similar equation.

Final Score – [6/10]
Reviewed by - Riya Singh
Follow @_riyasinghhh_ on Twitter
Publisher at Midgard Times