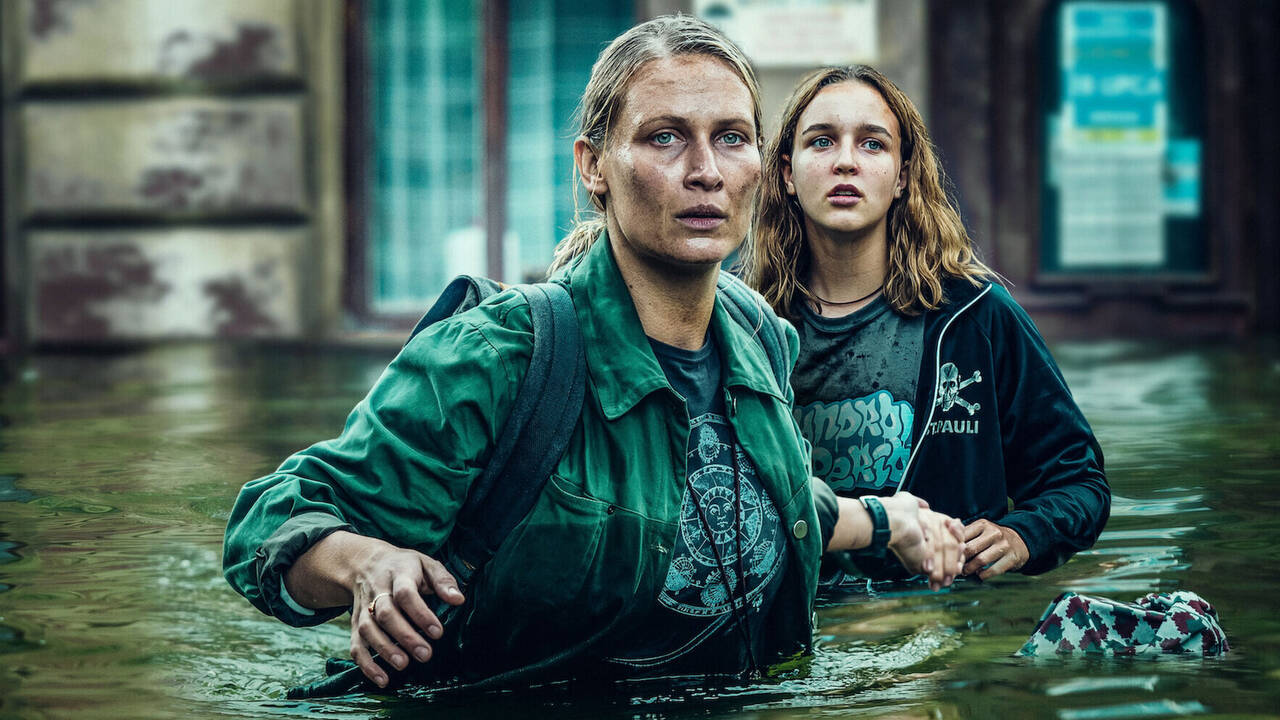 The 1997 flood in Poland is considered to be one of the worst disasters faced by the country since World War II. But High Water does not treat this subject with noise. The creators don't want to scream in your ears and ask for your sympathy. In fact, there is no "big" moment here where you see the water gushing out forcefully like a demon. The water levels increase as the episodes go by, and the series uses some visuals to show how serious the situation is. For instance, a poster on a bridge is submerged as the water rises.

A text at the beginning informs us that the creators have changed certain things to make this series. However, their creative liberty is nothing but a cliché. There is a hydrologist named Jasmina Tremer (Agnieszka Zulewska) who rightly predicts how worse the situation is going to be. The men around her scoff at her, and a professor named Nowak vehemently dismisses Jasmina's warning as preposterous. Something similar can be found in another recently released Netflix series, Thai Cave Rescue. There, a female intern's prediction is not taken seriously at first. Her boss and colleagues (all men) laugh at her and tell her she is wrong. Both Thai Cave Rescue and High Water - at least in these portions - view females as bright and men as dumb fools.

High Water deals with a grave issue, but that doesn't mean there is no place for humor here. A sex scene is interrupted by a helicopter (the thrusting of bodies is interrupted by the thrusting of wind). A woman punches her ex-husband and jumps toward him like a maniac. The city drowns, but the drug deals go on as usual (crackheads are immersed in their own world). An important argument in a meeting is cut off by a pizza delivery boy. This fusion of solemn and silly produces rewards that are chuckle-worthy.

The impact of the flood could have been lessened if the villagers of Kęty had allowed the officials to blow up the flood bank. But the people do not trust the government, as they seem to have become tired of empty promises. Among them is Andrzej Rebacz (Ireneusz Czop), who galvanizes the crowd into action. His father is being treated in a hospital that will soon get flooded. But that thought mostly remains out of his mind. He thinks for his people, and his selfishness gives way to a "walk of shame" scene when he rows his boat to pick up his father.

A six-episode series cannot solely focus on the flood situation. It has to have some drama to keep us invested. This is precisely what High Water does by inserting personal complications into the life of Jasmina. She left her mother, husband, and daughter a long time ago and is now uncomfortable in front of them. One could say Jasmina is unable to confront her mother the same way the men in power (or some of them) are unable to confront the truth about the flood. Here's something else to chew on. Day by day, Poland gets as weak as Andrej's father. The results naturally lead to deaths.

High Water has a swift pace. The episodes flow by without making us impatient. There are some nice callback moments. At first, Jasmina notices some men lifting something using ropes. Later, she uses the same technique to lift her mother to the upper floor. When a father rushes to a morgue to identify a corpse, the outcome of the scene reminds you of an earlier conversation where the same father told her daughter that many people are wearing a particular type of jacket. There is a harrowing scene where a character drowns while climbing stairs. It's chilling because it looks ordinary. But it all turned out to be a manipulative trick, and I intensely hated it.

For a show about a distressing disaster, High Water comes across as tame and relaxed. You don't see many deaths or troubles caused by the arrival of frogs and other animals. Even the people's suffering is reduced to an image of crying faces in the background. The intention might have been to convey a sense of optimism. No flood is great enough to dampen the human spirit or something like that. Where some other show would have rubbed our face into the dirt, High Water places the audience on a platform from which we see the disaster and the drama, though we do not necessarily participate. It's a refreshing approach and makes you almost forgive the flaws. High Water, to some extent, manages to keep the tide of complaints at bay.

Final Score – [6.5/10]
Reviewed by - Vikas Yadav
Follow @vikasonorous on Twitter