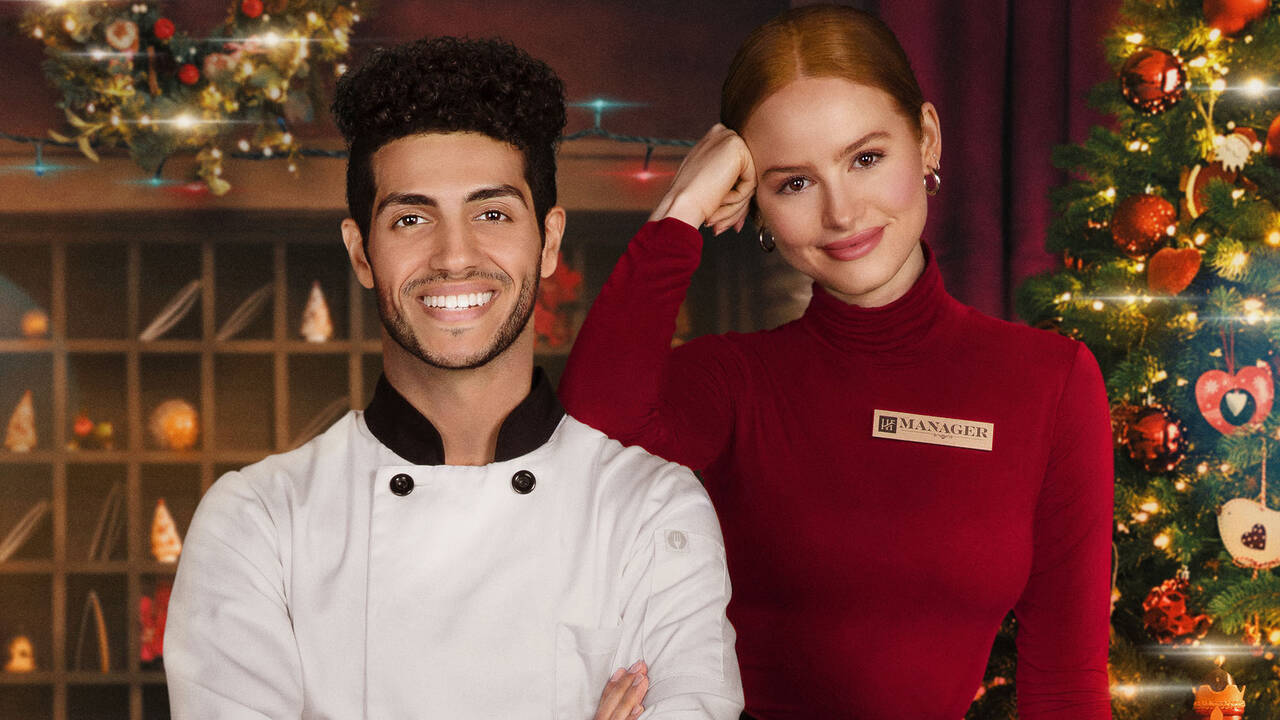 Things are cordial and breezy in Ron Oliver's Hotel for the Holidays. The lights are soft and shine brightly, leaving no place for darkness (the night scenes, too, are well-lit). This means that no matter what happens, the troubles of the characters will never turn too serious and make the story gloomy. The faces are often decorated with smiles, and no one loses their temper or raises their voice. The reason for this goodwill is Christmas. Yes, Hotel for the Holidays is a Christmas movie that believes in Christmas magic.

The "Hotel" in the title refers to Hotel Fontaine, whose manager is Georgia (Madelaine Petsch). Of course, the "Holidays" part refers to Christmas. Oliver can make sequels to this movie by focusing on different holidays in different movies. But I guess this is meant to be a standalone TV movie. Then why not just name it Hotel for Christmas or Christmas at the Hotel? Perhaps, Oliver didn't want to add another Christmas-titled movie under his filmography. Just look at his credits - A Timeless Christmas, Christmas at the Plaza, Christmas Everlasting, The Christmas Train, Every Christmas Has a Story, Angel of Christmas, A Christmas Detour, and Chasing Christmas. This guy could be Santa Claus spreading Christmas miracles through his movies.

Anyway, this film is about Georgia wanting to leave Hotel Fontaine to start her own hotel business. The staff is not informed about this decision, as Georgia doesn't want to break their hearts during Christmas. She considers them all as a family. There is Milton (Neil Crone), the longest-serving employee, who has a crush on Florence (Jayne Eastwood). Anna (Catherine Saindon) and Victor (Gabriel Davenport) are also a couple, but they are keeping their relationship status a secret from everyone. Kiki (Jamison Belushi) is Georgia's best friend, and Luke (Mena Massoud) has a crush on Georgia but is afraid of telling her about his feelings. Luke is also an excellent chef, and he is aware of Georgia's routine and habits. For instance, when she asks him to arrange dinner somewhere private, he immediately understands she's referring to the roof of the hotel.

Among the guests, we have a pop star named Pandora (Kayleigh Shikanai), who simply changes her hairstyle and everyone fails to recognize her. There is Prince Raymond (Max Lloyd-Jones), who prefers not to be called a prince because he recently gave up his title. Georgia tries to make a financial deal with him for her new hotel, which makes Luke jealous as she starts spending a lot of time with the prince. Sorry, Raymond. Finally, we have AJ (Morgan David Jones) and his dog, Dickens. The latter goes missing, is founded by Hunter (Aldrin Bundoc), and the man falls in love with Dickens' owner.

The story is unsurprisingly predictable, but then, this is the kind of film where predictability stands in for comfort. Still, I wish the Georgia-Raymond thread had been more smartly resolved. And I found it hard to believe that no one helped Georgia when she got stuck at her new hotel (people do notice her but don't help her). If Hotel for the Holidays had been a dish, it would have had a saccharine taste. Every complication is minor, and a happy ending awaits all the characters. I liked the movie because I found the actors to be committed. They sincerely sell every cliché and never roll their eyes at the material. Petsch and Massoud are charming and show nice chemistry together. You might have seen it all before, yet the movie is very watchable. That seems like a Christmas miracle, no?

Final Score- [7/10]
Reviewed by - Vikas Yadav
Follow @vikasonorous on Twitter
Publisher at Midgard Times