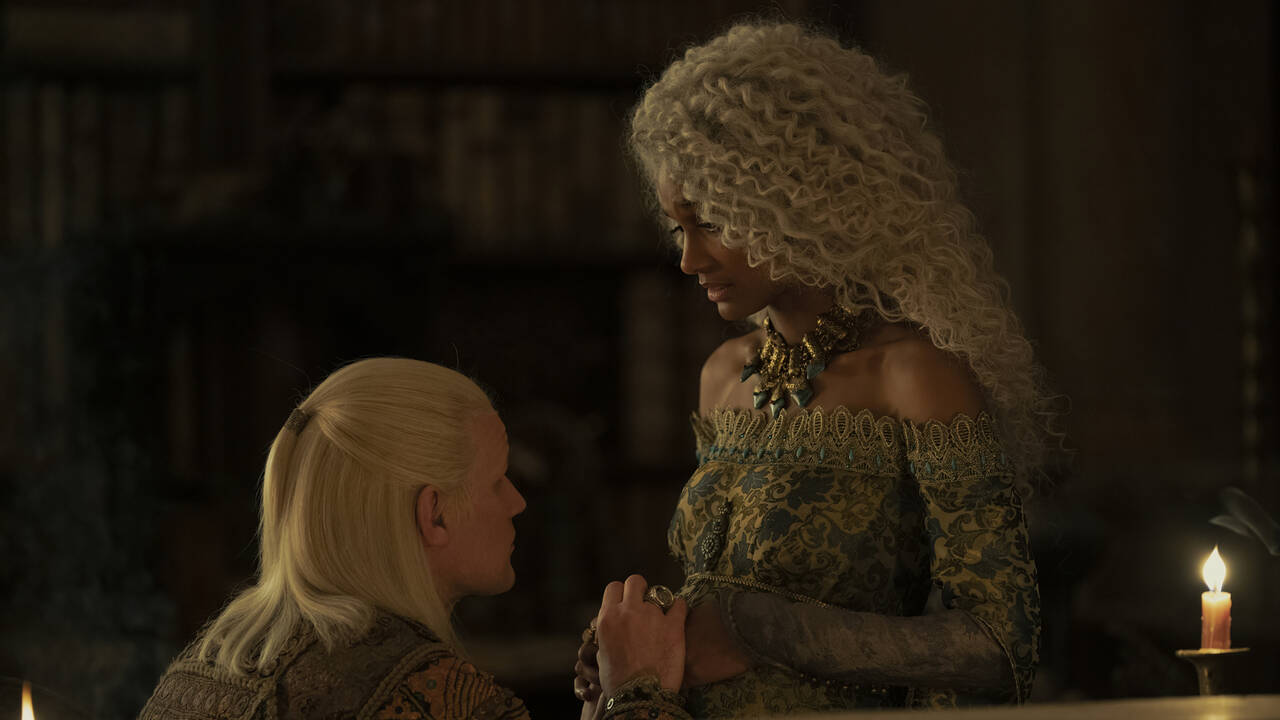 A lot is going on in the sixth episode of House of the Dragon. Old characters have been replaced by new actors. For instance, the role of Rhaenyra Targaryen and Alicent Hightower has now been given to Emma D'Arcy and Olivia Cooke, respectively. A complete guide regarding these changes can be found here.

Episode 6 shifts between moments of life and death. It opens with Rhaenyra giving birth to her child, but almost three characters die by the end. No, Viserys is not among them, which is surprising as he collapsed at the end of the fifth episode. All these years later, he is still coughing and getting weak day by day, though his breath has not left him yet.

Both Rhaenyra and Alicent now have their own children. The ex-BFFs have become cruel to each other, as is evident from the opening scene, where Alicent demands to see Rhaenyra's son as soon as she has given birth to him. Alicent's children include Aegon (Ty Tennant), Helaena (Evie Allen), and Aemond (Leo Ashton). The names of Rhaenyra's children are Jaecarys (Leo Hart) and Lucerys (Harvey Sadler). The newborn baby is named Joffrey. Even Daemon has a family of his own and is currently living in Pentos with his wife, Laena, and twin daughters. He seems to have lost interest in the Iron Throne, but something tells me that could change anytime in the future.

Criston Cole, who was about to commit suicide in the previous episode, is now serving Alicent. Criston was Rhaenyra's lover at one point, but that position now belongs to Ser Harwin Strong (Ryan Corr). Indeed, he is the real father of Jaecarys, Lucerys, and Joffrey. This fact is not a secret, as everyone seems to be aware of it. However, Viserys chooses to ignore it. Still, he gets a glance at this "rumor" when Harwin loses his cool and punches Criston when the latter hints at the former's relationship with Jaecarys and Lucerys. This leads to Harwin losing his job and prompting Lyonel to give up his position as the Hand of the King.

Harwin is Lyonel's son, and so is a man named Larys Strong (Matthew Needham). Larys is on Alicent's side, and he emerges as a dangerous madman. How mad, you ask? Well, he can murder his own family to strengthen his power in the Seven Kingdoms. This is exactly what Larys does here. He burns down his house and eliminates both Lyonel and Harwin. Why? Because Alicent mentions how she misses her father, Otto Hightower. Lyonel's death means the position of the Hand is now open for inheritance. And as Harwin supported Rhaenyra, his demise means that Alicent has one less enemy to deal with. Larys says Alicent now owes a debt to him, and he will collect it in due time. Even she clearly sees how deadly Larys is and rightly shivers in front of him.

It's not just Harwin and Lyonel; even Laena burns herself up in flames during a complicated childbirth process. History threatens to repeat itself, as it feels Laena would die the same death that took Queen Aemma all those years ago in the first (or was it second?) episode. But Laena instead orders Vhaegar, the oldest dragon, to take her life, while Daemon helplessly watches from a distance. Only time will tell how all these deaths will affect future events.

Reviewed by - Vikas Yadav
Follow @vikasonorous on Twitter