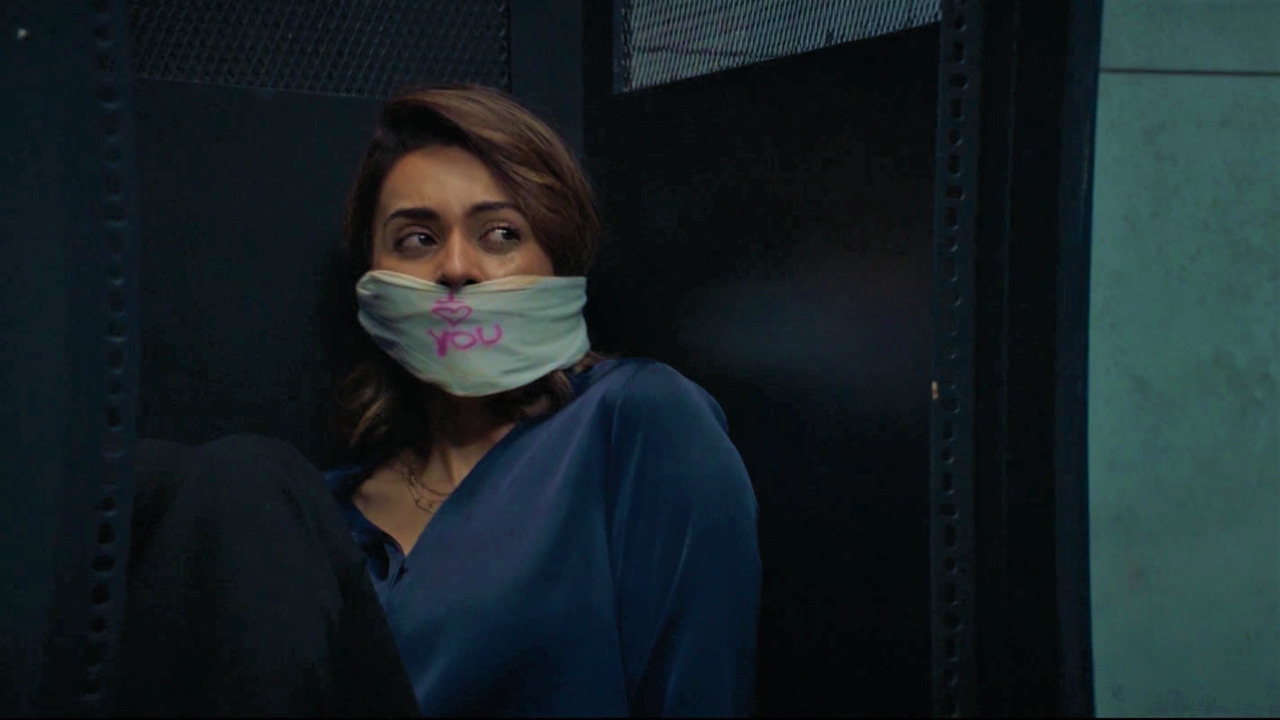 JioCinema's latest film, "I Love You," directed by Nikhil Mahajan, marks his Hindi film debut after achieving massive success in the Marathi film industry. Co-produced by Athena and The Vermillion World Production and presented by Jio Studios, the film offers a captivating storyline and a talented ensemble cast. With Rakul Preet Singh and Pavail Gulati in the lead roles, supported by Akshay Oberoi and Kiran Kumar, "I Love You" explores themes of suspense and survival. Despite its familiar premise, the film distinguishes itself through the strength of its performances and its ability to integrate classic elements with a modern twist.

The film centers around Satya (Rakul Preet Singh), a strong and independent corporate woman, and her close friend and colleague, RO (Pavail Gulati). Satya's life takes an unexpected turn when she finds herself alone in her office building, unable to reach her boyfriend or find her driver. Desperate, she calls upon RO for help, unaware that this night will become a fight for survival. As the plot unfolds, Satya uncovers a series of dead bodies, completely altering the course of her life.

"I Love You" bears resemblances to classic thrillers like "Darr" and "Ek Haseena Thi," but it adds a contemporary twist by incorporating the dark side of technology. Despite the predictability of the plot, the film manages to engage the audience through its compelling performances.

Pavail Gulati's portrayal of the villain is noteworthy. He showcases a wide range of contrasting shades throughout the film, keeping the audience on edge. His character is an enigmatic force, capable of dancing, playing music, committing murder, or delivering impassioned monologues. Gulati's calm yet menacing presence elevates the film to a higher level, leaving viewers guessing about his next move.

Rakul Preet Singh delivers a commendable performance as Satya. She effectively captures the character's panic and suspicion, adapting to Gulati's unpredictable villain with courage and determination. Singh's portrayal reflects her character's survival instinct, showcasing her versatility as an actress.

While the story of "I Love You" may not be groundbreaking, the film compensates with its well-executed pacing and outstanding performances. It embraces its predictability and allows viewers to immerse themselves in the thrilling twists and turns, keeping them on the edge of their seats. The sense of anticipation from the beginning, coupled with the film's appropriate pacing, ensures an engaging experience that will have audiences biting their nails in suspense.

Although the film relies on a recycled storyline, it successfully incorporates inspiration from its predecessors, effectively communicating this thought process to the audience. The opening shot, featuring Rakul Preet Singh underwater in a swimming pool, initially seems purely aesthetic. However, its significance becomes clear during the climactic moments, highlighting the film's ability to integrate past elements into a satisfying finale. Additionally, the use of music adds a nostalgic touch, contributing to the overall appeal of "I Love You."

With a runtime of 1 hour and 33 minutes, "I Love You" is a compact and concise thriller that doesn't overstay its welcome. While it may not be a groundbreaking masterpiece, it offers an engaging and entertaining viewing experience. The film succeeds as a one-time watch, providing solid entertainment value through its well-executed story, captivating performances, and nostalgic callbacks to classic thrillers.

In conclusion, "I Love You" impresses with its gripping narrative, stellar performances, and effective integration of classic thriller elements with a contemporary twist. Despite its predictable nature, the film manages to captivate viewers and keep them invested in the characters' fate. With its concise runtime, this thriller is a worthwhile watch for fans of suspenseful cinema.

Final Score- [7.5/10]
Reviewed by – Neha Krishna
Follow @Neha25Krishna on Twitter
Publisher at Midgard Times