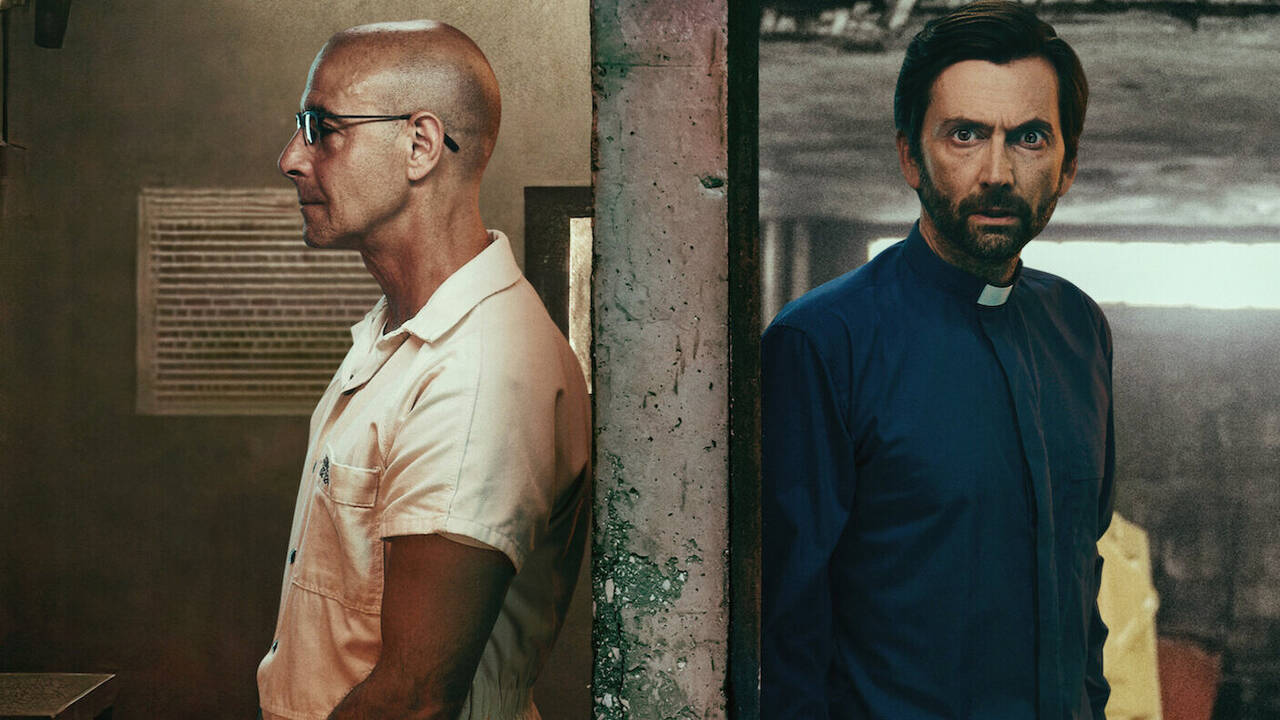 Developed by Steven Moffat, the series stars David Tennant as Harry Watling, Stanley Tucci as Jefferson Grieff, Dolly Wells as Janice Fife, and Lydia West as Beth Davenport. Originally broadcasted on BBC One on September 26, 2002, Inside Man has now been released on Netflix and tells us the story of a Vicar and how a bad day in his life made him turn into a prisoner.

The series starts by showing a man trying to sexually assault a woman publically on a train. Initially, nobody stood up for the girl but then, Janice stood up and lied to the man that she was on Facebook live. Beth, the girl who is a journalist, should have known better. For those who speak and write for others, it is hard to believe that she waited for others to come and save her. As soon as she gets off the train, she approaches Janice, thanks her for the help, and asks Janice for an interview to which she declines.

Jefferson Grieff, a criminology professor just has a few weeks till he gets capital punishment. He is often seen with visitors at the prison as they come to take up his advice. He is excellent at solving cases and assisting people but has one criterion: Moral worth. Those who don't clear these criteria don't get his attention and advice. Beth comes to interview him and after that, she discovers that Janice sent her a photo. Investigating her whereabouts, she again approaches Grieff for help. Jefferson is the character that can hold the interests of the audience till the last minute of the series.

The next scene introduces us to the vicar, Harry. Janice teaches his son maths and one day the wrong pen drive fell into her hands. The drive belonged to Edgar, a boy who visited Harry at the church. To hide his acts from his mother, he gave the drive to the vicar so she wouldn't search him. The pen drive ended up at the vicar's home and then at Janice's hands. She found out what was in the drive and suspected that Ben was the one assaulting the children. Harry felt that his child will be in danger as Janice will report the incident to the Police, and he ended up locking her in the basement.

In my opinion, Inside Man is great for drama thriller fans. With just four episodes, each being an hour long, the story is captivating. The depth Tennant's and Tucci's characters bring can't be put easily into words. These two men are so different, but time has made them look similar in the court of law. Janice has honesty and boldness, with such morals, she became an enemy of her own. It wasn't as if she didn't try to act smart, but her character had a lot of potential that wasn't explored. She could have easily played the vicar as he was an innocent man.

Janice and Jefferson are the best characters and unfortunately the former was a bit disappointing. A lady with her mind, getting trapped in a situation like this can't be imagined. The way Janice's character was portrayed, I hope that she would have chosen a better path. In fact, with a mind like her's she should have figured out the truth behind the pen drive.

Harry, the vicar, was trying to save a pedophilic boy and by doing so he put his son in danger. The extreme lengths he went to didn't seem logical to me. If he had to protect his son and ended up being a convict (which was too easy to guess), he could have rather outed Edgar. Just like these things, many other things didn't make sense to me. Being a fan of thrillers myself, I felt that the story was incompletely cooked. The motive was just to show an honest man landing himself in bad situations and doing something horrible.

Final Score – [6.5/10]
Reviewed by - Riya Singh
Follow @_riyasinghhh_ on Twitter
Publisher at Midgard Times