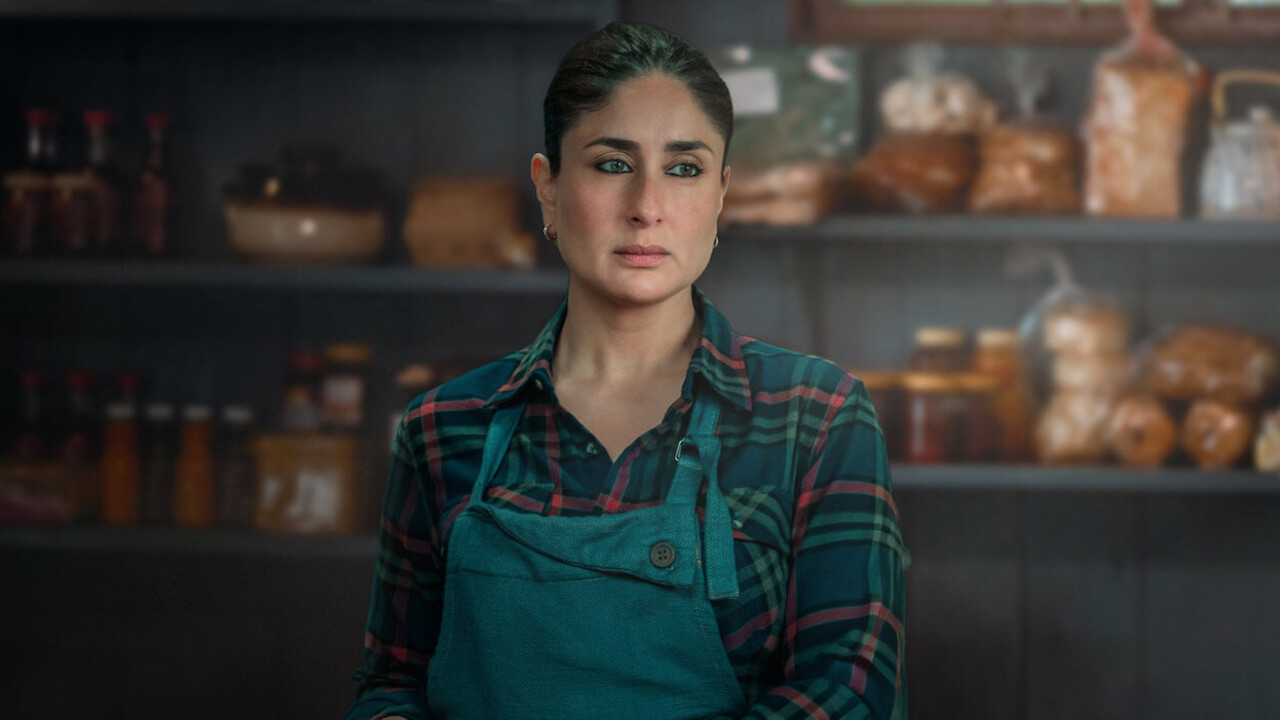 The title of Sujoy Ghosh's new film, Jaane Jaan, reminds you of the Kishore Kumar-Asha Bhosle song from Jawani Diwani. The lyrics go like this: "Jaane jaan dhoondta phir raha/Hoon tumhein raat din/Main yahan se wahan." This is something Maya's (Kareena Kapoor Khan) husband - a corrupt cop - must be singing for all those years while searching for his wife. When he finally finds Maya, we come to know that her real name is Soniya. Almost immediately, a song from another Kareena Kapoor movie, Kabhi Khushi Kabhie Gham..., starts playing in your mind. I am referring to the Sonu Nigam-Alka Yagnik number, which has the words "Keh do na/Keh do na/You are my Soniya." This is another song that must have been playing inside the husband's mind while talking to his wife in her apartment.

Ghosh's Jaane Jaan, though, tips its hat to Lata Mangeshkar. We listen to Aa Jane Jaan (from Intaqam) at a karaoke bar. The English translation of Intaqam is revenge, and you can see Jaane Jaan as a tale of vengeance. A woman fed up with the torture a man continues to inflict on her decides to get rid of the problem. But here's a twist: This retribution is accidental. Soniya begs her husband, Ajit (Saurabh Sachdeva), to leave her and the premises, but he firmly decides to return to her life. And then one thing leads to another, and lo, you have a dead person. This murder sequence is so nicely executed that you feel as if someone is tightly squeezing your shoulders.

In Jaane Jaan, everyone is a fighter. When we first meet Karan (Vijay Varma), he is seen in a friendly, physical confrontation. A mathematics teacher, Naren (Jaideep Ahlawat), practices Jujutsu. Then there is Soniya, who "fights" to keep her and her daughter, Tara (Naisha Khanna), safe from prison. Luckily, she has Naren to help her. In the 1983 film Jaane Jaan, a girl who thinks she has cancer hires a man to kill her. In this Sujoy Ghosh movie, if Soniya had been diagnosed with cancer, Naren would have tried to suck the disease out of her with his mouth. He's obsessed with his "hot neighbor," but Naren - with his mostly Stoic expressions - only looks like a typical, psycho stalker. Ahlawat imbues the character with so much warmth that you feel sorry for his situation. I loved that scene where his face melts as soon as Soniya hugs him.

Ghosh's choice of making the frames too dark and colors mainly muted seems weird. Perhaps he wanted to create a sense of mystery, a spooky atmosphere, but none of these qualities emerge from the images. The movie merely looks dull. The only thing that pleases your eyes is Varma's charming presence. His boyish face and an endearing smile feel like warm sunshine. The movie, an adaptation of Keigo Higashino's The Devotion of Suspect X, is called Jaane Jaan because Ghosh wants to put Soniya - the beautiful femme fatale - at the center. She is someone who attracts the attention of both Naren and Karan and quietly manipulates them with her subtle seductions (changing clothes within Karan's range of vision, telling Naren all evidence points towards her). Yet, the movie undercuts Kareena's - and, by extension, Soniya's - allure by presenting her as an ordinary woman. Her beauty has no shine, and she looks like just another person in the crowd. Soniya exudes that hypnotizing voluptuousness only once when she is covered in red lights at the karaoke bar. However, for the most part, Soniya doesn't emanate bewitching powers. Hence, we don't entirely buy what Jaane Jaan sells to us.

Also, why does the movie not give us a scene or two showing Tara processing the fatal incident? For someone who was involved in a crime, she comes across as so okay and optimistic that it seems as if she has been regularly committing murders. Moreover, why didn't Naren take care of that problem concerning Soniya's colleagues (he assures her he will do something about it, but he doesn't)? Thanks to the wonderful actors, you don't overly think about these flaws while watching Jaane Jaan. The positive aspects catch your attention, like how Naren looks at his bald head after noticing Karan's hair. At one point, Karan mentions that Soniya's moves are planned like chess, and we see Naren playing chess with himself in his room. There are moments where Karan asks other characters to give him one or two minutes, and they can use their watch to be precise. This thing about time is connected to the murder as Karan investigates the case by taking time into account. Ghosh likes to pull the rug from beneath the feet of the audience, and this trick does not always yield satisfying rewards. However, it works well in the context of a joke regarding a dirty hotel room because the humor comes sans warning.

The saddest moment in Jaane Jaan is the one where Naren realizes he will always be alone. The man dedicates his life to numbers, and only these mathematical equations will remain with him forever. Not every beast gets beauty. Not every frog transforms into a prince after coming in contact with a princess. Some love stories are confined within four walls. Even Karan's feelings for Soniya are not allowed to develop. When she tells him she had a good time after ages, he replies, "Last week hi toh gayi thi." Observe Kareena's expressions here. They instantly draw a line between the police and the suspect, and we understand this relationship will never blossom into romance. These small details make Jaane Jaan extremely watchable. The pluses outweigh the imperfections.

Final Score- [6.5/10]
Reviewed by - Vikas Yadav
Follow @vikasonorous on Twitter
Publisher at Midgard Times