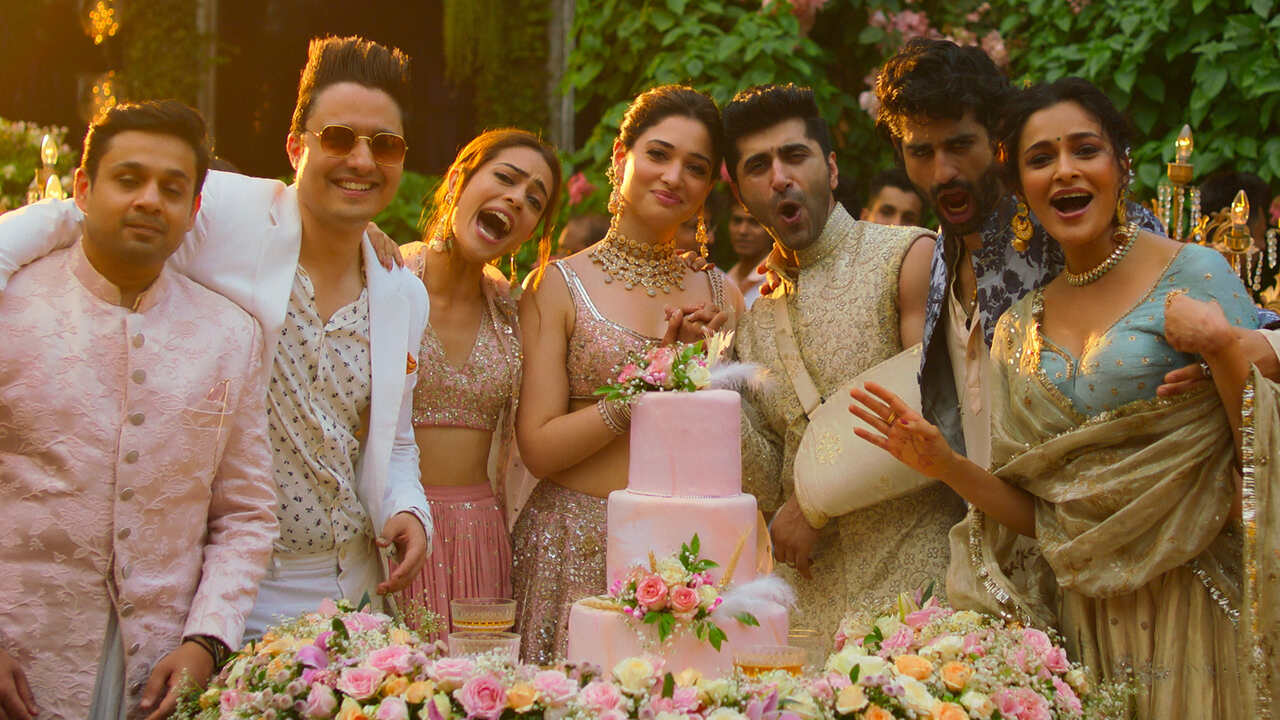 Directed by Arunima Sharma and starring Suhail Nayyar, Tamannaah Bhaia, Anya Singh, and Asshim Gulati, the series starts in 2006 when a friend group from school goes to attend a carnival. Upon hearing about a magician who can do face reading, they all go to get their done. He makes predictions about everyone like staying away from sugar or 2022 is not going to be your year. As the kids were young, they didn't believe in what he said. It is now 2022, and this friend circle has reunited to attend Sheetal's wedding anniversary. The whole friend circle wasn't there like Arjun was still in Canada.

As Lavanaya (played by Tamannaah) gets drunk, she steps up on the table. Her madness is joined by Rishabh (her boyfriend ) who proposed to him while she was still at the top of the table. She didn't even accept the proposal when Rishabh slipped the ring on her fingers. He says "fuck everyone around us..tujhe karni hai toh say yes". Who wouldn't go crazy when a boy says things like these? This is when I knew that Jee Karda is going to have fabulous dialogues. There's another one "Humari jagah aise photos lene se award milte h". When you watch the series and understand the reference behind this line, you'll burst into laughter.

Arjun is a celebrity however, he doesn't value his success and can be often seen sleeping with random girls. Preet is a counselor and she seems to still have a crush on him. Shahid is a school teacher who doesn't like to express himself much. Even the students at school don't appear to respect him. All the episodes in Jee Karda are about this friend circle and how they end up ruining every good thing they ever had. The ending of the series makes you want more but, I didn't see any possibility of getting another season of the show. Initially, the thought of having so many main characters was troublesome but as the show progressed it didn't seem like a problem.

From Jee Karda, you'll get a good dose of entertainment. It is about a group of friends navigating through adulthood in their ways. Things seem shiny at first, but it doesn't take long before things get rusted. The series started and ended with a party. With good songs and great dialogue, Jee Karda is a great series. The best thing is that all characters get equal screen time. Although Tamannaah is more famous than the rest of the cast, this didn't affect the decision of the makers to give her character more importance or screen time. There are a total of eight episodes with a duration of 30-35 minutes each. The series has a lot of party scenes in it and you can see this in every other episode. They didn't have high-end jobs but still managed to party frequently.

The title is kept as Jee Karda because all the characters are doing what they want to. Their secrets eventually come out and the prediction of the magician is proven right. If the audience saw glimpses of the first episode attentively, they'll know that things aren't going to end well. Nevertheless, you will enjoy this series. I have just one question in mind and that is if Sheetal and her husband didn't have the funds to shift into a bigger house then how they were at every party wearing those glittery and expensive costumes. This series initially showed its resemblance to Four More Shots Please. Both series are about friendships and fuck-ups.

Shahid is an entertainment killer in Jee Karda. He is a gloomy character and has a habit of playing the victim. In every friend circle, there is one guy for whom no matter what you do, they'll always be there to tell you or rather make you count what you didn't. Such individuals need more self-respect in their lives and should be cut off from toxicity. Jee Karda is the story of every other friend circle, and the audience will be able to relate to it.

Final Score – [7.5/10]
Reviewed by - Riya Singh
Follow @_riyasinghhh_ on Twitter
Publisher at Midgard Times