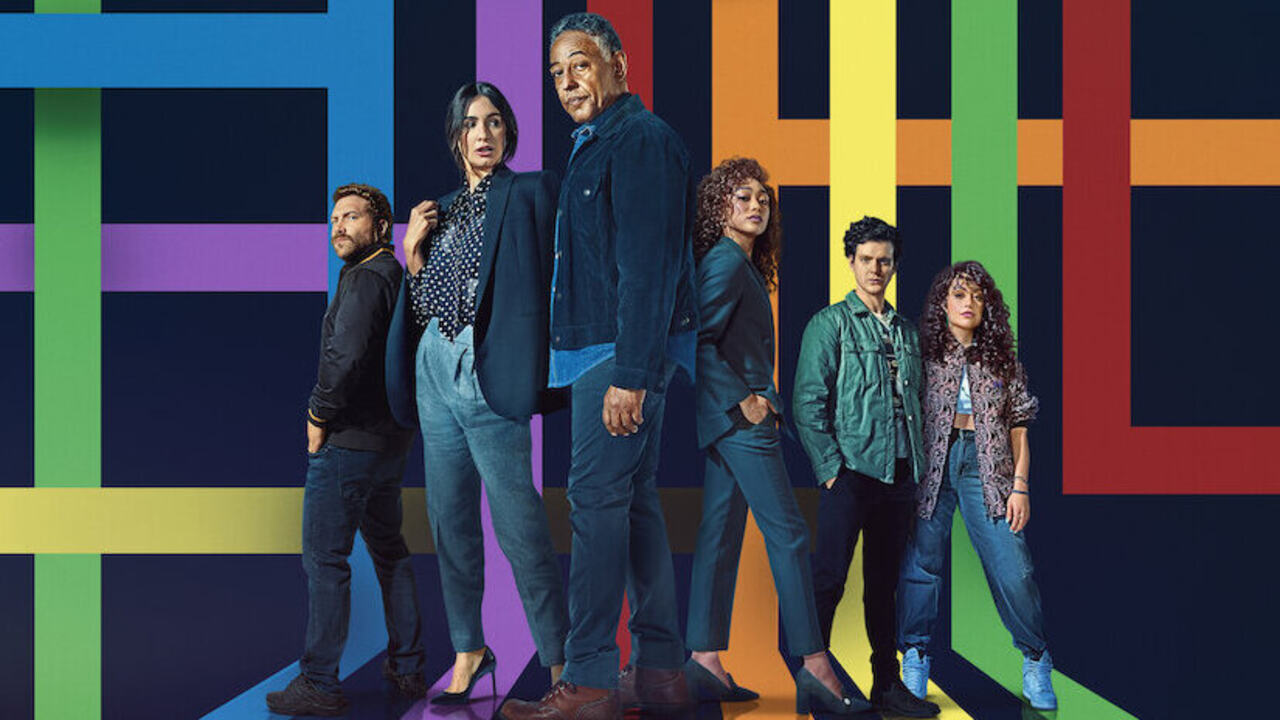 The USP of the new Netflix limited series, Kaleidoscope, is that you can watch its episodes in any order and still understand the whole story. It means the viewers don't necessarily have to go sequentially (first episode 1, then 2, then 3, and so on). You can start from episode 5, then go to episode 2, then episode 4, and so on. How is that possible? Well, every episode takes place before or after a heist (except for the last episode, as it's set during the heist). Using this structure, Kaleidoscope tells a complete mini story in each episode while remaining focussed on the main event. For instance, the first episode is about a prison break. The second one is about forming the team for the heist and situating a character at a convenient position on the inside. Then there is one episode that deals with finding flaws in the security system.

I watched Kaleidoscope in a sequence (1, 2, 3, etc.), and I think that's the best way to see it. The "USP" is a marketing strategy to lure subscribers into watching the series. Given that most of the Netflix shows are trite, it makes sense that a new trick is being used to highlight this new series. But don't worry, you won't be disappointed if you decide to watch Kaleidoscope on Netflix. I went in with zero expectations and came out genuinely surprised. This is a very good show that amazes you just when you think it has nothing up its sleeves.

Joy comes in many forms in Kaleidoscope. It's there in the action scenes like the "Diamond Way" one that is shot with zeal. In another one, a shotgun is fired just when a man is about to kick a door down. That whole sequence is charged with amusement and energy. One can find pleasure in small twists, like that scene in the third episode where Roger (Rufus Sewell) finds Leo (Giancarlo Esposito) breaking a safe in a house. Kaleidoscope also toys with your expectations regarding the source of bitterness between Leo and Roger. I made my share of guesses but was unable to pin down the exact cause. The explanation is not mind-blowing or anything. I simply didn't expect that to be the reason for the spite between Leo and Roger. And that's one of the reasons why Kaleidoscope worked so well for me: I never knew what would happen in the next episode or sometimes even the next scene.

As Roger, Sewell walks around with pride. He knows how much power he wields, and he flaunts his influence through his mannerisms - Be it his confident walk or (mostly) calm face. Roger is so full of himself that he is unable to look down and see the real rat (Hannah, played by Tati Gabrielle). Then there is Nazan (Niousha Noor), an FBI agent. Notice how her eyes sparkle with madness whenever she realizes Ava (Paz Vega) could be involved in an incident. She is so obsessed with capturing Ava that she forgets to attend a court hearing at one point.

However, Nazan is not the only character who is obsessed. Obsession is a quality found in many characters in this series. It's present in Leo, who really wants to destroy Roger. It's there in Stan (Peter Mark Kendall), who, despite being married, wants to be with someone else's wife. It can be found in Bob (Jai Courtney), who cannot bear to see his wife, Judy (Rosaline Elbay), with any other man and is also hungry for money. And finally, we have Roger, who wants to be powerful and rich. All these obsessions lead the characters toward a path of loneliness and doom. When I look back at Kaleidoscope, I wonder how different the lives of the characters would have been if they had let go of their obsessions and concentrated on personal relationships. Imagine if Leo had chosen to spend time with Hannah instead of planning an elaborate heist. What if he had settled down with Ava and begun a new domestic life?

Kaleidoscope has its share of exciting action scenes, but it also leaves you with poignancy. It slowly shifts your attention away from the heist and toward its characters. That's why by the end, you are not eager to see how the operation was executed. But you wish to know what happened to the characters during the heist. If I have to nitpick, it's impossible to see what keeps Judy and Bob together in a relationship. Sure, he is mad about her, but she is not entirely into him. Why doesn't she leave him? Is Judy with Bob for financial reasons, or is he one of those psychos who won't break up with her? I believe Judy could have freed herself from Bob, but I could be wrong. I didn't have a firm grip on their relationship.

Of course, you can divert yourself from this quibble by thinking about the fact that Leo often finds himself confined in closed spaces. At first, he hides inside a car, then a locker, and then a container. Look out for the scenes where Leo and Hannah ask one another, "Show me where you are brave. Show me where you are strong." They arrive at just the right moment to elevate the emotional frequency. Kaleidoscope is colorful and moving.

Final Score- [9/10]
Reviewed by - Vikas Yadav
Follow @vikasonorous on Twitter
Publisher at Midgard Times