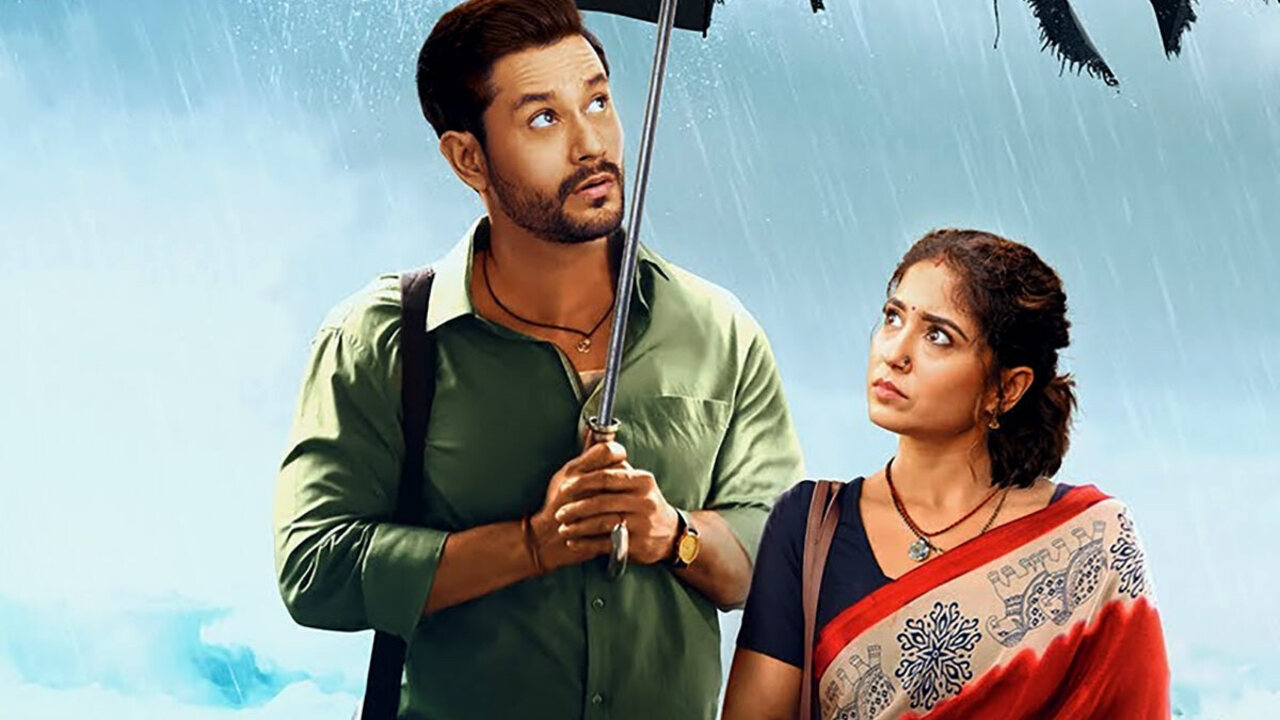 Jamnaprasad Pandey (Kunal Kemmu) - husband of Madhuri (Shweta Tripathi) and son of Gangaprasad Pandey (Piyush Mishra) and Saraswati Pandey (Alka Amin) - invites us into Kanjoos Makhichoos by describing it as "suspense aur drama se bhari comedy waali kahaani." Honestly, this story contains neither drama nor suspense. The movie merely makes a feeble attempt at bringing out these elements, and whenever that happens, it falls flat. The weepy moments - crying over a personal loss, searching for missing parents - lack an emotional punch and instead come across as awkward. That's because director Vipul Mehta makes a weird decision involving a shift in tone between sorrow and humor. Given that the latter part is sufficiently fun, the former portions appear like a party pooper.

If you are looking for authenticity, go somewhere else. The accents, especially that of Saraswati ("Arey mori maiya"), are over the top in an amusing manner. The setting (Lucknow) looks more like a prop than an actual place. The movie seems to be making up events with progression, and this indulgence can become a bit tiring here and there as everything is hugely predictable. Here's what happens: Jamnaprasad is a miser, but he has his reasons. He wants to send his parents to the Chaardham Yatra, for which he has saved a significant amount of cash. So you see, there is a reason why the characters have religious names. This also means that these people won't fully embrace corruption. Hence, when the bribe is offered to them, they only momentarily become avaricious. Because we all know these characters are created to walk on the path of righteousness.

So forget suspense and drama. How's the comedy here? Some of the scenes tickle your funny bone, the credit for which should be given to the dialogues. Consider the following lines - "Facebook ki kasam, hum jhooth bole toh hamara account hack ho jaaye," and "Bhagwan, sabka bhala karna par sabse pehle humse shuru karna." Even the expletives are used in service of humor, and they do not register as coarse. "It was all fucked up," says Gangaprasad, and Mishra's delivery is so casual and dead-pan it's hard not to chuckle. But the most diverting thing about Kanjoos Makhichoos is the way it uses fart as a joke as well as an identification mark. And the most sinful thing about the film is that it wastes the talent of the late Raju Srivastav.

Some of the actors are fine, and others are serviceable. But the movie, in the end, belongs to Kemmu. He becomes the core of Kanjoos Makhichoos and gives the material jest and zest. The film is held together by his eagerness to surrender himself to every demand for the sake of our entertainment. In his hands, scenes like the one where he cries for his parents at the railway station or the one where he reveals to his wife how he will repay the first installment to the government become sweet, funny, and tender. The actor holds himself even when the movie threatens to fall apart during the melodramatic portions. Notice how Jamnaprasad drops his bag and runs toward his "mother." It's a mushy and messy moment, but the actor still does his best to sell the emotion.

Rather than taking hit movies from the South, Bollywood directors can take imperfect films like Kanjoos Makhichoos and remove their flaws. In this case, all one has to do is either remove the sentimental moments or convert them into something mirthful. This is precisely how the remake business should be done. Stop destroying acclaimed projects. If it ain't broke, don't remake it. Take a flop movie that has potential and bring out its enchantments. Kanjoos Makhichoos has potential, all right (it can be way more funny and enjoyable). It's just that Mehta is not the right person for this job. He has a brilliant cast and some nice jokes, but he fails to do much justice to them. Mehta is not a miser. He's just clueless.

Final Score- [6.5/10]
Reviewed by - Vikas Yadav
Follow @vikasonorous on Twitter
Publisher at Midgard Times