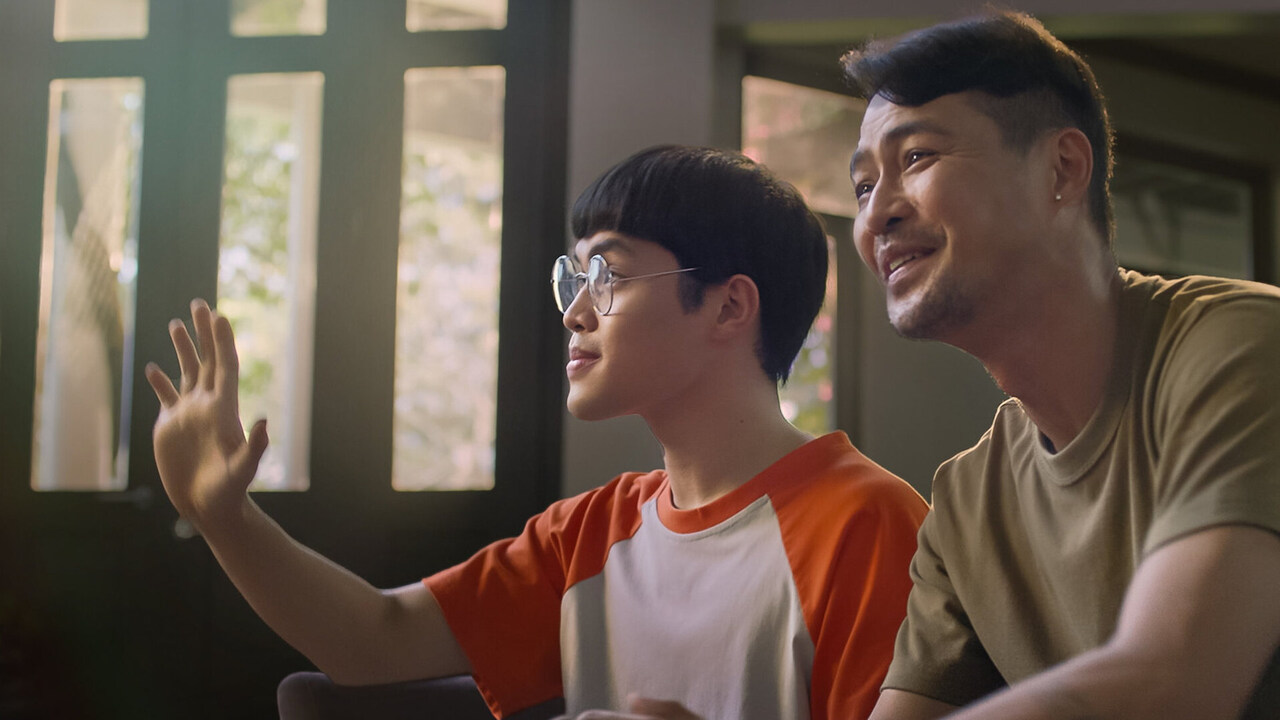 "Life is meant to be challenging because challenges make you grow," says Joma (Zanjoe Marudo), a boxer/sparring partner who gets fired from his job when he kicks a man's testicles. In Kerwin Go's Keys to the Heart, a remake of a similarly titled Sung-Hyun Choi film, the characters face different types of challenges. This is the dictionary definition of challenge: A call to someone to participate in a competitive situation or fight to decide who is superior in terms of ability or strength. This aspect can be found in those scenes where an MMA wrestler, Elimar (Mark Striegl), tells Joma to spar with him in the ring to show off his muscular strength. At one point in the film, Joma dares some boys to punch him in the face for cash. Another meaning of this c-word is this: An attempt to win a contest or championship in a sport. This facet arises from a music competition for which Joma's autistic brother, Jayjay (Elijah Canlas), gives an audition. Also, since Annette (Michelle Dee), a wealthy woman, has a fake leg, you can say she is physically challenged. Moreover, some of the characters see Jayjay as mentally challenged. You see, the word "challenge" is an essential part of this film.

Now, let's go back to Joma's mantra about growing through challenges. The most difficult thing for him is to accept and embrace Jayjay as his brother and Sylvia (Dolly de Leon) as his mother. But once he is able to do so, he grows as a person. Marudo's performance can be described as functional. It does the job without extra embellishments. This means you can see and understand what his character is going through but don't feel anything for him. Canlasis fine in the role of a genius who can play any song after listening to it only once, no matter how complicated, but some of the scenes he gets, like pooping in public, are just not funny and downright unpleasant. A judge named Cesar (Bart Guingona) angrily looks at Jayjay and declares he cannot have freaks. This generic bad guy is given a thin motivation for his bitterness (he wants to save the reputation of his institute), and a cliché like him wholly belongs in the world of this film.

Because Keys to the Heart is stitched together with the most unimaginative elements (we get one of those "audition scenes" where the character, at first, disappoints the spectators and then, a few minutes later, impresses everyone). Everything here is designed to be inoffensive. The hate Joma carries in his heart for his mother is smoothened. His anger is devoid of any edge. The scene where Sylvia blames Joma for getting Jayjay and himself arrested and the one where Joma confronts his mother at the hospital should have stung us with their sharpness. However, these moments don't even poke us in the ribs. The images simply depict the ongoing event without thrumming with passion. It doesn't help that Joma's encounter with Sylvia at the hospital comes across as plot convenience. You feel as if the movie is tired of fun and games and now just wants to somehow move forward.

When Joma is no longer employed as a sparring partner, he starts handing out fliers. What do these fliers contain? How much money does he earn from this job? We don't get any answer. We also learn almost nothing about Apple (Althea Pinzon), Jayjay's sole friend. Where does she study? Besides Jayjay, does she have other friends? The characters are conceived without much depth, as the movie heavily depends on the story to do most of the job. Unfortunately, this story doesn't have many rewards or surprises, though I liked certain moments, like when Apple becomes upset after realizing she didn't record a fight and when Joma and another man happily shake their heads while Jayjay and Annette play the piano.

Only de Leon manages to shine brightly amidst such unremarkable stuff. If you are unaware of this actor and have not yet watched Triangle of Sadness, you should see Keys to the Heart for de Leon's excellence. When she dances, the frame becomes active, and whatever emotional beats are missing from that last hospital scene are filled in by her vehement countenance. De Leon is the key to this film's heart.

Final Score- [5.5/10]
Reviewed by - Vikas Yadav
Follow @vikasonorous on Twitter
Publisher at Midgard Times