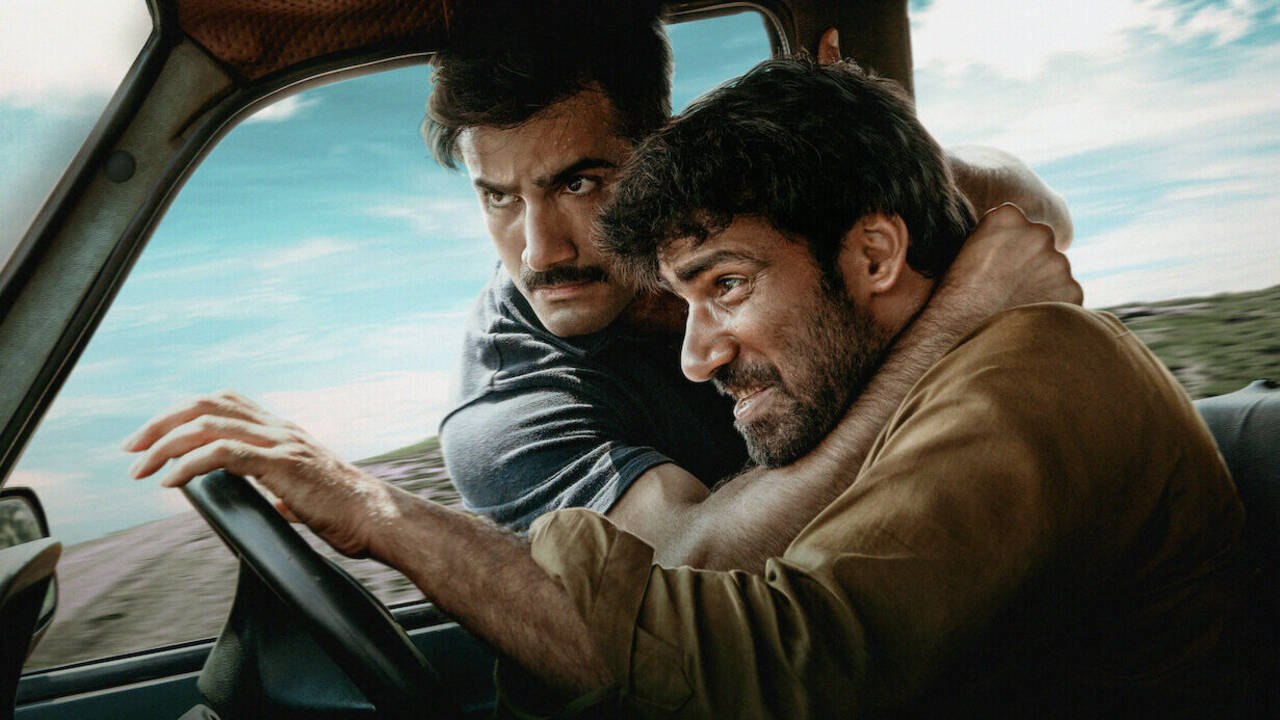 Khakee: The Bihar Chapter is based on the novel Bihar Diaries: The True Story of How Bihar's Most Dangerous Criminal Was Caught. Since I have not read the book, I can't tell you if it's better than the show. But I have seen this show and can tell you it's not good. Director Neeraj Pandey converts Amit Lodha's book into a nine-episode web series, though it's hard to figure out the director's motivations. Pandey must have found the pages gripping, but if he wants to give those words a cinematic form, he should also do justice to his chosen medium, no? Fake fires aside, Khakee: The Bihar Chapter (mostly) follows a basic point-and-shoot approach, making it mundane and unappealing. The split screen does nothing more than showing two people talking. When the camera moves, it does so to provide a false sense of liveliness (or maybe to merely and superficially spice things up). There are moments where the camera rises up in the air, moves ahead, and reveals something else unfolding in the distance. In one scene, it's made to rotate inside a car while a character attempts to remember the lyrics of a song. When two criminals escape from prison, we get a tracking shot. All these camera movements act as embellishments. They don't support the story visually, which again begs the question, "Why the need to make this web series when watching it is almost the same as reading a novel?"

In one of the scenes in Khakee: The Bihar Chapter, the song Aap Ke Aa Jaane Se is used in an amusing manner. As the show itself is not so engaging, you can pass your time by ruminating on this song. It belongs to the 1987 film Khudgarz, directed by Rakesh Roshan. That film is about the rift between best friends-cum-brothers. Something similar occurs in Khakee: The Bihar Chapter, causing the downfall of Chandan Mahto (Avinash Tiwary), the cruel criminal. Or take the name of the character played by Shatrughan Sinha - Bihari. This is the word you use to refer to the people of Bihar, and this series unfolds in that particular Indian state. Someone speaks the lines, "Hume toh apno ne loota, gairon mein kahan dum tha," and these words make an emotional comeback later in the series. These thoughts/moments, no matter how diverting, don't really save Khakee: The Bihar Chapter from coming across as bland and unimaginative.

What gets on your nerves are the voice-overs that come from Ranjan Kumar (Abhimanyu Singh). When we reach the point where a flashback started, we hear something like, "Issi mode pe kahaani chhodi thi." At one point, SP Amit (Karan Tacker) is shunned by the police department. In an earlier scene, we see him being celebrated. We get the text, yet the voice-over says something like, "Ek din pehle newspaper mein, dusre din purani khabar." Through this voice-over for dummies, Khakee: The Bihar Chapter underlines itself, making things repetitious. It's not enough that we watch IG Mukteshwar Chaubey (Ashutosh Rana) being shocked by a laptop. Ranjan's voice has to tell us how people in the early 2000s were confounded by the emergence of technology and were just finding out its potential.

I can still digest (or ignore) this type of repetition. But Khakee: The Bihar Chapter does something unpleasant when it revisits the Manikpur massacre. The first time it shows us the violence, it does so to highlight the effect of the massacre on Amit (Tacker's performance, though, is so weak in this scene that we don't notice his character registering the impact of mass murder). However, when the series returns to the massacre flashback for the second and the third time, something feels off. You sense that the replays are meant to sensationalize the act and push our buttons. It comes across as distasteful. Then again, the massacre is shot so amateurishly that it fails to exude a violent or heart-rending sensation. Even when a character faces a great betrayal, we don't feel as if a strong brotherly bond is broken. Pandey is clueless when it comes to fleshing out emotions. There is drama in this material, but he fails to effectively dramatize the emotional beats, resulting in empty sentiments.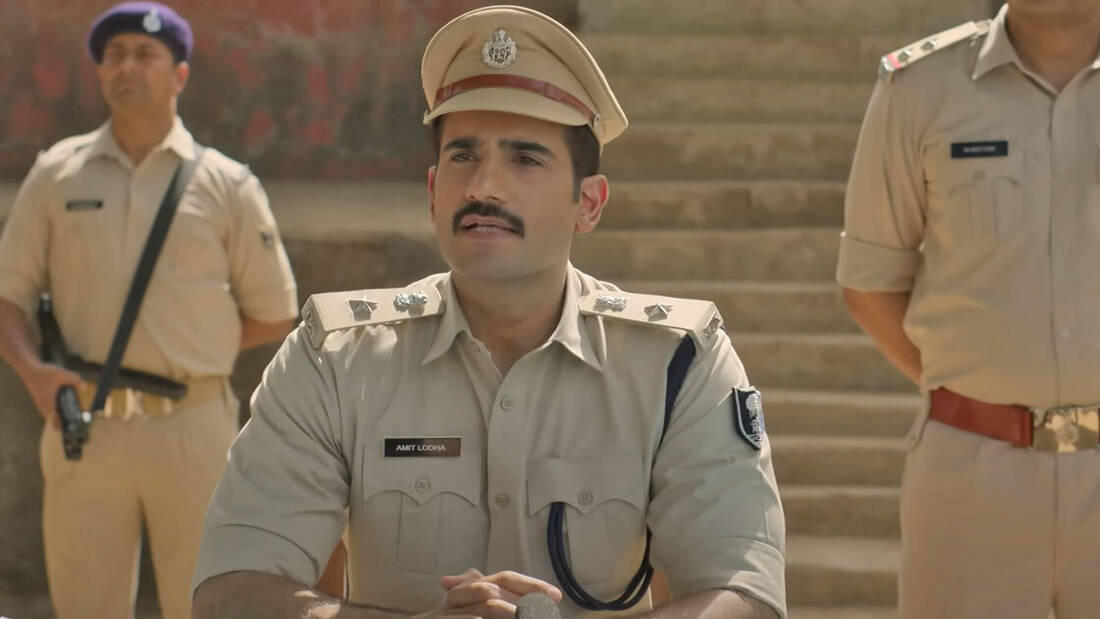 Tiwary is miscast as Chandan. He does not have a menacing aura and mostly looks like an angry kid whose favorite toy has been snatched away by his mother. Ravi Kishan would have been more suitable for the role. Kishan looks delicious as Rajo Singh. He has a potent presence and effortlessly discharges threatening vibes from within. Another strong actor apart from Kishan is none other than Rana. You never know which side he will choose, and this unpredictability comes through in his performance. Tacker is good here and there, while Nikita Dutta pops up and smiles before receding in the background. In short, Rajo and Mukteshwar aside, no other character is memorable here. When a co-worker of Amit dies, we not only don't feel anything for him but also forget that we saw him at the beginning of the series.

Khakee: The Bihar Chapter is the kind of show where, in the name of foreshadowing, Chandan is given a truck named "Road ka Raja" to drive. Because you know, he will soon become a king (a bad one, though). But this "adoration" is not accidental. Khakee: The Bihar Chapter seems more invested in Chandan than Amit. The latter transforms from a city guy to a Bihari man through an ordinary montage. We don't see why Amit chose his profession. There is an IPS interview, but his answers don't go deep and come across as generic. For instance, he mentions feeling powerful in a police officer's uniform. But why only this uniform? What is it about, say, the uniform of an army officer that doesn't make him feel as much powerful? In contrast, Chandan's transformation and motivations are crystal clear. We watch him grow into a dangerous criminal and understand where his rage is coming from. Did Lodha write the book to inform us about an arduous operation, or was he in awe of Chandan? Perhaps, the changes were made solely for Khakee: The Bihar Chapter. When Amit asks someone to get phone numbers, the man first (unintentionally) praises Chandan and then assures Amit he will somehow get a phone number.

Chandan Mahto was a vile, cruel animal who picked up his gun and didn't consider the age or gender of his victims. Khakee: The Bihar Chapter wants to tell us how tough it was for the police to catch Chandan. But the toughness of the job is not seen in this show, or at least we don't feel it. Take the scene where the police search for Meeta Devi (Aishwarya Sushmita), Chyawanprash's (Jatin Sarna) wife. She easily comes into their line of vision and is quickly found again when Ranjan loses sight of her. The laborious process of tracking Chandan is smoothened over by google map animations. The craft is childish and as old as CRT monitors. It doesn't take us long to figure out the snitch in the police department. The camera looks at this character in a certain manner as if screaming, "This guy is trouble!" When Amit learns about his identity, he doesn't explode (Tacker truly gives a vanilla performance).

When Amit is shunned and his wife, Tanu (Dutta), tries to calm him down, he looks down on her by stating that she will continue to be a housewife and will never comprehend his problems. The bitterness in this scene is resolved through a dull sorry and thank you conversation. Chyawanprash has a mistress, but this thread is fruitless. You may argue that Khakee: The Bihar Chapter is "humanizing" these characters by presenting their flaws. But these developments should also have rewarding results, no? And what's the point of "humanizing" the characters when we see them with the same lens from the beginning to the end (Amit is good, and Chyawanprash is a combination of good and bad)? It's disappointing to see such uninteresting misfires from Pandey. This is the same director who gave us A Wednesday, Special 26, Baby, and M.S. Dhoni: The Untold Story. Lately, he has produced tiresome works like Special Ops and Bando Me Tha Dum. The whole debacle started with his 2016 film Aiyaary, which caused one of my friends to snore loudly in the movie theater. Khakee: The Bihar Chapter reveals its unpromising nature in the opening scene set inside a moving train. The awkward jokes and a foreboding "Dekhte hai aap Bihar se kya kamaa ke jaayenge" line make you uncomfortable. If you still sit through the show with optimism, you are simply pointing the gun toward yourself and pulling the trigger.

Final Score- [4/10]
Reviewed by - Vikas Yadav
Follow @vikasonorous on Twitter
Publisher at Midgard Times