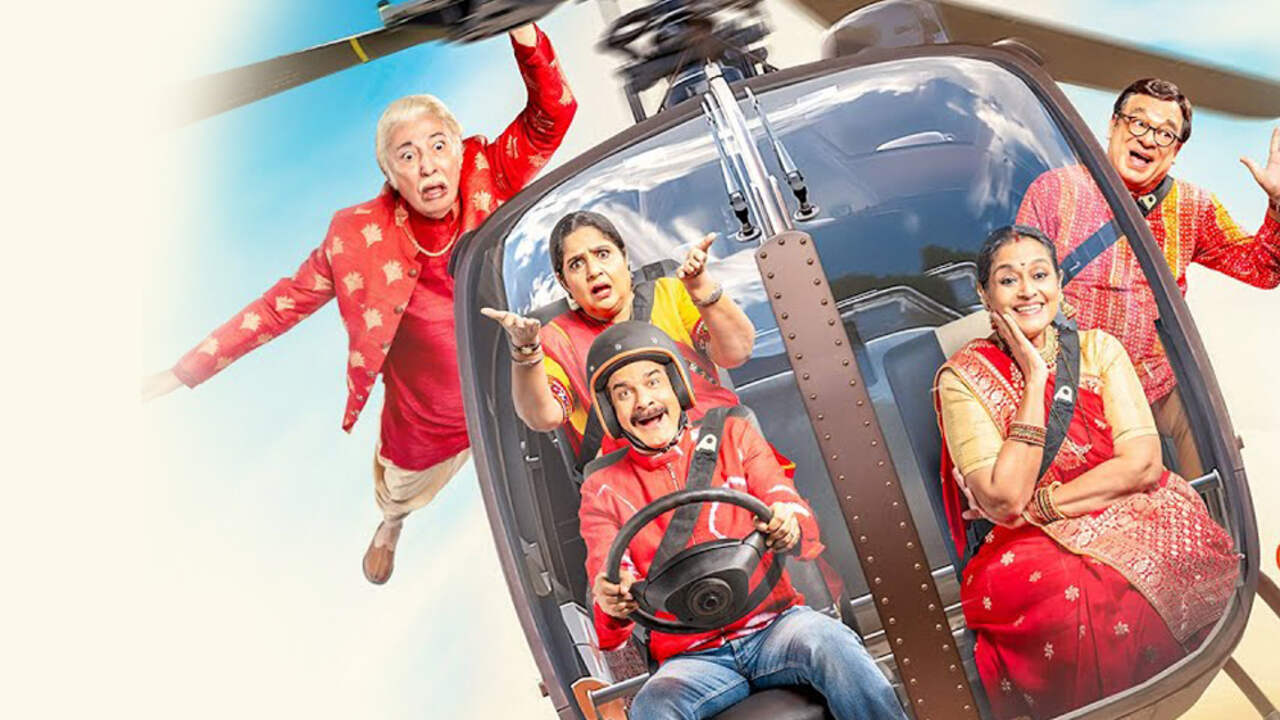 I try not to think less of a comedy that fails to make me laugh. Laughter has little to do with aesthetic substance. During my Fukrey 3 and Aankh Micholi screenings, people around me were rolling in the aisles during moments when I maintained pin-drop silence. Everybody has a different sense of humor. I am a fan of both lowbrow and highbrow humor. God knows I have cracked my fair share of bad puns. What everyone desires from a comedy show/film is jokes that are actually funny. Aatish Kapadia's Khichdi 2: Mission Paanthukistan has its share of chucklesome scenes. It begins with a lot of promise, with an introduction set inside a helicopter featuring Pratik Gandhi. People like me, who used to watch Khichdi on TV, would instantly get submerged in fond memories upon seeing Hansa (Supriya Pathak Kapur), Praful (Rajeev Mehta), Tulsidas (Anang Desai), Himanshu (Jamnadas Majethia), and Jayshree (Vandana Pathak). The actors remain amusing even when the jokes become tiring. Because the sequel also demonstrates that nostalgia can be unappealing. It's not always a good idea to resuscitate a dead body.

Khichdi 2 has something like a plot that involves the Parekh family going on an undercover mission to Paanthukistan - a place whose inhabitants are never seen chewing paan. Thus, the color red is not found on the lips but on the bags, the women wear to hide their faces. This, along with their white outfit, makes them look like an unharmful copy of the Ku Klux Klan. They are unharmful because they are the victims. Their king, whose name I don't remember, is a tyrant. Since this is a Khichdi film, the cruelty has a comic flavor. For instance, the king informs the Parekhs - who are disguised as documentary filmmakers - that he promised to provide one toilet to all the citizens, and he fulfilled his promise. Cut to the shot of the people going inside one toilet.

If you groan at such gags, chances are you will leave the theater during the interval (one man walked out during my screening). But if you can digest these incidents, then by all means, stay. This is, after all, a film where if you tell someone to wait, they will tell you their weight. That D'Decor advertisement where Shah Rukh Khan draws curtains can perfectly fit within the Khichdi environment. Many movies nowadays don't like to move to a foreign location for simply a song sequence. Khichdi 2, though, brings that trope back. The characters not only dance in Switzerland, but this scene comes when Himanshu and Parminder (Kirti Kulhari) apply an aftershave (don't ask). Speaking of Parminder, she and her family members are underutilized here. When Parminder blackmails a police officer and runs towards...something, you wait for the joke to land. But the scene ends before anything funny could happen, leaving you with the question, "Why was that police officer looking so puzzled?" The Parminders, though, redeem themselves while talking to the inspector.

The movie is all good and watchable when it dispenses amusements. The spell breaks when things become tiresome. When that happens, you busy yourself with serious contemplations. Questions like, "What am I doing with my life?," "Why am I watching a Khichdi sequel on a Sunday morning in an almost empty theater?" and "Are those three people in the back enjoying the film or going through their Instagram?" pop up in your head. It's surely not a good sign for a comedy film when you exit the theater with a sad face. Khichdi 2 is both boring and boisterous. It is comfortably perched somewhere between ha ha and help. "Mai toh thakk gyi bhaisahab," Hansa would have said.

Final Score- [4/10]
Reviewed by - Vikas Yadav
Follow @vikasonorous on Twitter
Publisher at Midgard Times