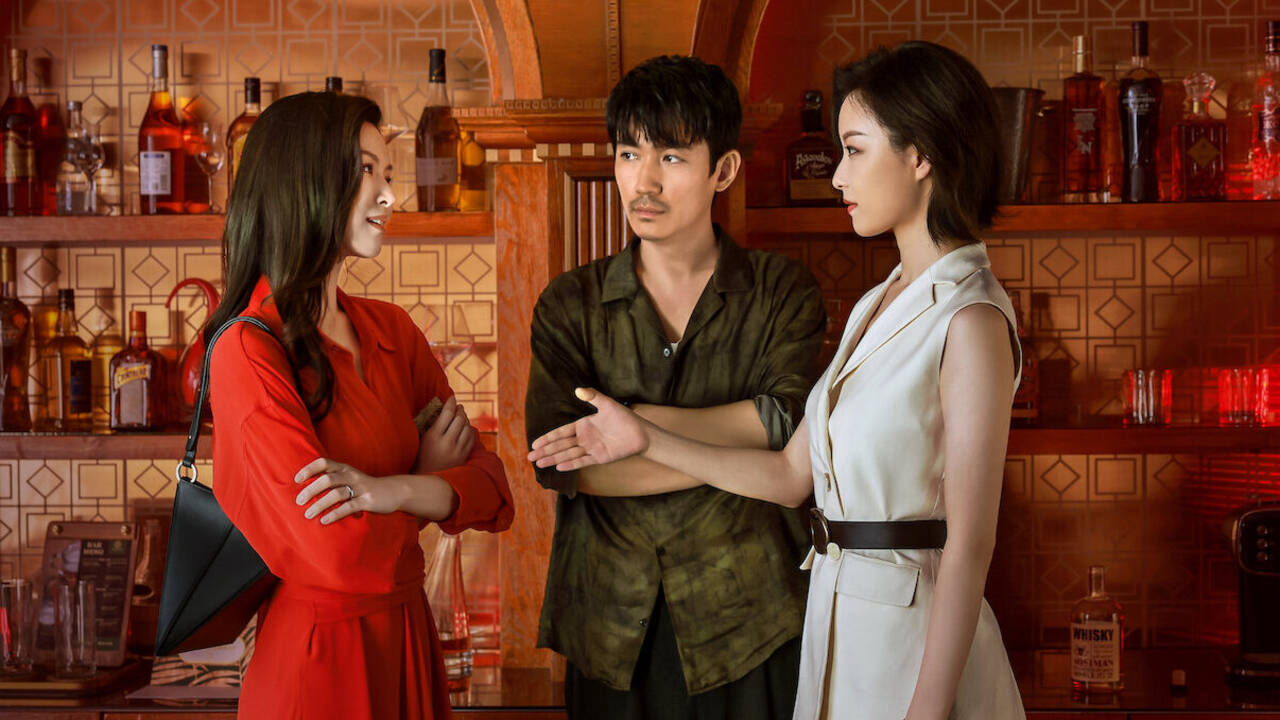 Lost in the Stars, directed by Cui Rui and Liu Xiang, opens with a distressed He Fei (Zhu Yilong) telling the police officers that his wife, Li Muzi, has been missing for 15 days. The police don't take his complaint seriously, but Officer Zheng (Du Jiang) displays some kindness towards him. Then, suddenly, one morning, He Fei wakes up and finds Li Muzi sleeping next to him. The problem, however, is that this woman (Janice Man) is not his wife. She says she is Li Muzi but doesn't look like her. He Fei is absolutely sure she is not his spouse and even calls the police. But if this lady is not Li Muzi, how does she know where the couple met initially, and how does she have that scar on her leg? Could He Fei have lost his memory due to his neurotic condition? Or maybe a crime syndicate is behind the wife's disappearance? After all, a few years back, some other man's wife, too, vanished into thin air and was later found doing a freak show at a club. What's actually happening here? What's the real truth?

These details are so interesting that you instantly get sucked into the film. It helps that Rui and Xiang's excitement is almost palpable. During a car chase, the camera (like that of Michael Bay's in Ambulance) swings deliriously in the air. Hongjia Tang's editing never allows the movie to become dull. Lost in the Stars is sufficiently fast-paced, which is why you don't raise many questions before reaching the climax. Once the cards are laid on the table, you sit back and tell yourself, "If that character is really such a renowned director, a Google search would have probably destroyed this meticulous plan." I was also unconvinced by a woman's decision to go inside a cage. I can't discuss more as I want to avoid spoilers because much of the pleasure comes from the story itself (Chen Sicheng and Gu Shuyi serve as writers).

A movie like Lost in the Stars relies on misdirection, and if the performances are not solid, the facade can collapse. Thankfully, the actors here are more than capable of handling this material, and since you believe in their emotions and appearances, the final twist manages to be surprising and satisfying. Of course, Yilong has to be more convincing than other actors because he is always in the spotlight. The movie would not have worked so well if he had been incompetent. Yilong pulls us towards his side and also pushes us away when the story requires him to do so. As a worried husband, He Fei makes the audience wish for his success, but when we come to know about his gambling addiction, we get as suspicious as that lawyer named Chen Mai (Ni Ni).

There are shots of a snake and a scorpion, which might be the movie's way of saying, "People are like animals and this world is a jungle." Since He Fei's visa is about to expire, he is given five days to find his wife. This Ticking Clock element doesn't do much to raise the tension. What's fascinating about Lost in the Stars is that it's about characters who love - and get justice through - art. There is a woman who is a theater director and a girl who is a fan of Vincent van Gogh. Yes, the "Stars" in the title refers to The Starry Night, and it's during a "starry night" that a murder is committed. You see, art does not merely provide entertainment. Use it the right way, and you can even catch a criminal.

Final Score- [7/10]
Reviewed by - Vikas Yadav
Follow @vikasonorous on Twitter
Publisher at Midgard Times