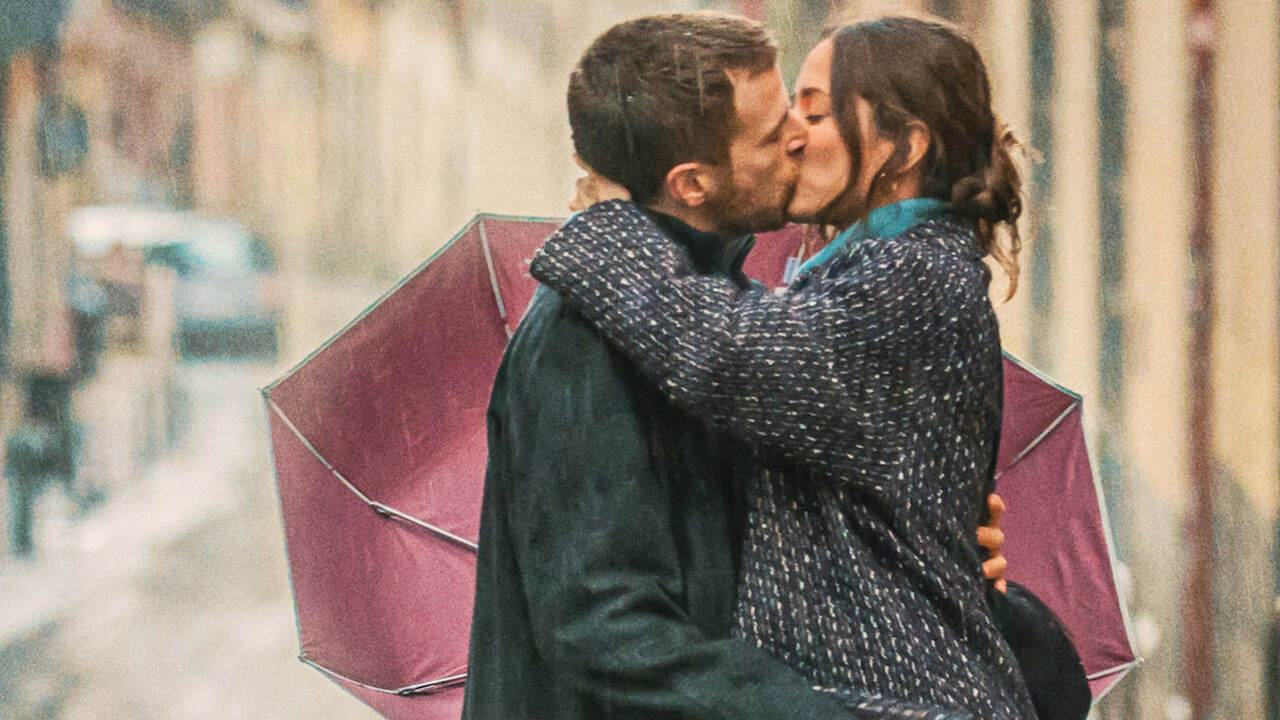 Love at First Kiss starts with Javier sitting in a bar. He's waiting for his date to arrive, and when she does, his ex-girlfriend also arrives. She explains Javier's break-up ritual to her current girlfriend, and what follows is that Javier gets the drink thrown to his face. Javier possesses a unique power, when he kisses a girl, he can see the future they both will share. If he sees that things between them aren't going to end well, he calls the girl on a Friday night in the club, pre-pays the bill, then tells her that things aren't going well between them, and finally breaks up. Just like everyone have a skincare ritual, Javier has his break-up ritual.

Professionally, Javier owns a publishing company. He feels that the books his house will publish should be unique. The publishing house is in huge debt and Sonsoles, the author they've signed is a troublemaker. She used to be a great writer, and her first novel was a hit. Sonsoles wasn't able to handle the fame and started treating her fans badly. After that, the quality of her work also declined and the same trajectory was followed by her career. The publishing house was in enough debt and with authors like her, Javier had huge troubles to face.

One night, while Javier was out with his friends, he kisses Lucia, calling it intoxication or an accident is based upon the audience's choice of words. With that first kiss shared by them, Javier saw a bright future that involved getting married and having kids. However, the thing that was getting in their way of being together was Roberto, Lucia's boyfriend, and Javier's best friend. After some plotting and planning, Javier is successful in breaking them up and secures himself a place in Lucia's life.

He did everything that guaranteed him a good future, but life isn't predictable. There are always some variables involved due to which the outcome can differ. Javier planned everything according to his future seeing powers and the remaining life should be filled with happiness still, can you plan your life?

In my opinion, Love at First Kiss is a good movie to watch. It has something new to show the audience, presents a unique perspective, and the best part is that the plot doesn't feel stale. I liked the concept of how the guy can judge the future with just one kiss, however, as we say that every power has its disadvantages, and the same could be seen in Javier's life.

Adding Ariana's character was a unique touch to the entire 96 minutes film. She's an extraordinary girl who moves with the tagline "expect the unexpected with me". There's nothing predictable with her around, and even Javier's power also fails to work with her one touch. She's like the Bella of Twilight whose mind Edward couldn't read. There's a similarity present between the two films as just like Edward's powers don't work on Bella's mind, Javier's future reading skills are ineffective in Ariana's case.

If you're looking out for an entertaining film to watch this week, do pick Love at First Kiss, and you won't regret your decision. The only thing that I didn't like about this film was how the plot became stagnant in the last 20 to 25 minutes. If they didn't have something worth showing, the time duration could have been cut short or a worthy scene could be added.

Final Score – [7/10]
Reviewed by - Riya Singh
Follow @_riyasinghhh_ on Twitter
Publisher at Midgard Times