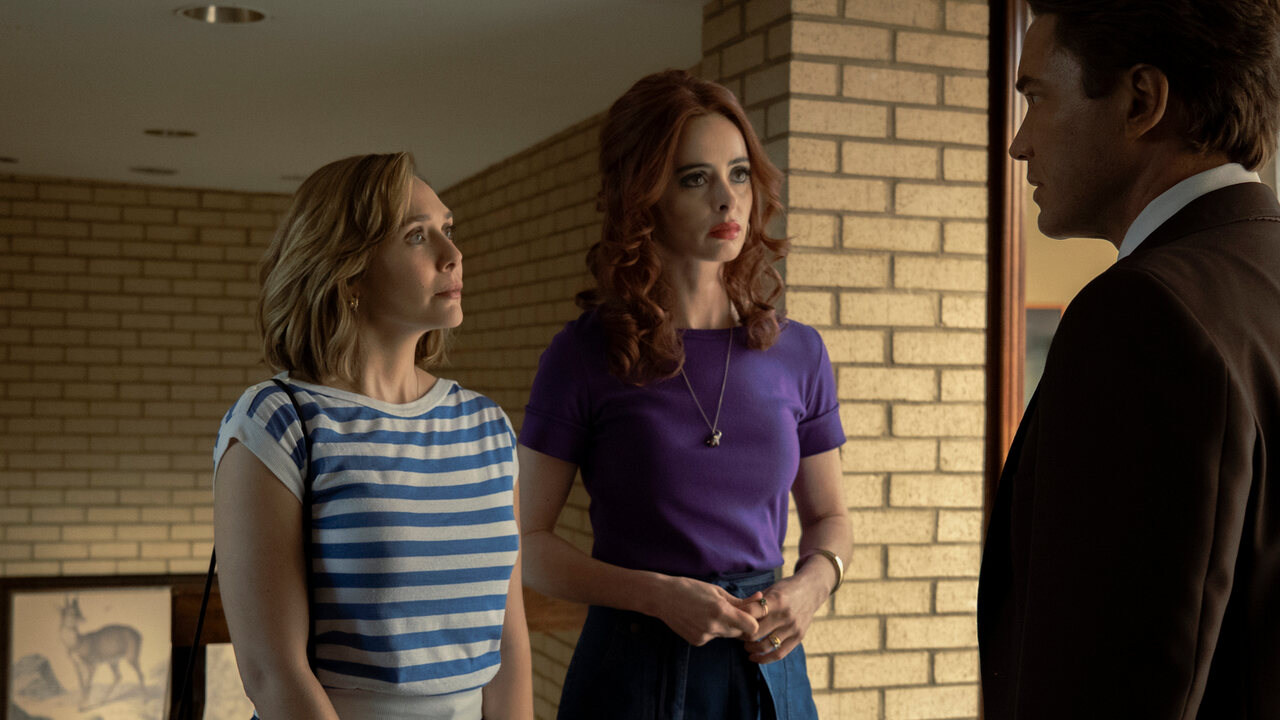 Warning: Major Spoilers for HBO Max Love & Death Episode 5

Have I mentioned how much I love the title sequence of Love & Death? Probably. I'll do it again. HBO seems to have the best title credits in every show they make. Anyways, this show just keeps getting better.

The 5th episode of Love & Death, 'The Arrest,' stays true to the title. The murder has happened and now we're into the aftermath. Right off the bat, we open with a short sequence of Candy cooking, or rather coping, and staring into the distance at 6: 30 in the morning. Elsewhere, Allan Gore talks to the police about his affair, a conversation which soon leads to Candy being called to the police station.

The scene goes just as I thought it would. The officers try to overpower and manipulate Candy into admitting that she murdered Betty and while she accepts the affair with Allen, she stays in denial about the murder. Soon after a very pissed Candy hands over her sandals and fingerprints.

Elizabeth Olsen is so good that you can clearly see how much these accusations are suppressing Candy. How she's panicking. She is realizing that she is being cornered. Rightly so, but Olsen, somehow, still makes her sympathetic.

Candy is the main suspect now. Things are moving quickly, a fact reaffirmed by Don Crowder, Candy's lawyer, in the next scene. He tells Candy what she can and can't do from now on as we move another service for Betty at church. Allan reveals the affair thing to Bett's parents, who, you guessed it right, are quite…disgusted.

The whole situation has become a media debacle, with reporters daring to knock at Candy's door late at night. Teary-eyed but still jamming to the song on the radio, Candy leaves for Don's house. He asks her to tell him the truth, suspecting that she is covering up for someone else. Allan, to be specific. But before the conversation can go too far, Candy confesses. She did it. But Betty had attacked first, so Candy was forced to defend herself.

A few polygraphs and bail bond negotiation attempts later, Candy is arrested. And the police are quite dedicated to making a media circus of it all. A day later, Don is there to help. Assertively, he tells Candy to change her looks and be 'the mousey housewife, the mother, the singer in the church choir' and he'll be the 'tough guy' on defense.

Some time later comes a sequence that I consider to be the best in the series yet. If Elizabeth Olsen doesn't get nominated for this, I'll riot. At a psychiatrist's clinic with Don, Candy is almost hypnotized. She lets out everything. Everything all the way back to her childhood - where she was emotionally abused silenced by her mother, where her trauma accumulated, and where she ended Betty's life. She is not a psychopath, Don and the psychiatrist say. She just snapped.

Candy still isn't telling Pat anything and he's not doing too well either. But that issue is soon solved when the episode ends with a call from Don, finally revealing the truth to Pat.

This episode is everything I was expecting from 'Love & Death.' I will never be able to praise Elizabeth Olsen's performance enough and in this episode, it was not just her who shone. Patrick Fugit as Pat Montgomery and Tom Pelphrey as Don Crowder were outstanding in their respective roles as the sweet, supportive but suspecting husband and the lawyer trying to save his client.

The flashes of the murder during Allan's scene in his kitchen and during Candy's hypnosis sequence added just the right amount of intensity to the watching experience. Overall, I can fairly say that I will be counting the days until I can see how Pat is going to confront Candy now that he knows the truth.

Final Score - [9/10]