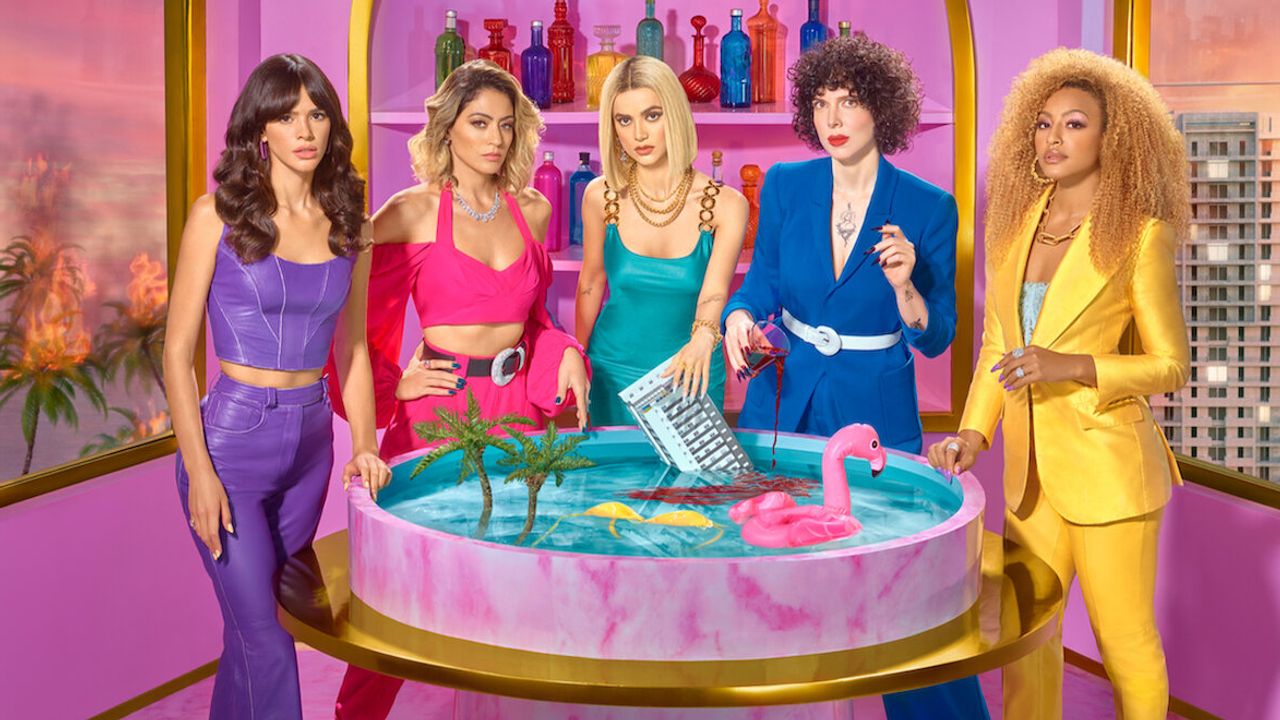 Created by Natalia Klein, the seven-episode series begins with Liz (Bruna Marquezine) moving from Goiânia to Rio de Janeiro to reconcile with her mother, who died in strange fire. To figure out what happened to her mother, she will have to hide from the investigator Denilson (Romani) and enter a world full of strange personalities that live in a luxurious condo called Maldivas.

The first episode gives us a brief introduction to all the Queens of the Maldivas, a luxurious condominium. Each woman is compared with a drink, and without any doubt, this is the most creative introduction, I have ever seen. Our four Queens are Milene, Kat, Rayssa, and Patrícia. For these women, 2 PM is a perfect time to get drinks. They like to sit in their bikinis by the pool and enjoy their gossip time which usually ends up in a fight. The starting scene shows Liz Lobato driving, and a spoiler is given that her life is going to take an interesting turn. It really does take a very interesting turn. In the first episode, it seems as if Patrícia is always at the wrong place at the wrong time. The plot of the series seems to be slow at first, but things catch up in their pace very quickly.

Later, it seems as if my observation came true, and Patrícia got murdered. Liz came to find her mother Patrícia in Maldivas. But, she lost her for the second time. Liz takes the matter into her own hands and starts investigating the murder of her mother. She had three prime suspects: Kat, Milene, and Rayssa. All three women had shady things in their lives that they were trying their best to hide from society. It was not an accident for sure, and Liz was not ready to give up yet. This series is a crime thriller, and sometimes you'll often spot humor being used at the wrong time. For instance, when Veronica was called to identify Patrícia's body, the zipper got stuck. The makers really had the guts to use sarcasm at such a point.

The last episode is filled with action, and the viewers will constantly think about what is going to happen next. Patrícia's real identity will be revealed, then we have a super evil grandmother, who is hiding a lot of things and is thirsty for Patrícia's blood. At such a time, the residents of Maldivas can still be seen partying when two of their people have been kidnapped at gunpoint. There is no such thing as normalcy in Maldivas.

In my opinion, you can stream Maldivas. Just remember that the series is filled with a lot of drama. Women are constantly trying to outsmart each other. This is a totally women-driven project where mostly female actors are playing the important characters. An element of suspense has also been reserved for the viewers. They'll find it out by the last episode. Sometimes you might feel bored while watching this show (as there is excessive drama). Overall, this series feels like a soap drama where all the women are busy dealing with the mishappenings of their lives.

Final Score – [6/10]
Reviewed by - Riya Singh
Follow @_riyasinghhh_ on Twitter