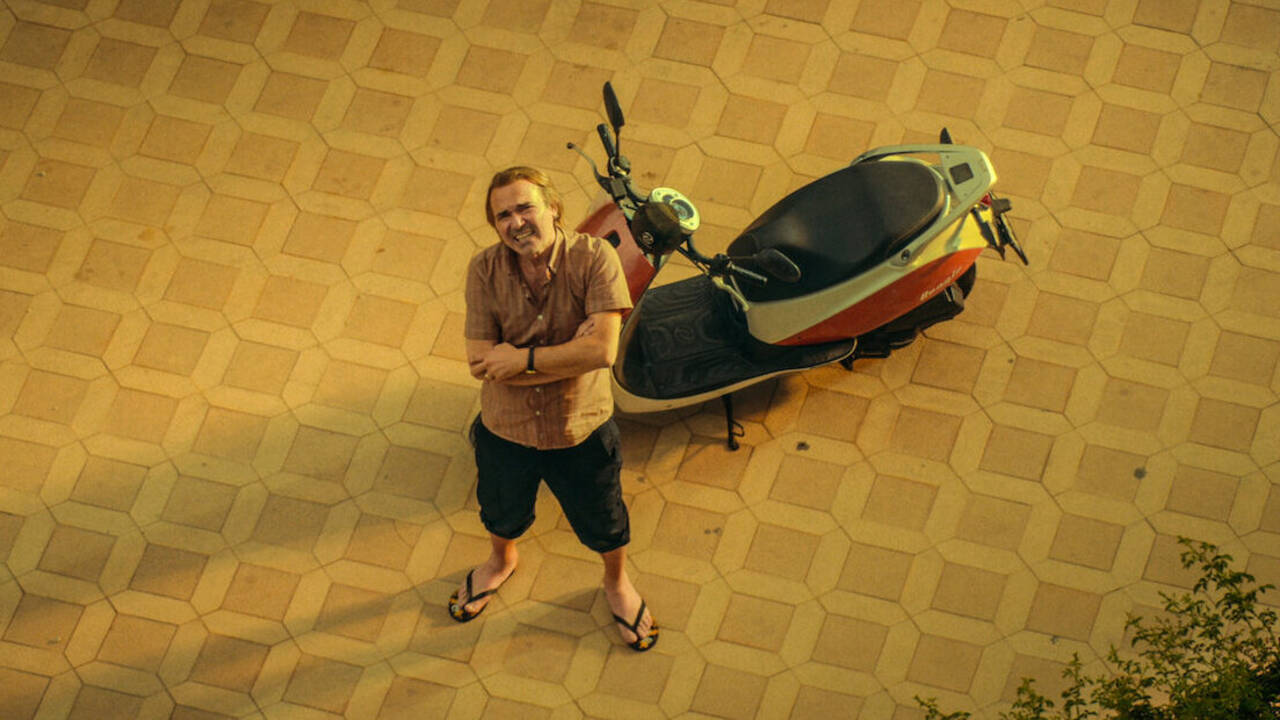 Man on Pause opens with a dead body wearing underwear with "Happy" written on it. This word, combined with the sight of blood, looks amusing, and this visual somewhat defines the tone of this series. Man on Pause can be categorized under drama/black comedy. The writers take the offbeat story to insane territories and the results, though not always funny, are nevertheless absorbing.

Ten minutes into the series, I started loving Yusuf (Engin Günaydin) and his wife, Meryem (Derya Karadas). I smiled when Yusuf, on his scooter, screamed "I love you" to his wife. What immediately draws us into the series is the observation Yusuf makes in front of his barber. He says time is going by quickly, as nowadays, a month seems equal to a day. If you are not a scientist, then only two types of people talk about the "quickness" of time - Those who regret passing their time and those who are about to die. With Yusuf, people go for the latter option. Meryen considers her husband's cheerfulness (he takes a selfie with his family) as a sign of disease. The suspicion is strengthened by Yusuf's sister, Fadime (Sebnem Hassanisoughi), a fortune-teller who sees a coffin during a session with Meryen. Of course, Meryen also tails Yusuf to a hospital. Is he really sick? Does he have cancer?

The answers to these questions are given in the first episode, though it's not the answers that excite us while watching this show. Man on Pause generates such crazy scenarios that a part of you wishes to stand up and give a salute to the makers. Anyone can make up preposterous sequences. However, the creators don't go into the absurd territory for empty laughs and showboating. They pull off their mad creation with confidence and zeal. You feel as if you are watching a chain reaction where every explosion is bizarre and unpredictable. I was never sure where the show was headed, and after a while, I stopped guessing. I mean, in one of the episodes, a corpse is thrown on a car dangling from a cliff. This is a show where a voice translator app is used in an ominous situation.

Man on Pause has some very entertaining laugh-out-loud moments. There is one where Yusuf tries contact lenses. There is another where two kids make plans to divide property among themselves. I lost it when Fadime's husband, Halit (Tamer Karadagli), cried like a baby at the funeral of an old and drunk broker. Halit is the most interesting character here. You are never sure what his next action will be. In one scene, he could be a source of humor; in another, he could be intimidating. No wonder he ends up being the go-to guy for two women in trouble.

There is a moment in Man on Pause where Yusuf talks about the sacred bond between married couples. In short, he despises infidelity and thinks if you are married, you should not look for love elsewhere. Did I mention that Yusuf himself had an affair in the past? Maybe he has changed now. Well, not so much. When he comes across twin sisters, he finds himself getting seduced by one of them. He tries resisting his carnal impulses but finally gives in and sends an "I love you" text message. There are various types of men in Man on Pause: Dumb, abusive, criminals, take your pick. What's common between them is that they are not as intelligent as they think they are. The women, in comparison, are sensible because they either stay away from trouble or manage to get out of one through manipulation. Some, like Akya (Doga Zeynep Doguslu), use boys to expand their wealth.

There are some beautiful scenes in Man on Pause. Just see how the one with a father going through her daughter's text messages and another with Mahmut (Turgut Tuncalp) on his private boat in the last episode is executed. The tension is expertly stretched and released in a lovely and creative manner. It suggests that the writers have put effort into writing scenes and are not merely inventing ludicrous and disjointed scenarios in the name of humor. Everything - no matter how absurd - connects. All the scenes arise organically and fit into the logic of this world. The ending looks too neat and rushed. The show could have used a few more episodes to nicely tie things up. I wouldn't have objected if some threads were left open for a second season (that new shop could have been used as an obstacle in the future). But overall, Man on Pause is hugely enjoyable, and it's something I watched without taking big pauses.

Final Score – [9/10]
Reviewed by - Vikas Yadav
Follow @vikasonorous on Twitter