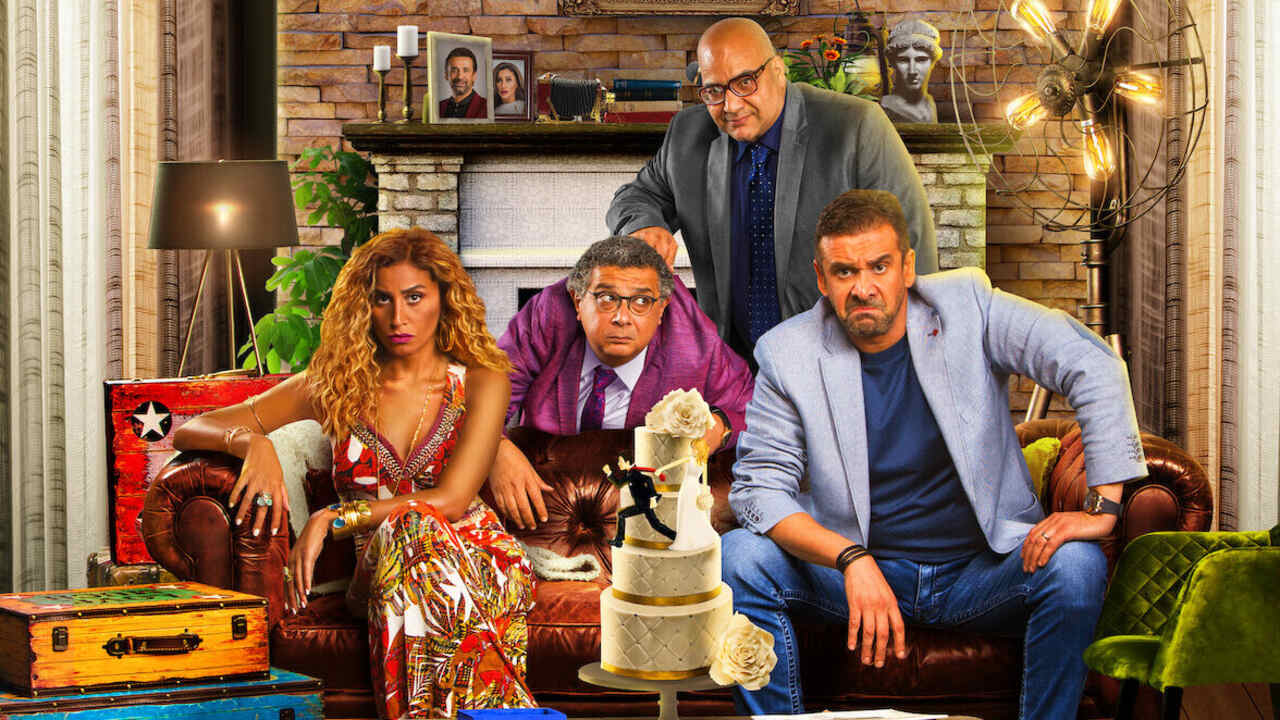 "Marry Me Again?" (originally titled Al-Baadh La Yathhab Lil Maathoun Marratain) is an Egyptian comedy directed by Ahmed El Gendy and written by Youssef Emad and Ayman Wattar. It has a runtime of 1 hour and 40 minutes.

This film tackles a premise that we've seen before in Hindi films such as Pyaar ka Punchnama or No Entry. The subject of the film revolves around relationships between romantic partners and whether the two can ever actually be happy together. Marry Me Again's premise revolves around the government's decision to digitize marriage certificates, which annuls weddings if the certificates aren't submitted, leading to the question of whether people would submit the certificates to marry their partner again.

The film begins with a comedic news heist of sorts wherein our main protagonist, Khaled (Karim Abdel Aziz), a sensationalist reporter (at least that is what he appears to be) goes underground as a customer of a drug kingpin and performs a drug bust. The entire scene is filled to the brim with quips and jokes that one has come to expect from the genre. When the drug kingpin asks Khaled why he is in jail, he proclaims that he went in for murder. When questioned about who he killed, Khaled takes a look at the TV, which shows the famous footballer from Egypt, Mohammad Salah, and hence he mentions a similar name. This scene specifically reminded me of a very famous scene from Sasha Baron Cohen's The Dictator.

The film is very derivative of previous comedies in the genre. Even though it comes from Egypt, the film has a very similar tone to Bollywood films. The main story focuses on Khaled and his wife, Soraya. Khaled is an incredibly successful reporter, whereas Soraya is a type of marriage counselor who also runs a radio show. The two are exhausted with each other to the point that in one scene, they get "Happy Anniversary" messages from other people. Instead of getting annoyed about how neither of them remembered, they throw a superficial party to celebrate it instantly. At the party, the two invite a recently divorced couple by mistake. When they realize that the divorced couple is quite satisfied and happy with their divorce, they begin wondering if they should get one too. Khaled's brother-in-law is a famous divorce lawyer who is known for being very sly and clever, and hence Khaled approaches him to discuss the situation.

The film gave me a very 90s, early 2000s Bollywood comedy vibe. with similar tropes from those films. Funny and exaggerated characters whose behaviors contradict their statements lead to problematic yet comedic situations. Despite being tacky and overly exaggerated in terms of the comedic bits, The film still managed to make me smile at certain scenes. Especially Khaled's brother-in-law, who is extremely clever and business minded. In one scene he advises people to stay away from homewreckers while encouraging a couple to get divorced on the phone.

Overall, It is a very generic kind of story about how couples who've been together longer aren't generally happy. They're constantly arguing, and the solution (at least according to Khaled's brother-in-law) is divorce. It doesn't really provide anything special other than what it sets out to do. If you're interested in a newer film that takes you back several decades to humor from the 1990s, This film might be right up your alley.

Final Score – [4/10]
Reviewed by - Aayush Chaurasia
Follow @AayushChaur44 on Twitter
Publisher at Midgard Times