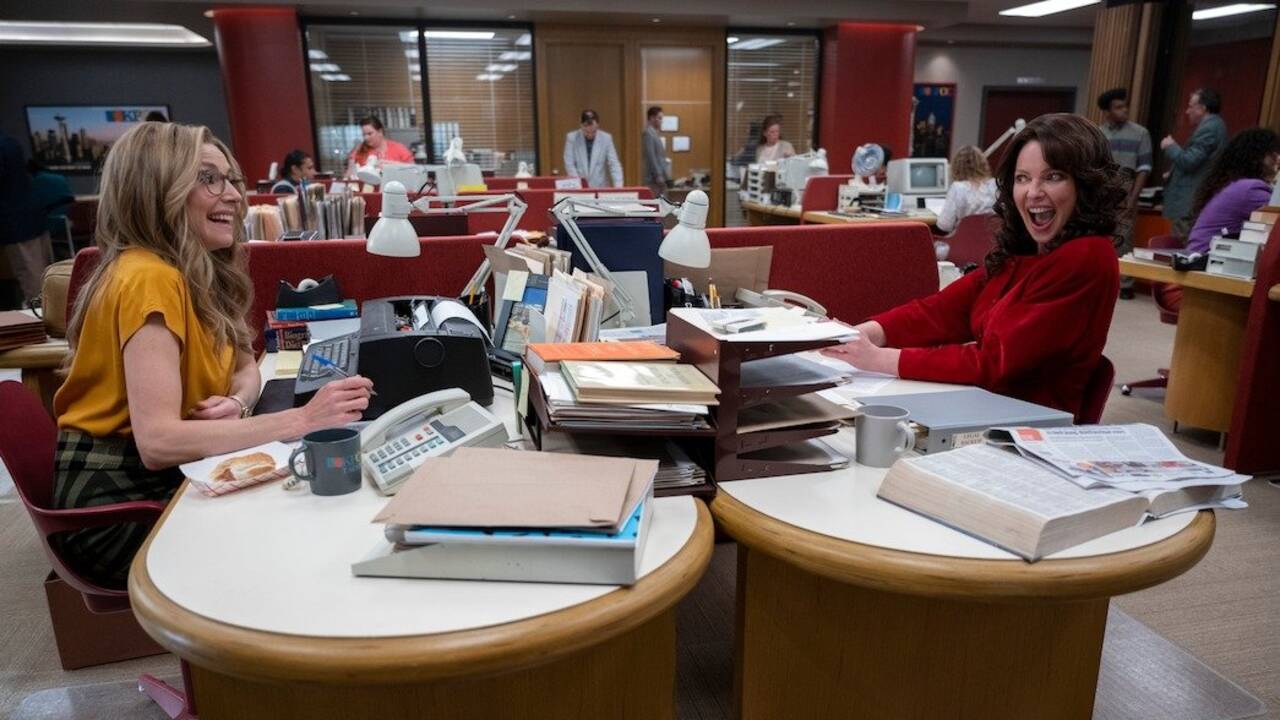 Firefly Lane season 2 starts with Kate's father's memorial service. Kate and Tully are in a rough spot, and Kate truly hates her currently. Johnny, Kate's ex-husband is severely ill after he got injured in the attack in Iraq. The series takes us back in time explaining what all happened in 1975 when they were roommates, of which all the details can't be given as it's exhausting. One's bound to lose the sense of time if they don't focus on the years that'll be mentioned in the left or right corner of the screen.

There's a consistency with Kate and Tully's pattern. Tully and Kate care for each other and share a great friendship. They're each other's pillars of support. Kate is a lover, and Tully is a professional, everyone hits on her, but she's clear-headed and doesn't like falling in love. Tully is as fierce as fire, and Kate as soft as flower petals. That's it, as I'd like to stop here before giving more metaphors to make it less confusing. Just like my descriptive words for these characters were so much, the drama in their lives is equivalent. In nine episodes with a duration of 50 minutes each, a lot has been shown, and I mean a lot!

In my opinion, Firefly Lane Season 2 keeps the audience engaged till the very end. Taking us back and front with timelines and how Kate's and Tully's friendship evolved, it was a fun and emotional ride. The series explores their friendship, professional careers, relationships, and the bond between a mother and a daughter.

Katherine Heigl and Sarah Chalke for sure form a great combination and to watch their friendship on screen is a treat. The series is soapy and tells us the tale of their friendship from 1975 to the present. While Tully is ambitious, Kate prefers to live a romantic life. Firefly Lane is based on Kristin Hannah's 2008 novel and the way the series takes us back and forth sometimes becomes a headache.

Just like every relationship has its downfalls, Kate's and Tully's suffered the same fate. Kate ignored Tully for a long time because of her newfound relationship with Johnny. It doesn't go well with Tully as she needed Kate's support the most at that time. However, this isn't the only reason for the current rift they've been suffering.

In the first episode itself, several questions have been raised like will Tully be successful in tracking her birth father? Will Kate and Johnny's relationship survive after he got injured in an attack in Iraq? What was the possible reason that caused a rift between these two sisterly friends?

The last episode of season 2 part 1 will leave the viewers in a rough spot as this wasn't expected at all. With Kate's father's recent death (revealed in the first episode), and the rift between her and Tully (also told in the first episode), why did the writers choose this ending? As if it wasn't painful enough to watch what Kate was already enduring, this comes as a big surprise. The series isn't over yet and we'll get new episodes in 2023. Hope that the writers can take some of the pain away.

Final Score – [6/10]
Reviewed by - Riya Singh
Follow @_riyasinghhh_ on Twitter
Publisher at Midgard Times