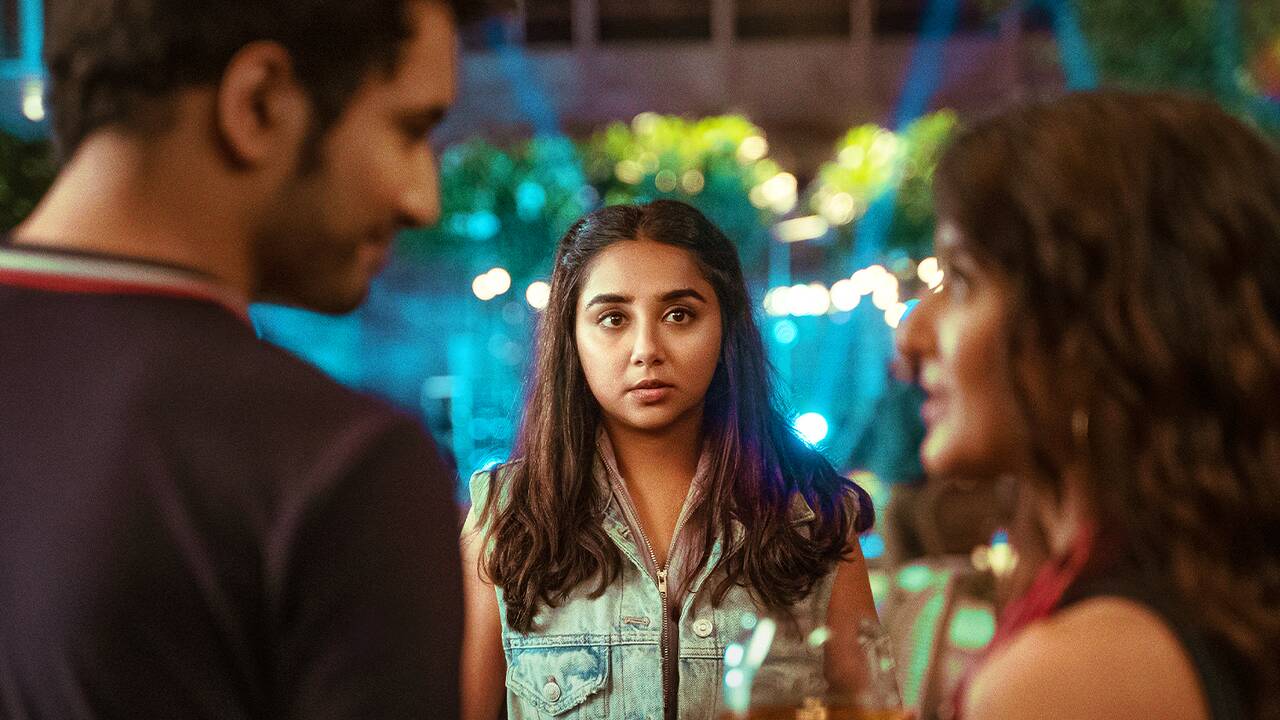 There is so much "content" to watch nowadays that I forget all about a mediocre show or movie within a few weeks. Even scenes from stuff I must have watched a year or two ago fade from my memory. Unless a show or a movie is truly mind-blowing, don't expect me to remember any details from it. Hence, it's only natural that something like Mismatched got deleted from my mind. I found its first season weak and predictable. A quick 2-minute recap on Netflix managed to unearth some memories of that first season, and it was enough for me to go into this second one. I liked this season more than the previous one, but I doubt it will stay with me for more than a month.

Mismatched Season 2 continues from where the previous season ended. Some highlights include: Dimple (Prajakta Koli) kissed Harsh (Vihaan Samat) - an action that made Rishi (Rohit Saraf) furious. Celina (Muskkaan Jaferi) broke Namrata's (Devyani Shorey) heart when she screamed at her in public and insulted her identity as a lesbian. Anmol (Taaruk Raina) and Krish (Abhinav Sharma) are still rude, and the former was defeated by Dimple in a video game tournament. Simran (Kritika Bharadwaj) continues to punish her body by taking salads. She is obsessed with creating a perfect Instagram image. Then there is the issue of Dimple's AntiSosh app theft. Someone stole her code and sold it to a company that renamed it UnSocial. You bet Dimple and Harsh become Holmes and Watson and investigate this incident.

The teenagers in Mismatched are fluent in coding languages but fumble when it comes to speaking love languages. They can understand and solve complicated lines of code but struggle to assess and repair emotional damage. There are more bugs in their romance than in their apps. Season 2 brings forth the prickly side of romance. It reveals that an innocent face can harbor sour expressions. Rishi's voice sounds so sweet, and his face looks so puppy-like that we are shocked when he hurts Dimple in that scene where she comes to give feedback on his and Namrata's app. His cruelty lands like a knife to our stomach. Rishi is someone who has filmy notions about true love. He is the kind of guy who wholeheartedly believes in the concept of soulmate. This is why he is annoyed. He is unable to digest that his soulmate (Dimple) kissed someone else.

This also means that Season 2 shatters silly misconceptions. Rishi's crazy romantic theories are upended. The unrealistic aspect of porn, too, is brought to the surface. And through Anmol, the show addresses that many people suffer from some sort of physical or mental damage (he goes to therapy and joins a support group). These moments can be beautiful, though Mismatched Season 2 irritates when it gives voice to its philosophical musings. Someone mentions that falling into a bed of thorns is less painful than falling in love. Every episode consists of such lines that originate from the characters' minds. I could easily do away with them. Another irksome aspect of Season 2 is its constant effort to underline itself. After Anmol is done screaming at another version of himself, a counselor points out that he is merely angry with his former image. When one of the voice-overs complains about how she is trapped behind a wall of glass, we see the character's face behind a fishing bowl. You see, she is like a fish who is confined within a transparent bowl. If you can handle such plain nonsense, you might enjoy Mismatched a bit more than this viewer.

Since the characters in Mismatched are closer to gadgets, they first find solutions to their problem on the Internet. We notice Google searches like "How to handle a panic attack," "how to be super skinny in 6 days," and "how to be sexy in 4 days." Needless to say, the search results do them no favors. In fact, their reliance on technology ends up harming them. In her quest to become an Insta queen, Simran starves herself and collapses during a tech fest. The three dots in the text message window become an extension of these characters. They try to speak their mind, but sometimes they are interrupted. Celina attempts to apologize to Namrata, but she takes her order and walks away. Harsh tries to propose to Dimple at a wedding but is cut off by the firecrackers. The three dots appear, dance, and then disappear.

Mismatched Season 2 is definitely better than the first season, though don't forget to note that the bar is already too low. Still, I accept that there are some genuinely affecting scenes here. Karim's line about people using emojis to run away from texts is pleasantly insightful. It's moving to see why Rishi stops himself from pursuing animation (he doesn't want his brother to adopt his father's mannerisms). Many sweet moments are produced during a wedding function. There is one between Rishi and Dimple as they catch up on a past incident. Then there is that emotional (and fantastic) scene where it's told to Dimple, who stole the code from her laptop. The sad scene between Rishi and a female photographer is also wonderfully executed. These little bits and pieces, along with the performances, keep Mismatched Season 2 from turning into a total failure.

Final Score – [6.5/10]
Reviewed by - Vikas Yadav
Follow @vikasonorous on Twitter
Publisher at Midgard Times