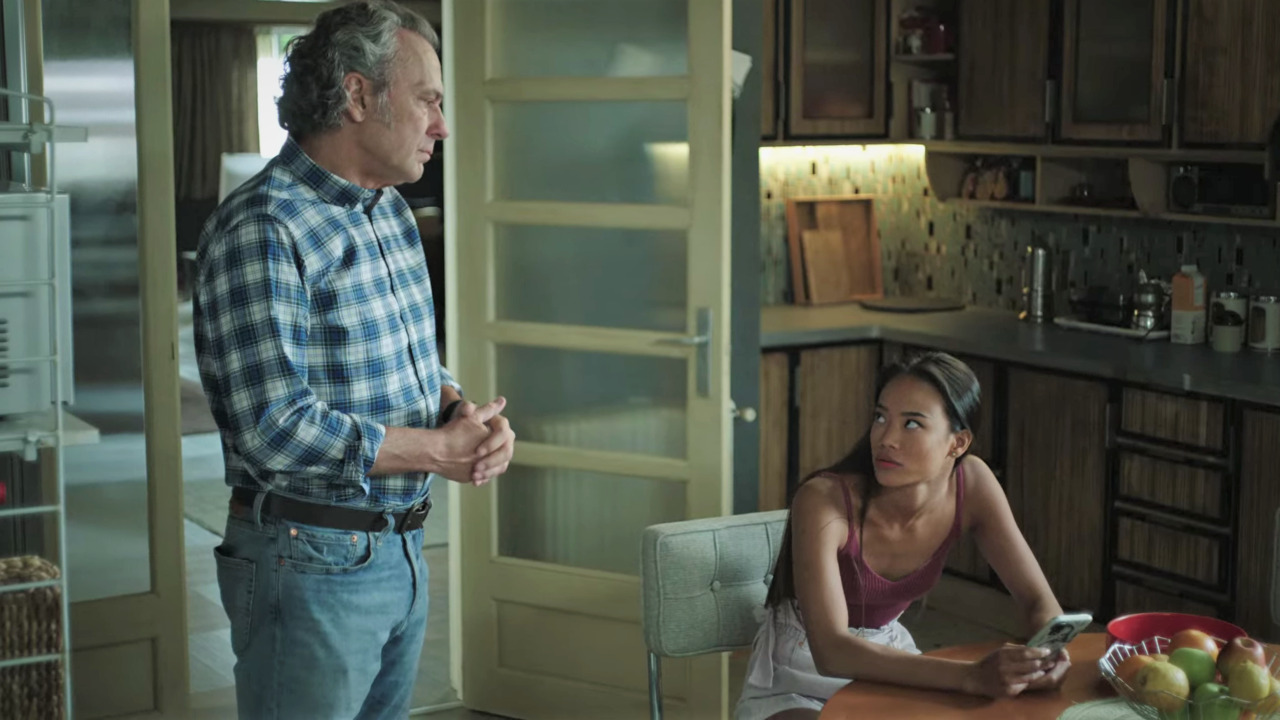 Wrong Side of the Tracks (Entrevías) Season 2 opens with Tirso sleeping with a constant sound of construction in the background. Entrevías was being modified and some shops were also shown to be deciding to shut down like Pepe's bar. Irene is shown back at her parents' house and Nelson is seen on the streets of Entrevías dealing and smoking joints.

Looking at it, Nelson and Irene aren't on talking terms and they often see each other's last messages on their respective devices. Irene is still practicing dance, she's got good moves, and wants to be a dancer. Nelson gets in trouble when he picks up a fight with a member of the rival gang. They later track him down, and he's attacked. We all know that gang fights don't end well and with how Entrevías streets were getting flooded with multiple of them, a fight was bound to happen. The Police and the various gangs knew this fact and were preparing for the same.

Nata, Nelson's gang leader is a girl who doesn't think twice and acts rashly. She's a troublemaker whose advantage is also taken by the spies employed by Police Officer Amanda. There's an ongoing war for territory in Entrevías, and Tirso thinks that he'll be able to stop it if he's the one on vigilance. Irene gets back to live with her grandfather and tells him that she's pregnant. Things aren't good for her this season, lets's see what the writers have in store for the upcoming ones (if there are any other season happening). Watching how enthusiastic Tirso was to protect the place he's lived in, arouses a sense of safety in the locals.

The dynamics between Tirso and his family remain the same as the previous season. With Tirso being involved, it is sure that nobody can dare to harm his friends and family. Ezequiel is the game-changing character in the show with many layers that unfold with each passing episode.

In the initial two episodes, it is revealed how Nelson cheated on Irene with Nata. The night that he was busy engaging with Nata, it was the same night when Irene found the courage to tell him that she is pregnant. Before he could read the message, she deleted it. How silly it is of Irene to come back to the same cheating boyfriend? This didn't make any sense at all.

The story's intensity over the subsequent episodes fades, and it seems to have lost rhythm. They tried to include a lot of things like betrayal, grandfather's love, the police investigation, and a few other things, which doesn't seem to add well.

In my opinion, Wrong Side of the Tracks is just an average show which would have done better with just one season only. Unlike the first season, this one is a complete disaster and keeps on entangling the minds of the viewers. Just an episode into the series and I knew that this isn't worth my time and effort. As you can read in my review of the first season, I was very excited to get its second part, and watching how that turned out, I wish that I hadn't hoped for it.

Some shows are better if not extended into multiple seasons and Entrevías is one of them. How long can you stretch the topic of a society that is troubled by drug dealers? I hope that instead of series like these, the worthy ones get the opportunity for sequels. But anyway, a third season for this is already on the way.

Nona Sobo showed potential in the first season, however, in this one, her performance rather seems to be stagnant. She didn't come out of the first season phase and carried that in the second as well. The versatility part was missing on her part and from a character like Irene's, a lot was expected. José Coronado has been in his best form, and it looks like the burden of continuing the show has been laid on his shoulders.

Final Score – [4/10]
Reviewed by - Riya Singh
Follow @_riyasinghhh_ on Twitter
Publisher at Midgard Times