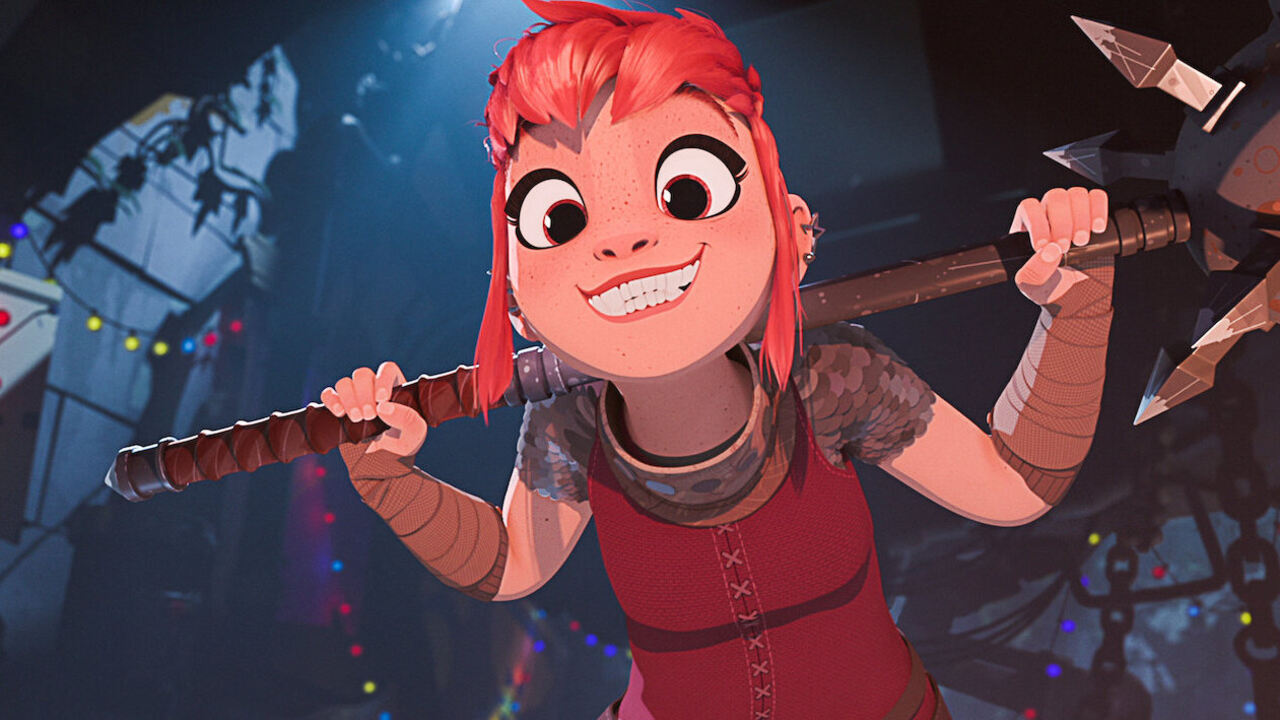 Nimona, the animated science fantasy adventure comedy film based on the comic series by ND Stevenson, bursts onto the screen with vibrant energy and a captivating storyline. Directed by Nick Bruno and Troy Quane, and brought to life by the talented voices of Chloë Grace Moretz, Riz Ahmed, and Eugene Lee Yang, Nimona is a delightful fusion of genres that leaves a lasting impression.

In a mesmerizing techno-medieval world, Nimona takes us on a thrilling journey alongside a wrongly accused knight, desperate to prove his innocence. Enter Nimona, a shape-shifting teenager with a mysterious past, who becomes the knight's unexpected ally. Their unique bond challenges societal norms and confronts the fear of the unknown. The film invites us to question the labels we assign to people, as Nimona refuses to be defined by anyone.

Nimona expertly explores a variety of thought-provoking themes. It delves into the concept of misunderstood monsters, shedding light on society's tendency to fear what it doesn't understand. Through its engaging narrative, the film also addresses the fear of difference, urging viewers to embrace diversity and overcome prejudice. With an inclusive cast and diverse storytelling, Nimona reminds us of the power of acceptance and the beauty of individuality.

One of the film's greatest strengths lies in its authentic representation. Nimona embraces diversity, including LGBTQ+ characters, with genuine depth and sensitivity. By doing so, it creates a rich and relatable tapestry of characters that resonate with audiences on a profound level. This inclusivity adds layers of complexity to the story, elevating it beyond a simple animated adventure.

Nimona captivates audiences with its masterful storytelling, blending elements of science fiction, fairytale charm, and thrilling monster encounters. The film strikes an impeccable balance between entertainment and emotional resonance, resulting in a viewing experience that is both exhilarating and moving. The world-building is immersive, transporting us to a visually stunning realm brimming with vibrant colors and imaginative landscapes.

The voice acting in Nimona is truly outstanding. Moretz and Ahmed deliver exceptional performances, infusing their characters with depth, nuance, and genuine emotion. Their on-screen chemistry enhances the connection between the knight and Nimona, allowing their friendship to shine brightly throughout the film.

The dialogues in Nimona are sharp, witty, and immensely entertaining. They inject life into the characters, revitalizing familiar story tropes with a fresh and humorous twist. However, there are moments when certain supporting characters feel underdeveloped, and the dialogues lack the same level of depth and complexity. This occasional weakness slightly hampers the film's overall cohesion and impact.

Despite this minor setback, Nimona remains a vibrant and enchanting film that leaves a lasting impression. It flawlessly balances its positive messages with an engaging narrative, ensuring that viewers are both entertained and inspired. The animation is visually stunning, with meticulous attention to detail that brings the world of Nimona to vivid life. The film's evocative soundtrack further enhances the emotional resonance, sweeping audiences along on an unforgettable adventure.

Nimona's brilliance extends beyond its surface-level appeal. It serves as a pointed allegory, addressing the dangers of social paranoia and drawing parallels to real-world political situations. Furthermore, the film embraces the themes of transness and gender fluidity, providing a powerful and empowering representation for audiences to connect with.

In conclusion, Nimona is a triumph of animation that celebrates diversity, challenges societal norms, and entertains with infectious charm. While it falters at times in fully developing certain supporting characters and their dialogues, the film's overall impact and memorable storytelling shine through. With its positive representation, exceptional voice acting, and imaginative world-building, Nimona is a must-watch for both fans of the comic series and newcomers seeking an exhilarating and thought-provoking cinematic experience.

Final Score- [9/10]
Reviewed by - Anjali Sharma
Follow @AnjaliS54769166 on Twitter
Publisher at Midgard Times