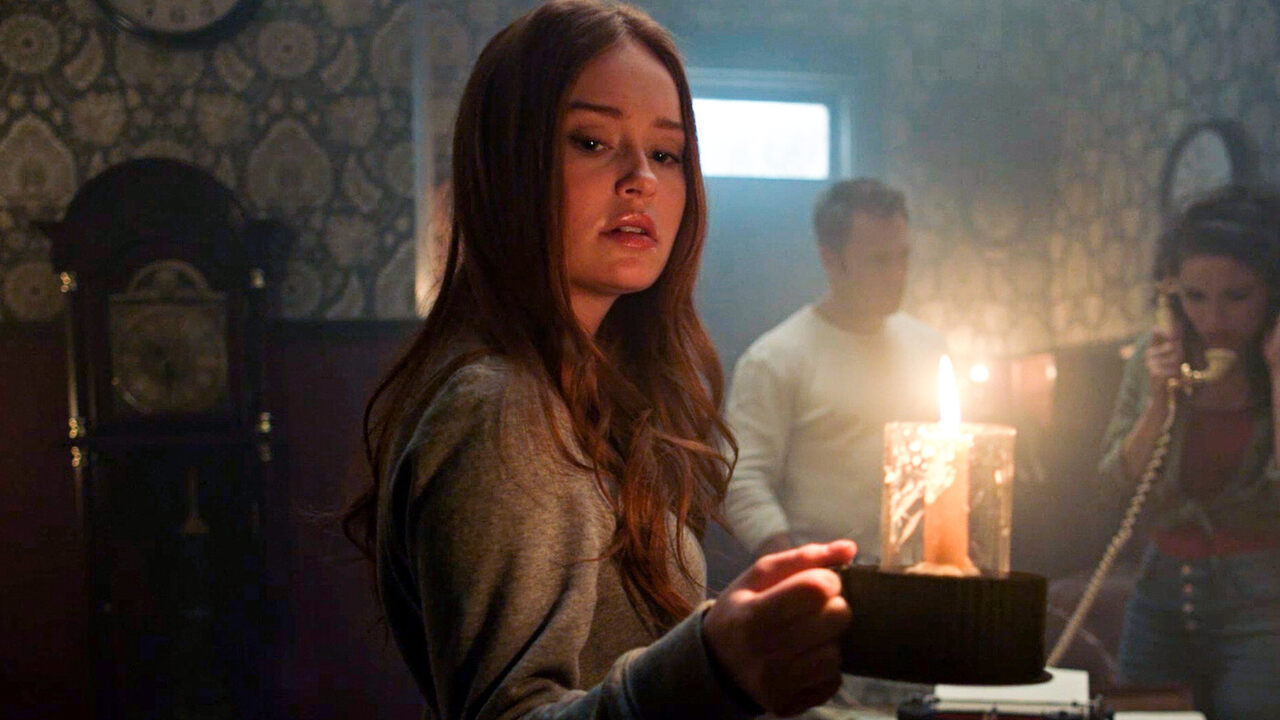 Back in 2019, I went to an escape room and was terrified by it. The reason was this: I had just watched Adam Robitel's Escape Room, and while the movie was okayish, it successfully planted the fear of escape rooms within me. Now, after watching Alex Merkin's No Escape Room, I won't ever consider entering this puzzle-filled room. This doesn't mean the movie is scary or terrific. You can show someone a lot of road accident videos, and they may give up driving forever. This does not make those videos...cinema. In No Escape Room, Merkin and writer Jesse Mittelstadt throw creepy ideas on the screen but fail to make them stick. Nothing is convincing or satisfying.

Karen (Jeni Ross) and her father, Michael (Mark Ghanimé), have a strained relationship. He tries to talk to her, but she pays little attention to him and is busy listening to songs and talking to a friend on the phone. Michael only gets one weekend a month to spend time with his daughter, which means he and his wife no longer live together. What happened? Well, fill in the blanks yourself. The movie likes to keep things vague. You can go ahead and "interpret what it all means," though I don't think you will still arrive at a satisfactory conclusion. Is the escape room haunted? Who's The Inventor? Are the characters trapped in a time loop? Where is this "echo" originating from? Was that sequence involving Michael in chains, a dream or not? Should the title be taken in literal terms? If that house is not an escape room, then what is it? Or does it mean you cannot escape these rooms?

No Escape Room never answers any of these questions. It merely pushes its characters from one room to another. The movie, at first, looks quite promising. The short video that's shown to Karen, Michael, Melanie (Kathryn Davis), Andrew (Dennis Andres), and Tyler (Hamza Haq) is intriguing, and the puzzles seem exciting for a while. Josie (Brianna Barnes), the hostess, is found dead in a closet. Melanie gets trapped in a loop inside a room. Tyler sees worms crawling under his skin. And Michael intently beholds a painting and suddenly finds himself outdoors. We eagerly take in all these details because we expect a solid explanation.

The movie, though, annoyingly doesn't clarify the mysterious situation. Mittelstadt, like an overexcited kid, cooks up bewildering bits and then refuses to make things crystal clear. No Escape Room merely tantalizes the audience. It fails to give them a gratifying climax. The filmmakers see this film as a clothesline on which they hang illogical, unexplainable events. Nothing makes sense, and No Escape Room considers its incomprehensibility a strength. It injects itself with a hefty dose of self-congratulation while the audience is left vexed and perplexed.

Final Score- [3.5/10]
Reviewed by - Vikas Yadav
Follow @vikasonorous on Twitter
Publisher at Midgard Times