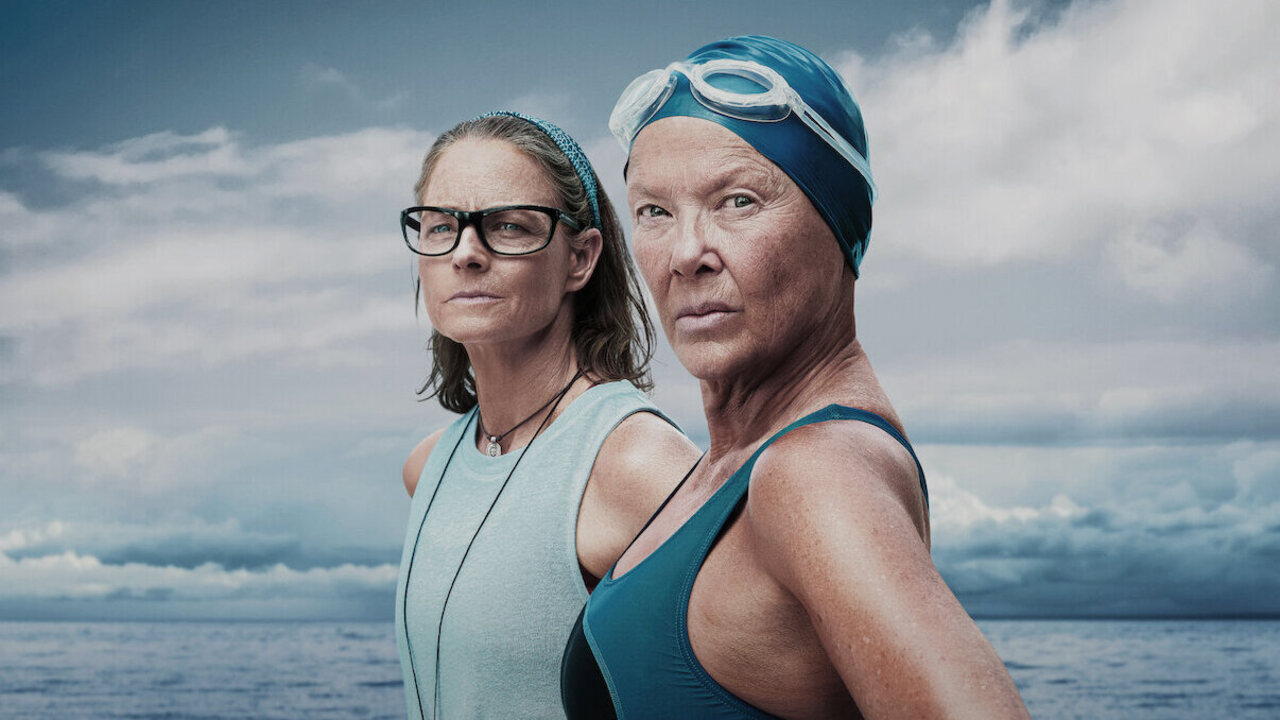 Annette Bening is one of the best things about Nyad, directed by Elizabeth Chai Vasarhelyi and Jimmy Chin. As Diana Nyad, Bening is all brash and cocky. She complains about mediocrity and wants better things in life. Diana speaks without pausing, underlining that a steady, confident stream of thoughts flows from her mind. She can be unapologetically arrogant and persistent, though she also likes to be surprised. Diana may tell you that she doesn't want to celebrate her birthday, but she would also exude excitement if you do decide to give her a surprise. The movie justifies Diana's bumptious behavior by saying that you must be self-assertive to achieve something as crazy as completing a 110-mile open ocean swim. And when Diana asserts herself by declaring, "I gotta do it with you," in front of her coach/best friend Bonnie (Jodie Foster), her passion jumps out of the screen and infects us with its intensity.

Bonnie is the other good thing about this film. When she defeats Diana in a ping-pong match, she expresses herself with such impish glee that you notice traces of an eager, excited child within her body. Together, Foster and Bening elevate Nyad to a level of slight respectability. Their chemistry somewhat covers up the holes of this sinking ship. Another actor who turns out to be a delight is Rhys Ifans, who plays the role of John Bartlett in the film. He brings great pathos to shallow scenes like the one where he talks about life catching up to him. What life is he talking about? In movies like these, the spotlight shines so brightly on the central figure that the others come across as just supporting players. Nyad tries to see John and Bonnie as people who have their own dreams, but such efforts turn out to be futile. When Diana asks Bonnie about her aspirations, the latter comes up with a blank statement. John, on the other hand, is reduced to a cheap emotional trigger (he is revealed to be sick).

Diana says inspirational things like "It takes a team..." but the movie doesn't show any interest in providing much personality to the team. Even the titular character is little more than a collection of peculiarities. Her past - familial troubles and sexual assault - is converted into a footnote. They come up in the form of grainy or almost out-of-focus flashbacks when a 60+-year-old Diana attempts to swim from Cuba to Florida. Her mission obviously consists of various types of problems, including sharks and jellyfish bites. These complications, however, are depicted in a way that makes you feel as if the movie is merely checking a set of boxes to fulfill the requirements of such a story. This becomes more evident when the shark repellent machine temporarily stops working (it's a lame trick the movie uses to raise the tension).

Nyad will be applauded by a large section of audience members and critics because its "inspirational" message has a basic appeal. People love seeing success stories of hardworking personalities as their arduous journey fills them with hope and pumps up their adrenaline. They will probably be too aroused to notice the unexceptional quality of this movie (the shift from the wide shots of the ocean to the grainy footage of Diana swimming is especially jarring). Nyad shows Diana's weariness through an underwater Taj Mahal, and this visual motivates you to let out a chuckle. It's funny that the main character in Nyad criticizes mediocrity but is trapped within the confines of a mediocre film.

Final Score- [5/10]
Reviewed by - Vikas Yadav
Follow @vikasonorous on Twitter
Publisher at Midgard Times