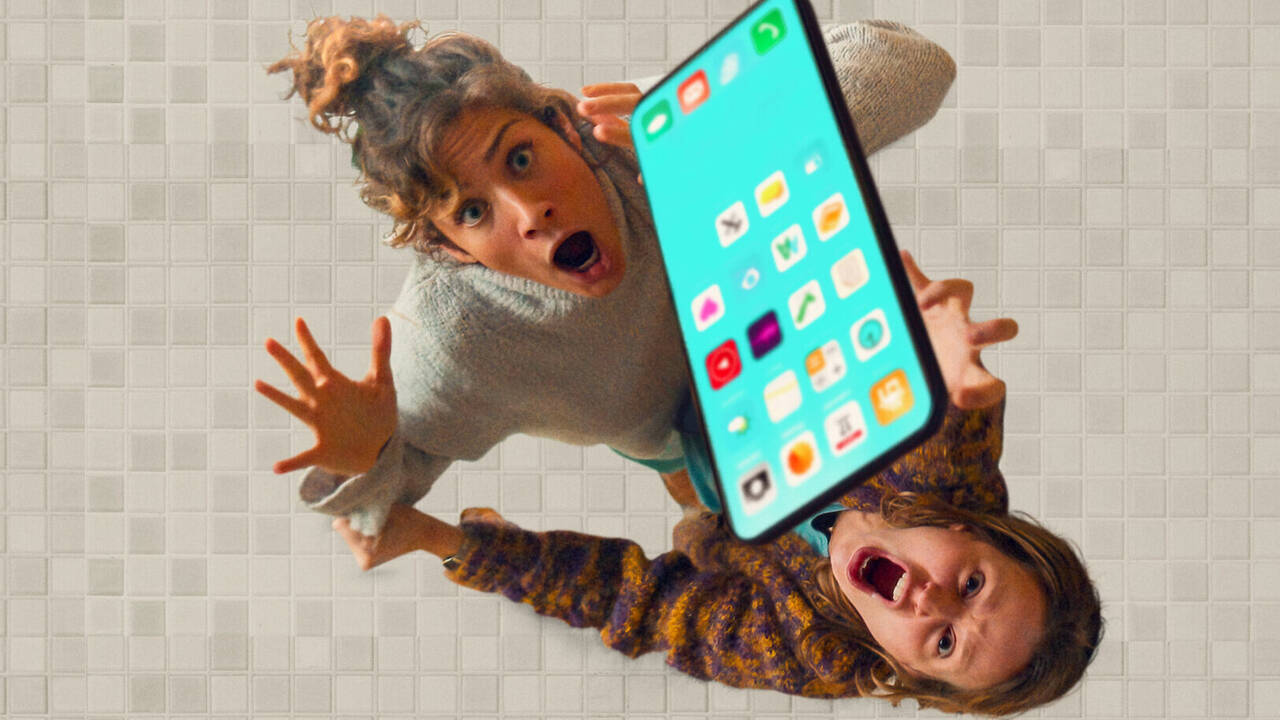 The French series Off the Hook is about two cousins Lea and Manon, who get so fed up with their lives that they threw all the digital things away and went on a detox. It was hard for them initially but was a mandatory step. Soon their family is also seen walking the path laid by them and realize that a life without screens can also be beautiful.

Lea is unable to move past her ex-boyfriend Guillaume. She is a delusional girl and thinks that he still has feelings for her. Lea has stalked all his profiles since their breakup and even went to the lengths of installing a camera on his scooter. She went beyond the moral limits and obsessively kept a check on him even after they broke up. Guillaume had known her brother since they were children. Taking advantage of that fact, she turns up dressed all-sexy in a red gown for her brother's final thesis at which Guillaume was also going to be present. Shockingly, he came with a plus one, his girlfriend Melanie. To make him jealous, Lea also shows up with a fake boyfriend, Gagan, who owns a hardware store.

Manon, the other cousin is an aspiring artist, the things didn't turn her way when her fake butt got exposed in the public eye. She couldn't handle the humiliation and took a break for some time to figure out what does she exactly want. Digital detox helped her in ways beyond that can be counted, like she found her voice and even fell in love.

Exploring the family dynamics and how they initially went from not supporting these sisters to having their backs is a fun ride. There are not many laugh-worthy scenes, but this fact shouldn't be taken seriously either. You'll find many scenes where the sisters act up all crazy, like when they deposited their electronics, they acted as if they were glued to the glass of the shop and bidding goodbye to their social life.

Guillaume is a silly character who initially pressed charges against his ex-girlfriend and then eventually landed up on her bed. Talking about Lea, who is my absolute favorite character with an energy pack that can explode at any moment. She worked her way out of that horrible breakup and found stability in her life, and so does Manon, as now she is a known rapper.

With a brand new concept at its core, Off the Hook still couldn't grasp the attention of the audience. Beginning with a lot of adventures and social problems faced by the two sisters, the series had a promising start. It gradually lost its grip on the plot because of the unlimited family drama. It would have been better if the sole focus was just these sisters rather than the family around them. The sub-plots were disturbing the whole thing. They added little and took away the majority of the limelight.

Having just six episodes with an average duration of thirty minutes, Off the Hook had a lot of potential. Also, with energetic characters like Lea, it could have been a hit. Alas, the story missed its point and went aloof many times. I also felt that Manon's character had a lot of strength in it but this character wasn't fully prepared to face the screen.

In my opinion, "Off the Hook" directed and written by Marie Jardillier is an average watch. The comedy in the series has great timing with Lea being the core of it. The idea of digital detox is a unique one and could have been explored in a better manner. The message of the series, which forms the whole background of Lea and Manon's story is that digital detox can prove to be great sometimes if you're stuck in your life. It can be related to your professional and personal life both. #wearenotpigeons was also a great move that'll make the audience understand how social media apps and browsers track all the information of the users. With the increasing ratio of social life as compared to real life, it is an important message to the viewers that they should also take a break sometimes.

Final Score – [6.5/10]
Reviewed by - Riya Singh
Follow @_riyasinghhh_ on Twitter