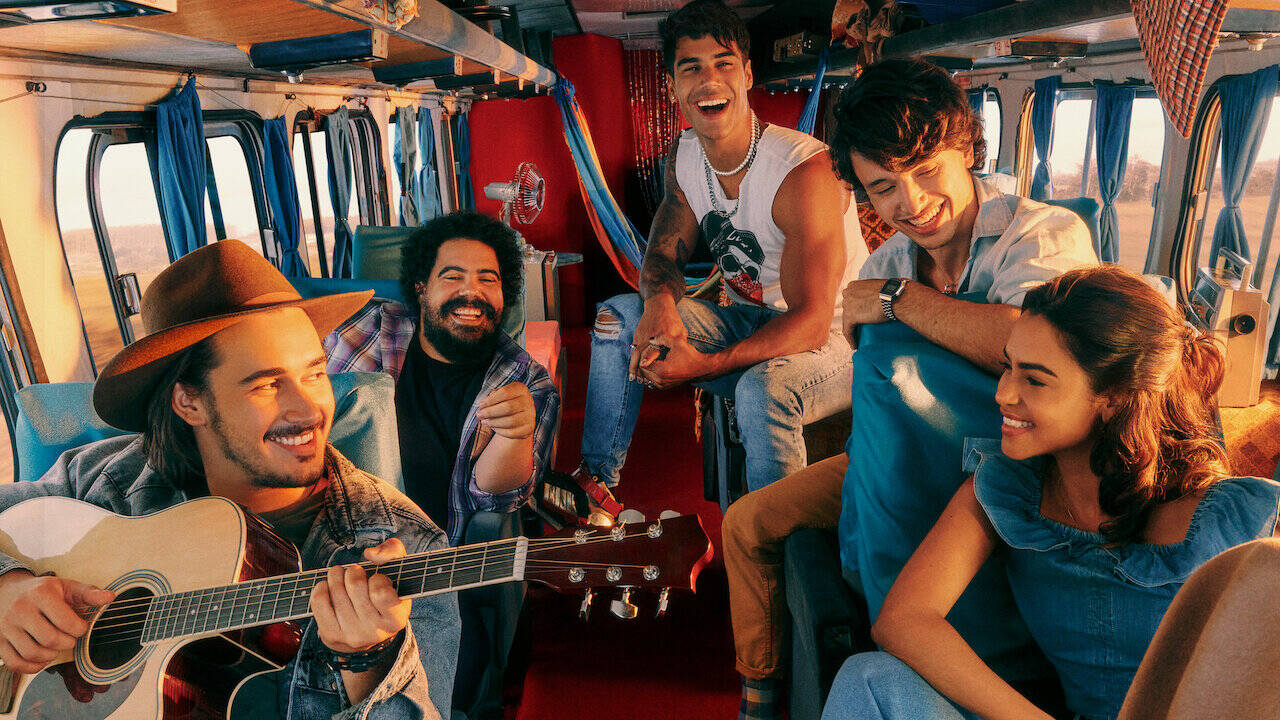 This newly released series on Netflix is a musical drama that has the potential to live up to the expectations of all the viewers who love to watch a similar genre.

The series is about three main characters Deusa, Tadeu, and Eva. Deusa and Tadeu are lovers and are part of a band that consists of a total of five members. They are struggling artist who gets viral overnight and now has a chance to make it big. Eva is an eighteen-year-old girl who dreams to make big through her music, and in the first episode, we even find her taking a step closer to her dreams. The series shows the story of these three individuals and the events that happen when their lives cross paths.

The series although does not offer something very distinct, still can take over the hearts of the audiences. The series has its charm and can be loved by music enthusiasts. This story takes place in Brazil and therefore provides us with a beautiful vibe of the country through their outfits and settings. It would have been disappointing if the series had tried to Americanise scenes or the characters, but luckily, they have tried to keep up and display the culture of Brazil authentically.

The easy plotline of the series makes it a smooth journey for the audience to digest and understand the story. It's a musical romance, therefore, every ten minutes there is a new song being played in the episodes which is quite refreshing, and this can also make it a must-watch series for musical series lovers. The series has its own pace and surprises the characters offer, but those cannot be catered to some genius suspense. But the good thing about this series is that because of its elements it makes it an easy Sunday watch.

The drama has got its three main characters, it also provides us with other supporting characters. These characters have stories of their own and have been given equal importance. As the series proceeds with the story of the three characters' musical journey, we also proceed with the side character's journey. Therefore, there is a lot on the plate of the viewer for him/her to focus on.

The good thing about musicals is that even if it's not an outstanding film or series it's quite enjoyable otherwise. Somehow these genres make up for their shortcomings and never can disappoint the audiences fully, therefore there is always hope in them. Only For Love is no exception. It shows whether Deusa and Tadeu's love can overcome the hurdles they face as they go higher in their professional lives and how Eva will end up intertwined with the couple. Definitely a good choice for a Sunday binge and the icing on the cake will be if you are a die-hard fan of musicals. You will certainly enjoy it if you belong to that category!

Final Score – [7.5/10]
Reviewed by - Poornima Balsu
Follow @BalsuPoornima on Twitter