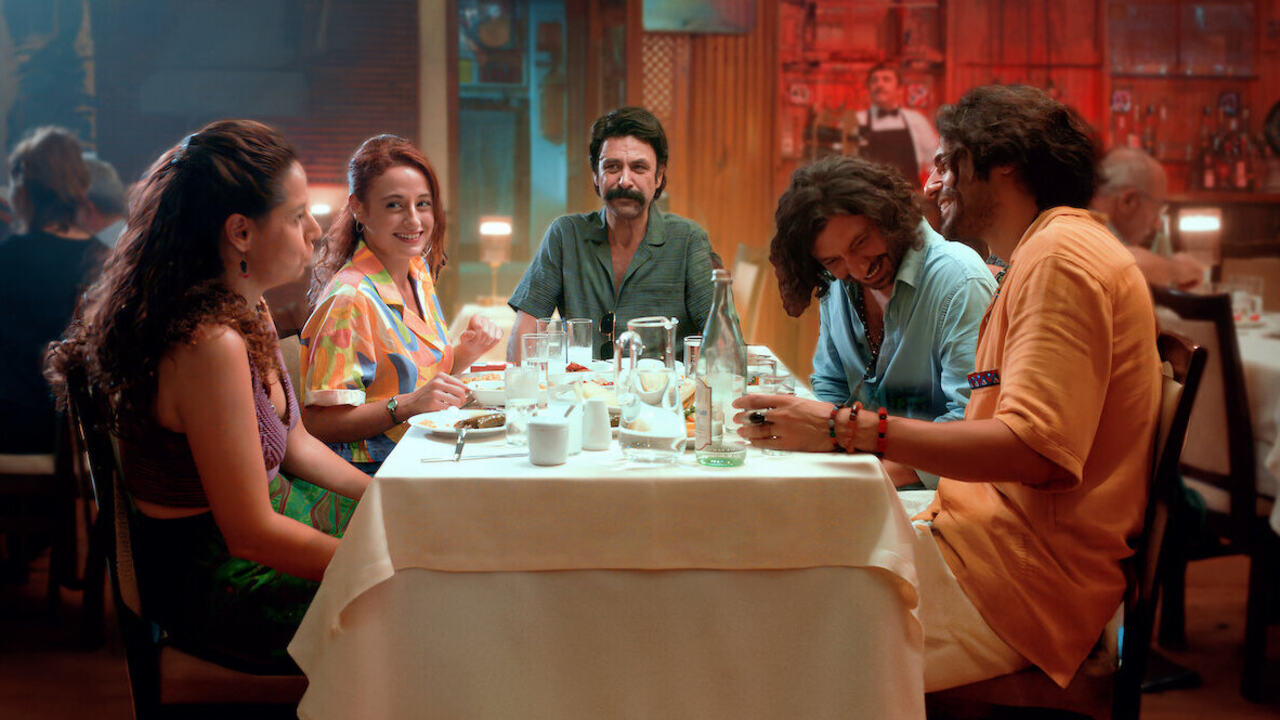 Almost every moment in Kerem Ayan's Oregon (written by Ümit Ünal) rings true. Nearly every conversation feels logical. The movie doesn't deliver great insights to us, but it's surely filled with well-observed moments. Consider the history of Gaye (Asli Inandik) and Hakan (Serkan Çayoglu), a married couple. They studied cinema in college and then failed to land a job in the movie business. I am not sure why Gaye didn't find any success, but as far as Hakan is concerned, he was unable to handle all the pressure. So what did the couple do? They started a souvenir shop. As a viewer, you never doubt the validity of this information. This is the strange, fascinating thing about Oregon: Everything in it feels believable.

The story takes off when Gaye and Hakan go to their friend's apartment to return a cassette and end up fighting with the doorman, Durmus (Onur Gürçay). Notice the moment Durmus and Hakan initially see each other. They exchange a macho-like glance as if they want to establish how superior they are. This display of machismo might be natural, or unintentional. Yet it fully comes to the surface when Durmus rudely tells the couple to leave the apartment. The men in Oregon have too much pride in themselves. When they cheat on their partners, they defend their actions through nonsense like, "It was just a kiss." While having sex, they urge their wives to call them "commissioner" or "doctor." This gives them a sense of control - something they don't always find outside their homes.

Commissioner Sevket (Ferit Aktug) represents the worst tendencies of a powerful man. He sneers at Gaye when she tells him about her shop (he basically calls her a rich, spoiled girl) and dismisses a woman's (Burcu Biricik) plea because he can. He punishes Gaye and Hakan because he, too, is suffering from a problem. Sevket is anxious about his liver report and fears that he might have cancer. If he is having a bad day, then why should others get to have fun? (The scene where he interrogates the couple almost accurately presents the derisive gaze with which close-minded old men look at pop culture-loving youngsters).

While (most of) the men behave foolishly and wear superficial tough armor, the women act compassionately and logically and take charge of the situation. When they display their toughness, they don't simply show off. The women also see through all the bullshit the men throw at them. When Firat (Özgür Emre Yildirim) says he cheated only once, Ceren (Nazli Bulum) asks him how many times he should have cheated before she could have broken up with him. The fact that Ceren still gets together with Firat indicates that she really loves this man and that even those strong, independent women sometimes end up making bad decisions when it comes to romance. Insert "heart doesn't listen to logic" cliché here.

Gaye and Hakan don't have a career in movies, and Sevket mocks them when they tell him it's possible to study movies. Some of the characters even look down on film professionals. Yet, it's the movies or, more accurately, a movie star who saves Gaye and Hakan from the police station. Oregon can be considered as a sort of love letter to the films. Cinema unites people. Still, Ayan's vision comes with a giant hole at the center. Oregon is infected with tonal issues. Scenes that are meant to be funny are devoid of a comic flavor. And when we shift to emotional speeches, like that of a prostitute, the movie becomes awkward. Without a strong, palpable atmosphere, Oregon feels loose and mostly neutral. The film is sufficiently watchable, though you wonder what a more talented filmmaker would have done with this material.

Final Score- [6.5/10]
Reviewed by - Vikas Yadav
Follow @vikasonorous on Twitter
Publisher at Midgard Times