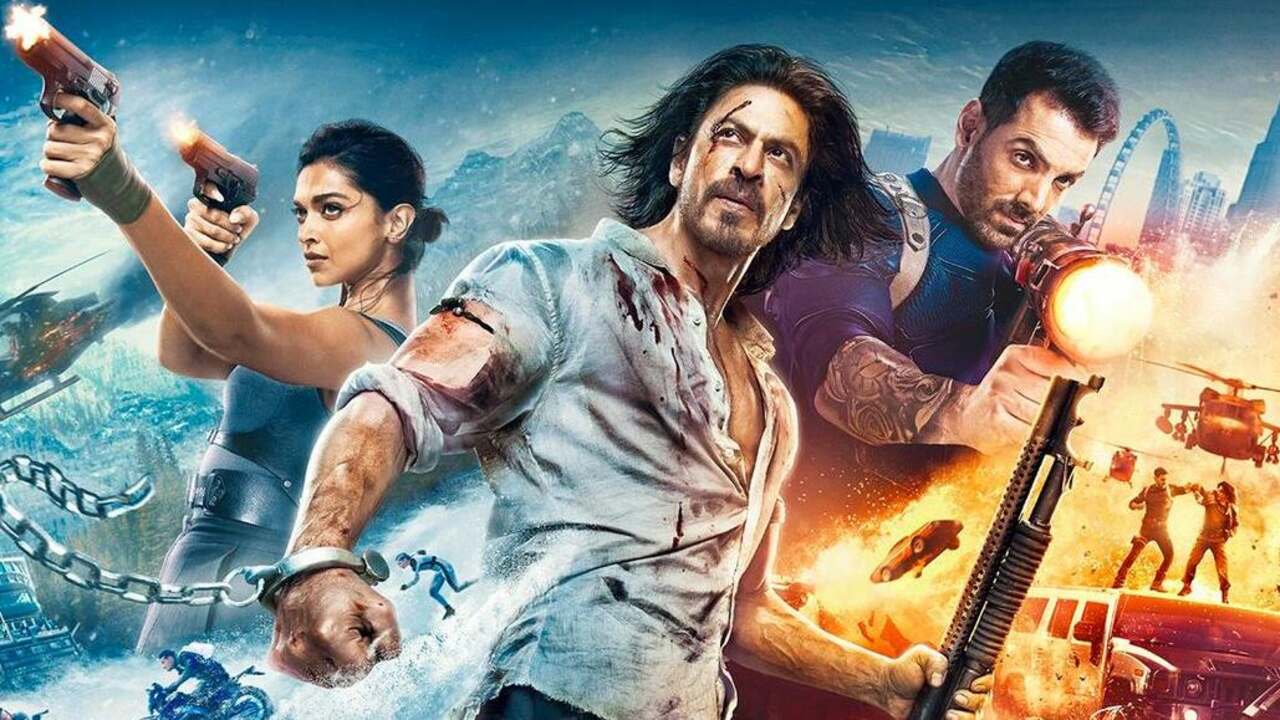 There is a scene in Siddharth Anand's Pathaan where a man dangles from a helicopter and is placed between two guns firing bullets. I am sure he might have visited an ENT specialist after such an ear-splitting assault. The movie, too, treats its audience like that man. The action sequences in Pathaan are deafening, and the film is nothing but a string of action sequences. Naturally, when two characters relieve their pain with painkillers, you want to extend your arm and ask for a tablet. The problem is only exacerbated when you realize that your ears sustained so much noise just so that your eyes could observe very average fight sequences. Apart from the scene where two characters run backward on a falling train, Pathaan offers nothing exceptional or exciting in terms of violent confrontations. It's all bark - a very loud bark - and no bite.

When the movie is not trying to bleed your ears, it makes you cringe through flirty conversations, which are embarrassing at best. Pathaan (Shah Rukh Khan) and Rubina's (Deepika Padukone) game of seduction with each other sounds like that of an 11-year-old couple engaged in a romantic phone call chitter-chatter. That's a pity because both the actors look impossibly attractive and could have burned the screen with their chemistry. They make erotic gestures, but there is no erotic charge between them. The passion between Khan and Padukone was palpable in Farah Khan's Om Shanti Om. Even in War, the mere sight of Hrithik Roshan walking away from a chopper had more sexual spark than the entirety of the Besharam Rang song in Pathaan (the tunes grow on you, though).

Speaking of War, I couldn't help but think about that 2019 film, also directed by Anand, while watching this latest production. The spy games in War were more delicious and entertaining because the story was written cleverly and had room for both heart and high-octane stunts. The twists were genuinely surprising, and Roshan and Tiger Shroff elevated every second through their chiseled and flexible bodies. There is no lack of lusty muscles in this film. However, what's missing is a convincing emotional thread to bind us to these characters and this film. How can Pathaan expect us to cry or feel anything, for that matter, during the scene where Nandini (Dimple Kapadia) dies in a lab? She is mainly used as an exposition device and then discarded via a limp chest-thumping scene that is so feeble it resorts to cheap patriotic feelings and mannerisms.

The actors are talented and use their skills to sincerely sell this piece of mediocrity. Khan is fine and is supported by an equally fine group of actors. That's nice because he alone couldn't have carried this film, which to a great extent is simply...meh. Khan, Padukone, and Kapadia will surely receive lots of praise, though one should not forget John Abraham. I thought Abraham had become an unexpressive chunk of beef. But he is quite suitable as Jim. He doesn't overact and yet, manages to come across as a wild, megalomaniac villain. Salman Khan, too, has a charming cameo, and the actor looks so relaxed and jaunty. He is much better here than in his Tiger films.

There are moments in Pathaan where characters - when vulnerable - are seen upside down. For instance, when a car is overturned or someone is upturned and hanged. How can you detect that there is discord between two people (or if one of them cannot be trusted)? They sit or stand close to one another while facing in opposite directions. When Jim is briefly seen in front of the sun, he looks like Icarus. Like that mythological character, Jim seems to have flown too close to the sun. And thus, he will soon be expunged (he loses faith in Mother India as soon as a pregnant woman - a mother - is shot dead). A few seconds before this moment, you notice Pathaan falling from a height before using his jetpack to rise upwards in the sky. The fall signifies Khan's previous flops, and the rise can be considered as this film (it seems to be doing well at the box office). These touches and these thoughts keep you in your seats. However, you cannot deny that Pathaan, overall, is an uninspiring movie consisting of (mostly) predictable twists and the usual spy shenanigans.

Final Score- [5/10]
Reviewed by - Vikas Yadav
Follow @vikasonorous on Twitter
Publisher at Midgard Times