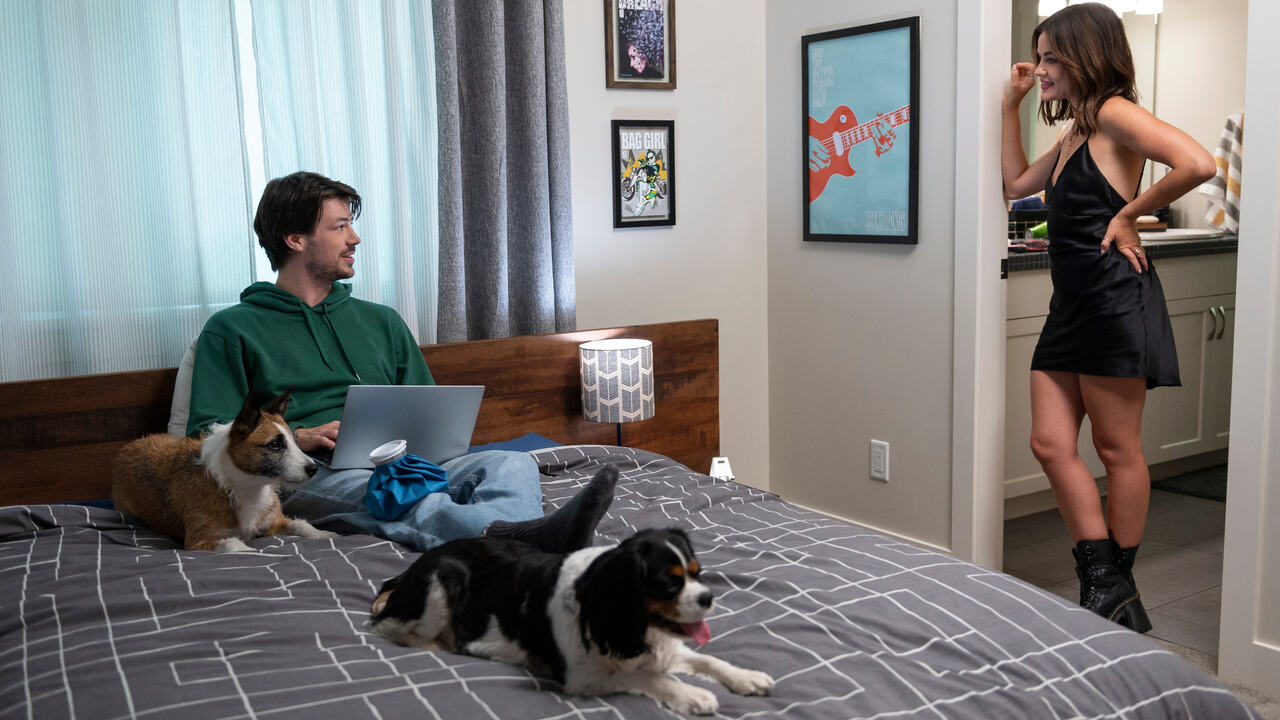 Puppy Love, directed by Nick Fabiano and Richard Alan Reid, is cute and insignificant. It passes your time by showing you two beautiful faces belonging to Lucy Hale and Grant Gustin. The basic outline here is as old as the hills. Boy meets girl. Sparks fly between them. Due to some circumstances, they are forced to work/live together and realize they are made for each other. Those "circumstances" in Puppy Love are two adorable canines, Chloe and Channing Tatum. When Nicole (Hale) and Max (Gustin) initially meet each other, they get into an argument, but their pets start making love. Even though Nicole assures Max that Channing is neutered. Chloe ends up getting pregnant. After they visit a vet, they find out that Channing is not exactly castrated. For the sake of the dogs, Nicole and Max start hanging out (she takes him to her favorite spot), and she also moves into his house.

Nicole and Max are very different individuals. He has OCD, and she brings in chaos. He likes to arrange objects in a specific manner, and she throws her things on the floor. The movie lays it on thick that opposites attract. Of course, no one wants a rom-com to be subtle. But Puppy Love could have used more meat - and humor - on its bones. The movie indicates that medical facilities are expensive (Max doesn't immediately take Chloe to a vet because of the high cost). So why not have a few scenes showing Max and Nicole doing their jobs? When Max complains about the bill, we don't find any truth in his statement. Because it seems as if he earns a substantial amount of money without breaking a sweat. Nicole is hired to work at a rich guy's house, but we never get to see what she does in his lavish home. The professional lives of these characters (and those healthcare criticisms) are rendered inconsequential.

If only the jokes were better. Max's conversation with a lady at a store feels awkward. His encounter with another lady who accuses him of being a breeder is clumsily inserted. Puppy Love laughs at its own wisecracks while the audience sits in silence. The scene where an instructor overly uses the word "bitch" and rubs Max's ears could have been hilarious. However, it simply sits on the screen devoid of amusing charms. Throughout the film, I only smiled during two moments: (1) When Channing reacted surprisingly to Max's card magic and (2) when the puppies interrupted Max and Nicole while they kissed each other on the sofa.

I liked how the characters are allowed to be flawed. Max doesn't look very likable when he asks Nicole to take her dog and leave his house at night while it rains outside. And Nicole looks stupid when she brings a drunk guy inside Max's home. This scene seems like an excuse for conflict generation. It feels as if the writers came across a dead end and were unable to figure out how to move the story forward. So they developed this lazy scenario and created discord between Max and Nicole.

As mentioned earlier, Hale and Gustin are good-looking, and you can sit through this film by simply watching their countenances. Maybe because the movie is directed by men, Gustin, and his character manage to leave an impression. Hale - and, by extension, Nicole - always appears alluring and graceful even when she's wrong. Some men view females as mysterious, angelic figures. They are so blinded by their beauty that they find them appealing even when they are unfair. So while Max's emotions become palpable, Nicole remains pretty and distant. Still, the final shot works. Two people look at one another, and their romance erupts with a sweet flavor. It's not just the pooches; even the humans (eventually) find love.

Final Score- [6/10]
Reviewed by - Vikas Yadav
Follow @vikasonorous on Twitter
Publisher at Midgard Times
Release Date: August 18, 2023, on Amazon Freevee