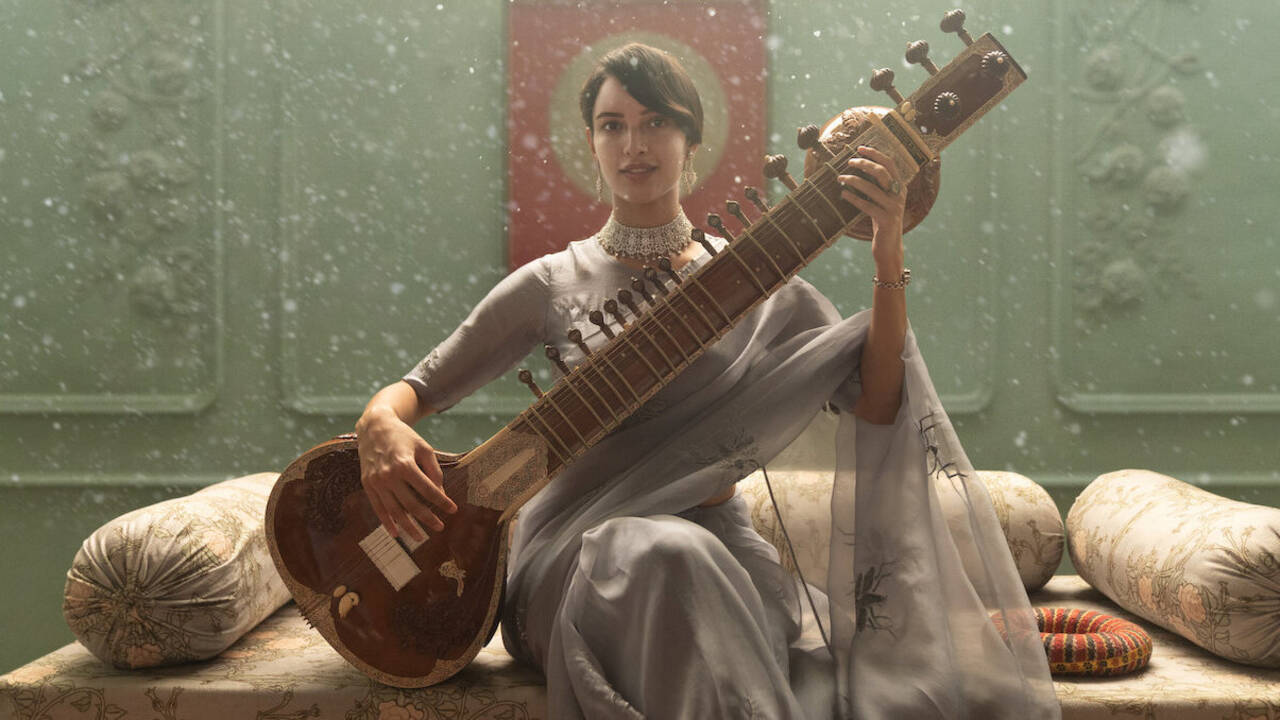 In the opening scene of the film, we see that Triptii Dimri's Qala is waving at people, getting interviewed by journalists, and applauded for winning the Golden Vinyl. Journalists question her about her marriage and her brother who was being launched by her mother. She didn't like these questions and that's when we realise that there were a lot of things she was hiding and lying about. The way she prefers not to answer those questions and talk about her upcoming projects seems weird and right at the same time. Weird - because she was dodging the questions and right - because despite being an artist, she has the right to keep her personal life to herself. Qala had a lot hidden inside her, and she never opened up to anyone. If she had, her fate would have been different.

The way everyone calls her "didi" is nice and seems more personal. Her mother named her Qala right after she was born and held her in her arms. But after she came to know that her other child, a son died because she was the healthier baby, she even tried to smother Qala. The girl grows up living in a beautiful home and watches her mother find peace listening to music. Qala feels ignored by her mother as she always wanted a son.

Urmila, Qala's mother, wanted her to become a "Samrat" just like her father, and she trains her. "Naam k aage pandit lagna chahiye, uske peeche baii nhi" says Urmila that shows how twisted her thinking is. In her eyes, boys are an asset, and girls are a liability. A difficult mother-daughter relationship has been shown. Qala is shown even pleading for the love she rightfully deserves from her mother. The movie takes us through different phases of Qala's life to explain to us how from being an oppressed child she became the singing sensation of the country.

Qala, after becoming a successful singer, often points out the discrimination existing between the genders. In her teenage years, Urmila brought Jagan, a rising singer into their home. She adopted him and undermined Qala's talents as she was a girl. Imagine being raised by your parents to fulfill the legacy of the family, and one day an outside boy comes and snatches those away. Success can not be handled by everyone and with time Qala lost her mind. She imagines Jagan snatching her awards, and her mind is occupied by him due to the guilt she carries. All this stress took a toll on her mental health and despite having everything, she had nothing.

"I've been waiting for something to happen, and it's happening". She's lonely and that can be seen in her eyes. The man at the live performance of Jagan and Qala tries to make Urmi understand that they both have different talents yet the woman is stubborn. Jagan haunts her every moment as he was the one who got chosen by her dear Mumma. Her mother doesn't like her singing and instead prefers listening to Jagan. Her mother wanted to launch Jagan and not Qala. While Qala was being sent off by her mother to get married, Jagan's career was planned by her mother.

The man from the industry offers Qala a song but at what cost? Qala slept with him to grab that opportunity. She was desperate and even kisses Sanyal, who seems to have an intimate relationship with her mother. The mother is of twisted mortality. Qala traded her dignity just to get a singing career. She didn't like doing that but had to do it for her mother and get all the awards Urmila dreamt of.

In my opinion, Qala is a very emotional tale that delves into the childhood of the lead character and how she had always been underestimated for not being a boy. The sole aim of the main character was to make her mother proud, who stopped talking to her once she stepped into the industry. Most of the film covers her traumatic life. The lengths to which a child can go to grab her mother's attention have been well shown. What I wanted to see more is why her mother did that to her as it's hard to digest the fact of a mother having no emotional connection with her child. Despite watching the whole film, I felt that something was missing.

The mental health of an individual holds greater importance in life if that's no good, they'll end up losing the touch with reality. The same thing happens with Qala. Jagan's death and her mother's absence from her life killed her mental peace. Acting by Triptii and Swastika Mukherjee is excellent. I'm particularly in awe of Swastika Mukherjee and her exquisite nose rings. Babil has a small but significant role, and he nailed it. The shooting locations are another thing that blew my mind. The sarees worn by Triptii and Swastika's jewelry add grace to their character. You'll also get to hear good classical music in this film.

Final Score – [7/10]
Reviewed by - Riya Singh
Follow @_riyasinghhh_ on Twitter
Publisher at Midgard Times