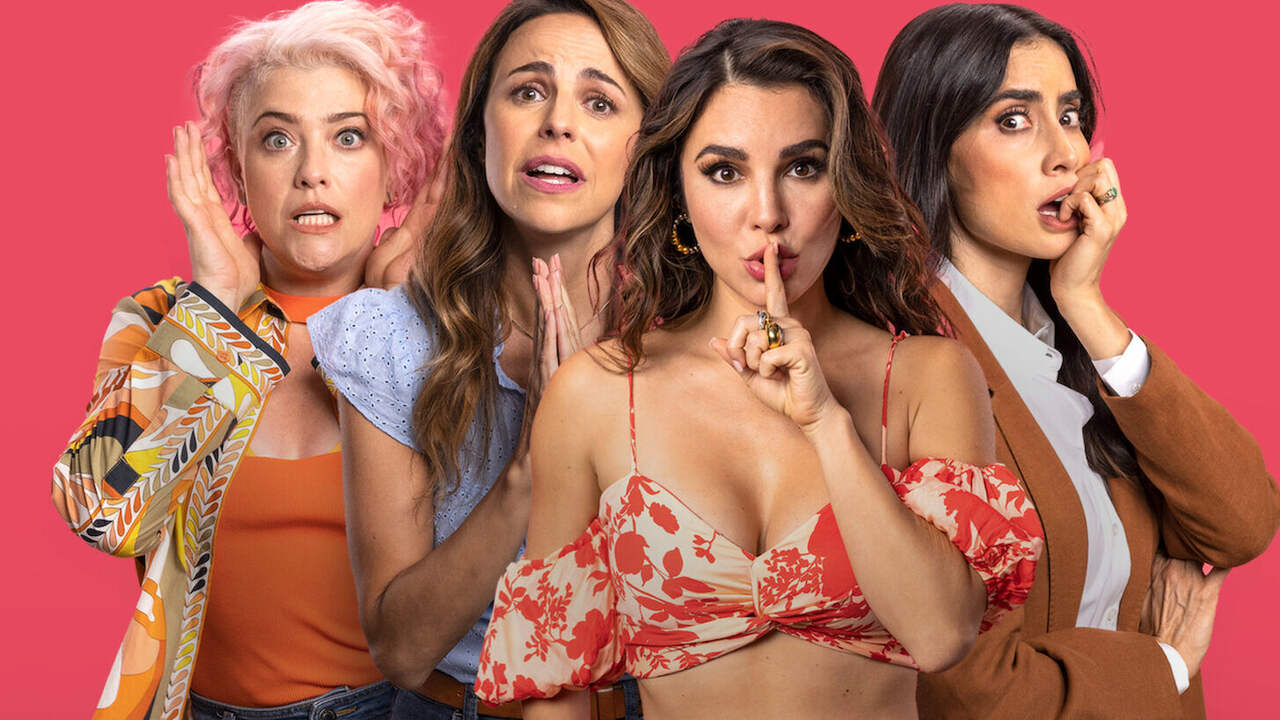 Queens on the Run, a 97-minute long is the latest Mexican action-comedy film that was released on Netflix. Also known as Fuga de Renias, the movie is directed by Jorge Macaya and written by Martha Higareda. Paola Nunez as Famela Guerra, Valeria Vera as Estrella Solares, Alejandra Ambrosi as Marilu Davila, and Martha Higareda as Paty Fenix star in the movie.

The film starts with a scene that's been picked up from the middle of the movie. We see that Famela is holding a gun with three other women in the same car, and they're chasing another car. Famela asks the man to give back her mother's ashes. You can wonder if that's the start of this film, how the middle and end would be.

Marilu is seen preparing food for the family and today's her marriage anniversary, which her husband Jose has forgotten third time in a row. She's an excellent mom and wife and the things that have been missing are a good sexual life and self-love. I like when she says "Life is an adventure and it's never too late to start over" because she needs to start over to improve her life.

Patricia aka Paty and Estrella are other members of the same group. Patricia is now just a trophy wife to her to-be Governor husband. She does everything for him like getting Botox and implants. Her writing career has been on hold because of her desperate efforts to impress her cheater husband. Estrella, the pink-haired girl has no such complications in her life and she's the most relaxed one.

Famela wants to conceive desperately and the sex scenes depicting the same are horrible. The place where Famela tries to conceive with her husband is filled with her mother's photos who is dead and looks strangely just like her. The "mom factor" in her life is proving to be problematic for her marriage.

They all meet up one day and leave on a trip. Initially, it felt like a joke but, the next day they're all dressed up and leave for their adventurous journey. The ride for this trip was a red beauty, named Corcholata by the owner Estrella. They're on the greatest adventure of their lives. While all of them were vibing on a song during the start of their journey, Estrella fell off the back seat on the road, and what a fall it was! It makes you laugh a lot because it was just the start of the journey and you know that if this is the start how the rest of the trip is going to last.

There are many funny scenes included in this self-discovery plus romantic movie like the one in which Marilu was doing some sort of Arabic dance, opened her blouse, and threw it on Ramiro's (Famela's husband) face thinking him to be her husband. The funniest scene is the one in which these ladies get high after drinking the soup of mushrooms (not the normal ones). The way Famela was collecting her eggs and Marilu and Estrella fighting was hilarious.

These women checked all the things that they wanted to do before all these responsibilities and burdens came, except for one. To know this one, you've got to watch the movie. There's another scene worth mentioning in which an attacker stabs Patricia's breasts, and as she has implants, the hyaluronic acid from it comes out thus burning the attacker's face and she's saved. To this scene, my reaction was after all these implants of hers are of some use.

In my opinion, Queens on the Run somehow reflects the true lives of women these days. Characters like Marilu in real life are devoted to their family a lot and to the point, they forget how to love themselves. They're dependent on others to get that love that they're craving. Then, we have Paty whose husband is a cheater but she is desperate enough to get implants in her body just so that her husband takes a look at her. Women like Paty often overlook their lover's deceit and think that they are the ones at fault when in reality it's the opposite person.

Coming on to Estrella and Fabela, the former is a free bird and she took her time to find the right person, just like everyone should. Fabela on the other hand is a control freak, an independent woman who'd rather do things herself rather than rely on others and is not a romantic. She's a rebel, but not without a cause. Famela found one thing to be very hard and that was letting go of her mother despite her death. People like her are mentally strong and emotionally weak.

How the writer wrote these four opposite characters and brought them on screen is fabulous. These four women are very different from each other and represent the women of our society. Devoted to everyone in their lives, women also sometimes need a break to find themselves again, and this movie is a depiction of the same.

If the film has to be summarized in two lines, it would be as follows: Four women who were suffering in their personal lives decide to go on a trip where they come across various adventures. This trip made them realize a lot of things and they were able to find themselves again.

When the movie started, I felt like it would be one of those movies where women one day suddenly decide to go on a trip and end up enjoying many adventures, it was the same, but the things they included are very different. It's not based on the conventional storyline. I love how these women went on a trip and I think women should do it more often to realize what they have been missing. The best line in the series has to be "Sometimes you have to get lost to find who you are". Be it acting, plot, cinematography, costumes, or background music, the film is a total banger.

Final Score – [7.5/10]
Reviewed by - Riya Singh
Follow @_riyasinghhh_ on Twitter
Publisher at Midgard Times