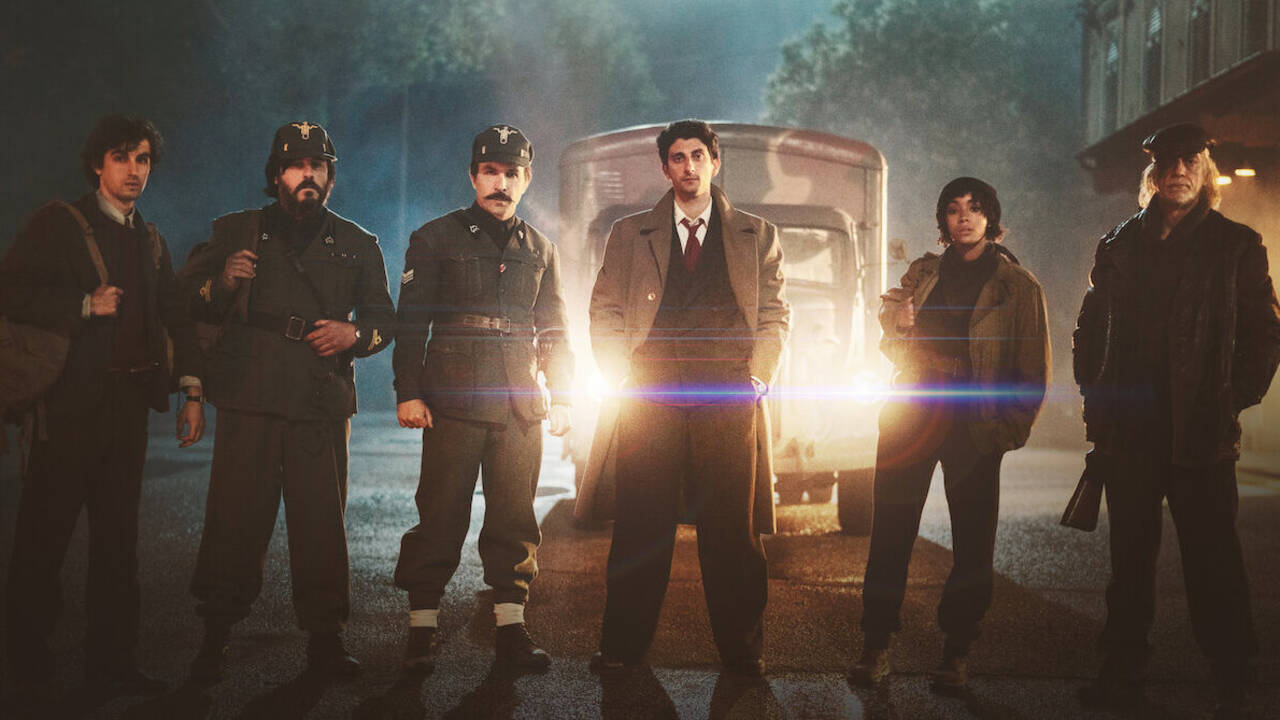 The official synopsis for Renato De Maria's Robbing Mussolini on Netflix goes like this - At the end of WWII, a ragtag group of resistance fighters plans an impossible heist: to steal Mussolini's treasure from Milan's fascist headquarters.

There you go. The short description tells you everything you need to know about Robbing Mussolini. This based on a true-ish story film is set in 1945 Milan during the last days of the war. The "ragtag group of resistance fighters" include Isola (Pietro Castellitto), his girlfriend Yvonne (Matilde De Angelis), Marcello (Tommaso Ragno), Molotov (Alberto Astorri), Fabbri (Maccio Capatonda), and Hessa (Coco Rebecca Edogamhe). Did I miss anyone? The names of the bad people are Borsalino (Filippo Timi) and his wife Nora (Isabella Ferrari).

Their "impossible heist" involves the good guys entering a dangerous area called Black Zone and stealing Mussolini's treasure. It must be noted that in movies like these, no heist is "impossible." The team gets a week to plan a course of action, but even if you give them 24 hours, they will succeed in their mission. Yes, Robbing Mussolini is your usual heist movie where the good guys overcome every obstacle.

Consider the Ocean's series or The Italian Job. Now, reduce the twists and the thrills, and voilà, you get Robbing Mussolini. The movie already recycles old material, and on top of that, it doesn't give us the pleasure of being surprised by solid twists and turns. Whatever twist and turn is present in the film, it's not only predictable but also weakly executed. It's hard to imagine what De Maria was thinking while making this film. He comes up with some truly bizarre decisions.

Since the skeleton of a heist movie is old, the filmmakers tend to dress it up with shocks. They hit us with new revelations just when we think the material is going forward as expected. De Maria has no interest in making us gasp and popping our eyes out. Fine. Does he compensate for this weakness with something else? Absolutely not. He sets up a decent love story and a villain but throws it all in the air near the end. Borsalino is underused and discarded in an underwhelming manner in a throwaway flashback scene. His substitute, too, goes out with a whimper.

The animated sequences are fun but ultimately forgettable. This is the kind of film where characters exist simply to perform the duties of the plot. Ask them why they are taking a particular action, and they will reply, "Well, the screenplay says so." Their motions, emotions, and motivations are dictated by the pages. Take the scene where someone objects to going through with the heist. This disagreement is blithely resolved in minutes (when one of them agrees, the others nod in agreement). That's fair enough. You don't watch a movie like this for hefty drama or personal insights. However, when you are unable to deliver the mounting tension, exhilaration, or suspense that generally comes packaged in a heist movie, you know you are in deep trouble. Your product is faulty and pointless.

Robbing Mussolini is like a machine where every cog functions as smoothly as possible. It does its job with a certain slickness, and the actors are watchable. It's just that whatever it does is simply not exciting or enough. The movie is devoid of one of the greatest cinematic treasures: A good writer.

Final Score – [5/10]
Reviewed by - Vikas Yadav
Follow @vikasonorous on Twitter
Publisher at Midgard Times