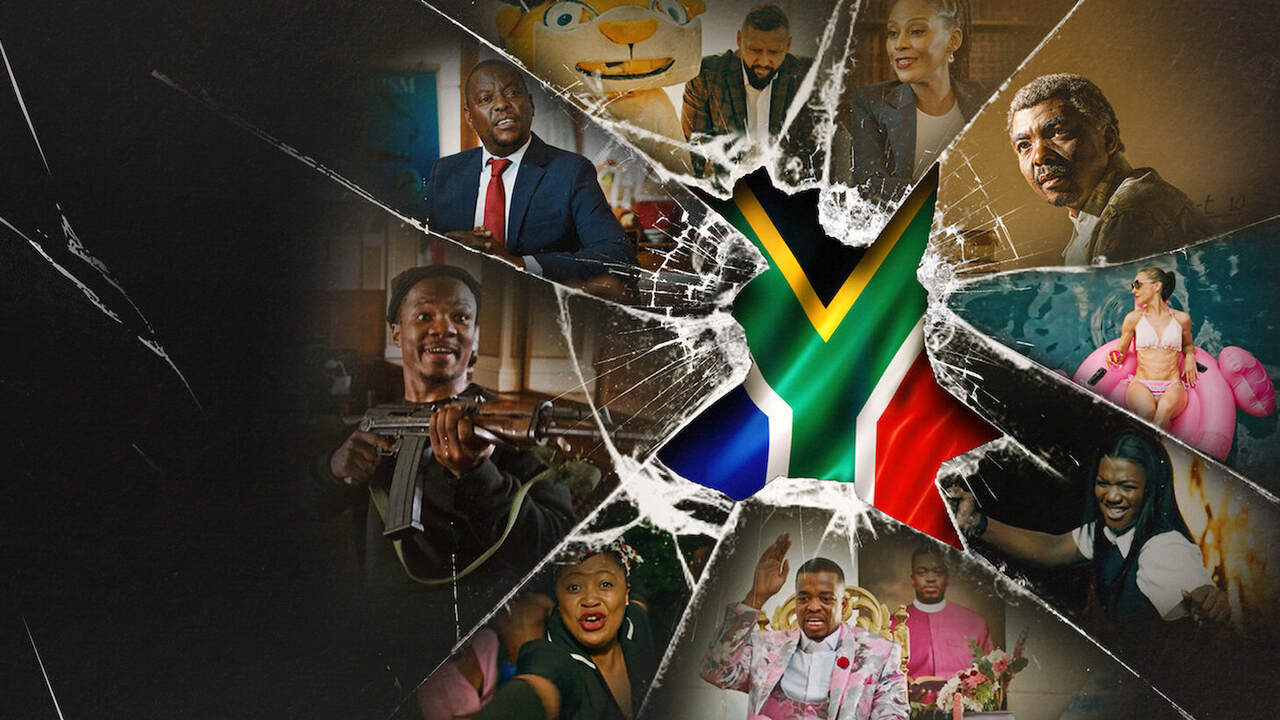 In a bold and audacious attempt to push the boundaries of comedy, "ROSA Republic of South Ah Sh**t" brings together an ensemble cast of South Africa's finest comedians and celebrities, delivering a laugh-out-loud experience that simultaneously challenges and entertains. Director Kagiso Lediga, known for his cutting-edge humor, fearlessly delves into the world of satire and parody, unapologetically tackling sensitive topics such as stereotypes, pop culture, and race relations.

The film's premise revolves around a variety show format, providing a platform for the talented cast to showcase their comedic prowess. Kagiso Lediga, as the central figure, masterfully takes the helm, leading the audience through a series of skits that leave no stone unturned. Khanyisa Bunu, Letoyya Makhene-Pulumo, and Virgil Prins each shine in their respective roles, complementing Lediga's performance with impeccable timing and charisma.

One of the most striking aspects of "ROSA Republic of South Ah Sh**t" is its fearlessness in addressing sensitive subjects head-on. Lediga's unapologetic approach to parodying stereotypes and race relations sets the stage for thought-provoking humor, but it also runs the risk of polarizing audiences. While some viewers might appreciate the film's biting satire and candidness, others may find it uncomfortable or offensive.

The film's maturity rating for sexual content is well-deserved, as it doesn't shy away from explicit humor. While this adds to the film's edgy appeal, potential viewers must consider their comfort levels before diving into this experience.

At its core, "ROSA Republic of South Ah Sh**t" is a celebration of South African culture and humor. The film proudly embraces its South African identity, intertwining local nuances and references that will undoubtedly resonate with the home audience. However, for international viewers, some cultural references might require contextual understanding to fully appreciate the jokes.

The movie's deadpan and raunchy tone is consistent throughout, providing a unique and distinct flavor that sets it apart from mainstream comedies. Lediga's directorial vision shines through in every scene, capturing the essence of South African comedy and making it accessible to a broader audience.

Critics have lauded Kagiso Lediga's direction and the cast's stellar performances, praising the film's courage to tackle tough subjects while delivering big laughs. However, some have raised concerns about certain jokes crossing the line between satire and insensitivity, leaving a sour taste for those seeking a more politically correct comedy experience.

In conclusion, "ROSA Republic of South Ah Sh**t" is a wild rollercoaster ride through the unfiltered world of South African comedy. It embraces its cultural identity, boasting an ensemble of talented comedians who aren't afraid to push boundaries and challenge societal norms. With its deadpan wit, raunchy humor, and daring approach to sensitive topics, this film will leave audiences talking, laughing, and perhaps even squirming in their seats. It's a comedy that won't be easily forgotten, even if it manages to spark divisive opinions along the way.

Final Score- [7.5/10]
Reviewed by – Neha Krishna
Follow @Neha25Krishna on Twitter
Publisher at Midgard Times