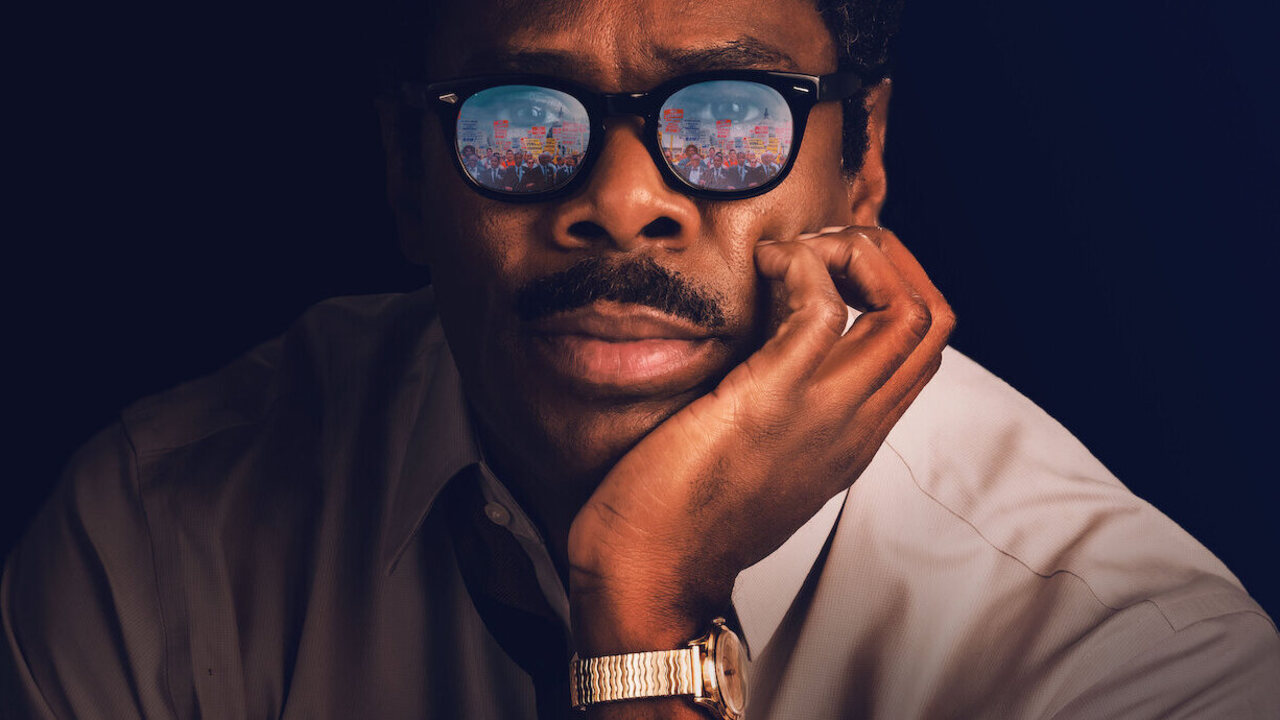 There is so much energy in George C. Wolfe's Rustin that it feels as if the whole screen will explode into small pieces at any moment. Every scene is dynamic, every line as sharp as a knife. You don't watch this film; you run along with it. This sense of urgency is valid given Bayard Rustin (Colman Domingo) wants to organize a peaceful march with 100,000 attendees, and characters like Roy Wilkins (Chris Rock) are not instantly on board with such a mammoth undertaking. In fact, some of the people attempt to destroy the whole plan by putting a spotlight on Bayard's history. Any complications, however, are flattened through the mad rush with which this movie goes towards the finish line.

The so-called villains in Rustin look like your usual, unidimensional bad guys. They have an eminently punchable face, making them quite easy to hate. But before you can get up from your seat with an angry fist, the movie moves on from the hurdle. Hostility is created and resolved through dialogue. So, if a character talks about Bayard's homosexuality on the radio in one scene, his remarks are criticized on television in another scene. Conflicts appear and disappear swiftly. Rustin is like a constantly moving train that only stops here and there briefly. Hence, personal complications come across as minor inconveniences. Actually, everything looks like a minor inconvenience.

This is rather disappointing because we all know that the March on Washington happened in 1963. No matter who threatens Bayard with his past incidents in the film, we know the movie will show us the protest eventually. It would have been better if the film had provided more weight to the dramatic beats. When Tom (Gus Halper) catches Elias (Johnny Ramey) kissing Bayard, we don't experience that shock, that uneasy feeling we get when something illicit comes out in the open. Also, organizing such a large-scale event was surely not easy, yet the movie makes it seem too undemanding. Before you know it, the characters cheerfully start quoting big numbers as if they have completed their tasks effortlessly.

Sweat can merely be noticed in Andrew Mondshein's editing. This is not entirely a bad thing. The movie's speed often generates exciting rhythms, which transports drama into the realm of an action film. The scene where Bayard and the team plan the execution of the protest by making drawings is so electrifying that it looks like something straight out of a heist flick. The characters, though, don't want to steal money. They want to "steal" freedom, and equality. One of the issues with Rustin is that it's unable to sustain its energy consistently. The movie dips in some places, and when that happens, you find yourself exhausted as if you have just come out of a gym. Rustin is a workout for your senses - it's a mental exercise. You might not fully enjoy the film, but it fires up your adrenaline (you feel...something), which is why it will find its admirers in the majority.

Domingo is front and center in Rustin, and his performance is uneven. We admire his efforts instead of embracing them wholeheartedly. His face is too distracting. Domingo acts as if his every expression is precious and deserves a golden trophy. This is the performance of an actor who is aware that he's acting. Still, there are moments - like the last scene where the character picks trash from the ground - where the actor looks relaxed and relieved. He doesn't fuss about pleasing the audience. Rustin could have used this side of Domingo in more quantities.

Final Score- [6.5/10]
Reviewed by - Vikas Yadav
Follow @vikasonorous on Twitter
Publisher at Midgard Times