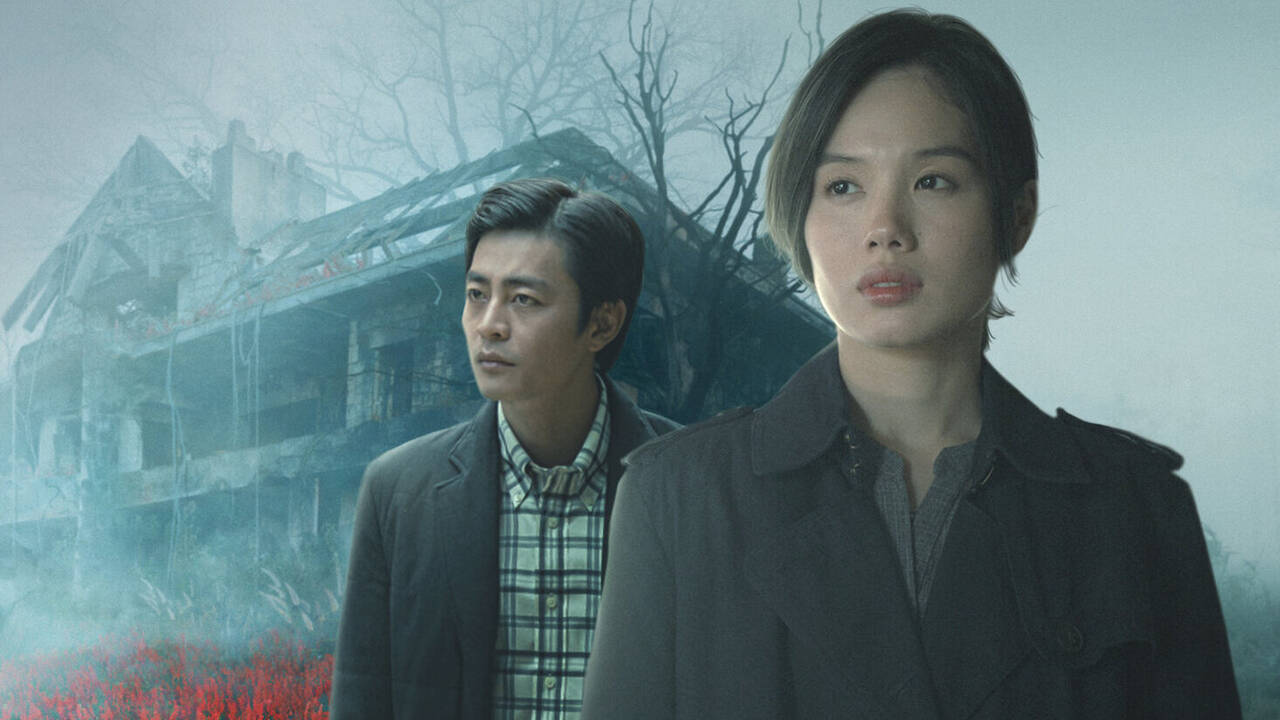 Scarlet Hill opens with a man coming across a floating dead body. The series then goes back in time (a few days earlier), and we see Bao, Luu, and Vy driving toward Scarlet Hill. On their way, they accidentally kill a dog and drag its body to the side. This is just the beginning. As the story unfolds, more dead bodies appear on the surface. No wonder then that all those scarlet-colored flowers exude more menace and less beauty. They seem to be saying that blood would eventually start to flow on the green grounds of Scarlet Hill.

The scent of death hangs from the opening scenes. Apart from that, many other elements develop gradually. One of them has to do with supernatural entities. As soon as Vy and the gang arrive at Scarlet Hill, she notices a mysterious woman walking in the fields. What's more, she hears sounds from a flute and sees visions upon touching certain things, especially those which are found at an abandoned mansion. But one of the interesting aspects of the show is that it raises doubt regarding these unnatural occurrences.

It does so by taking into consideration Vy's mental health condition. Due to past trauma, Vy finds it difficult to have sex with men. When she tries to make love to Luu, she sees some disturbing images. Moreover, because she is undergoing treatment, the doctor has warned her that she could experience side effects like violent tendencies and sleepwalking. So that woman and the music from a flute, the work of a ghost, or side effects? When the first murder is committed, it apparently happens through a shaman. He utters some spells, and a woman wakes up and walks into the forest. So let's say the real culprit is arrested; how can black magic and hex be used as proof of a crime in court?

Scarlet Hill raises intriguing questions about science and the supernatural, which is why you might be disappointed by knowing that it does not do anything meatier with it. That doesn't mean the show overall is a big let-down in any way. It goes into other territories and unearths aspects like love, sex, and infidelity. Turns out love is not enough to sustain a romantic relationship. Sex is equally essential, and no man can survive without fulfilling his carnal needs. Time and again, Luu mentions he doesn't need sex to live with Vy. He just wants her to become healthy. However, it's revealed that he is having an affair with another woman, who turns out to be a resident of Scarlet Hill.

But the show is not exactly a relationship drama either. It's just one of the stops in its journey. The cause for all that blood stems from greed. In fact, greed gives rise to lust, schemes, affairs, and backstabbing. A man, after seeing a dead body, does not call the police. Instead, he looks at the ring and steals it. During a flashback, we see money introducing tension between a family. The whole business of greed arises from a treasure that may or may not exist. But then, it doesn't matter if the treasure actually exists or not. Scarlet Hill uses it as a device to bring out its characters' depravity. They (or at least some of them) quickly convert into savages and destroy another life in search of this fortune. The message may not be original, but Scarlet Hill delivers it in a convincing and engaging manner.

The scary scenes are ordinary in nature. Vy sees a woman, looks away, looks back at the original place, and sees that the woman has disappeared. Also, there are too many false jump scares. Someone creeps behind a character, and when they turn around, they find a face familiar to them. But given what occurs in Scarlet Hill, the false jump scares support its core and do not stand in isolation. The fact that every jump scare ends with a human accentuates that the real enemy here is not a ghost or a spirit but human beings. Scarlet Hill is not perfect (the love story that develops in the final moments is more puzzling than sweet), but it's certainly fascinating.

Final Score- [7/10]
Reviewed by - Vikas Yadav
Follow @vikasonorous on Twitter
Publisher at Midgard Times