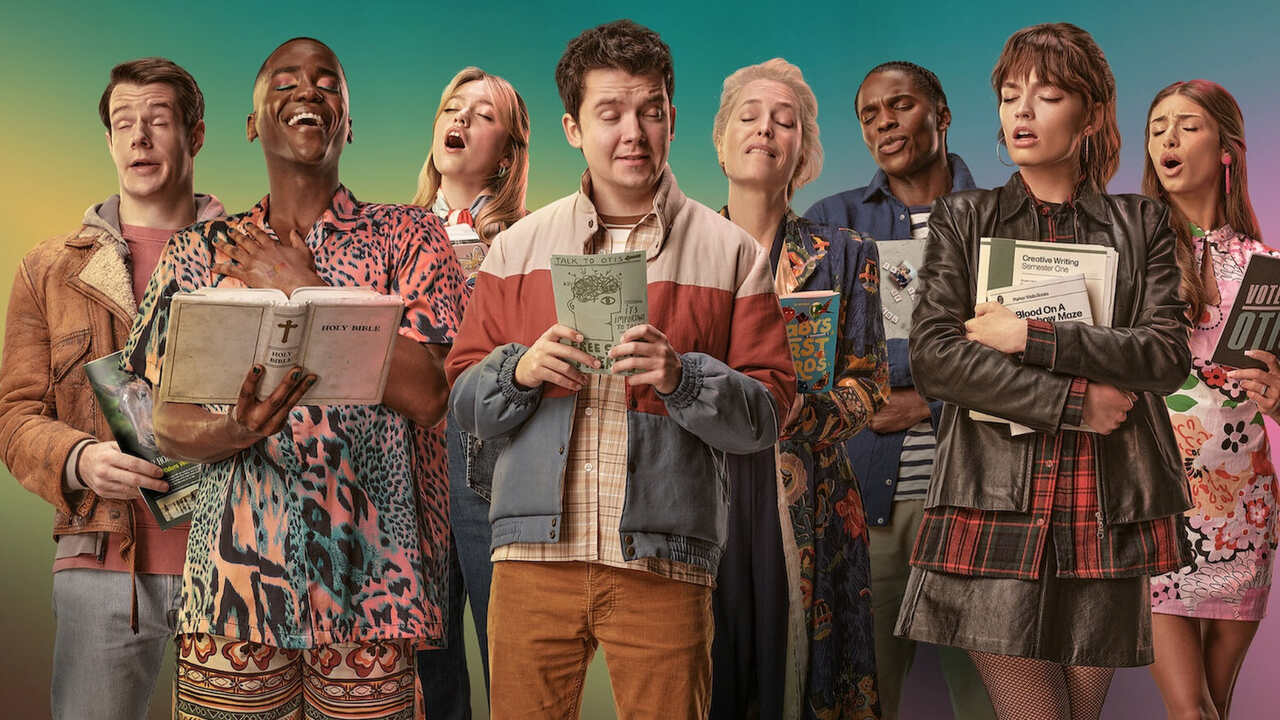 Sex Education Season 4 starts with Maeve and Otis getting into a big misunderstanding as Otis is insecure about sending his nude pictures. His mom, Jean, is not being able to manage her work as she also has to dedicate time to Joy, the new addition to the family.

As the students were sent to various schools, Eric and Otis went to Cavendish College and Maeve got a scholarship. She is now in America. Just like Otis did in Moordale, he also plans on giving free sex therapy in Cavendish, but the road isn't so smooth this time as he's got a rival.

This rivalry makes him get closer to Ruby. In this season, she shares her childhood stories about gaining validation just to blend in. In the same school, Michael is a teacher. The old man is lonely and is taking therapy. The audience will end up pitying him. Watching him sitting in the bathroom eating his lunch and trying his best to reconcile with his son is heartbreaking.

Adam couldn't do anything with confidence just because he thought that his dad wouldn't give him validation. The characters in Sex Education feel so relatable. Adam, the young man still carries the weight of his Dad's opinions even if he's not present there.

Eric is seen making new friends and working towards a better cause. He was dashing in the fourth season of Sex Education. The character is so lively and damn, his dance moves are to die for. Although he might have grown distant from Otis, he found his calling. The spiritual plot inserted in this season was unexpected. I couldn't imagine in my wildest dreams that Sex Education would show its characters taking this path.

The most vibrant character is Eric, played by Ncuti Gatwa. With each passing scene, the actor makes you fall in love with him. I liked how they linked problems with what underlying issues must be and not only the immediate solutions.

In my opinion, Sex Education talks about things in specific ways that make us want to watch it till the end. The show is not only about parents or society accepting these kids, it is also about these kids accepting themselves. We get a chance to see our favorite characters on one of Netflix's most famous series turning into beautiful human beings.

There is something so liberating about watching people grow and setting boundaries. Just like how every character has its journey, it is heartbreaking to see how yet again Maeve and Otis could not end together. From the start of this season, it was understood that these two can not function together. To understand their bonding better, the audience also needs to understand that some people are meant to stay apart if they want to grow in life.

Initially, Sex Education season 4 was only about Cavendish College and the politics in it. Though the college intended to create a positive environment, there was always something or other going on. The scene in which everyone protests to support the handicapped child was amazing.

Can we take a moment to appreciate Maeve, the girl surely has come a long way. From dealing with her drug-addicted mother to writing her initial book, she has one of the best character arcs. I loved the interiors chosen for her character in America. Be it the college building or how they talk about books, it sent Victorian-era vibes. She has also written beautiful lines for Otis at the end making this love story a part of her writing style.

Had this not been the final season, I'd be looking forward to seeing how they all end up. It's been a hell of a ride and Sex Education left with a memorable experience. People like Otis and his mother Jean help in making the lives of so many people easy.

Sex Education Season 4 might not be something you'd like to sit and watch with your family, but it is a show that'll make you open up about things. One of the most important lessons that the show leaves us with is to never suppress our thoughts or feelings as someday they might turn into a greater problem.

The eight episodes of Sex Education Season 4 take you on a journey of self-discovery. Though the series takes its time to reach its main theme, it is worth the wait. In the initial three episodes, things start getting messed up and in the last two, the dust finally settles down. In my opinion, you shouldn't miss out on this show as it includes everything.

Final Score – [8/10]
Reviewed by - Riya Singh
Follow @_riyasinghhh_ on Twitter
Publisher at Midgard Times