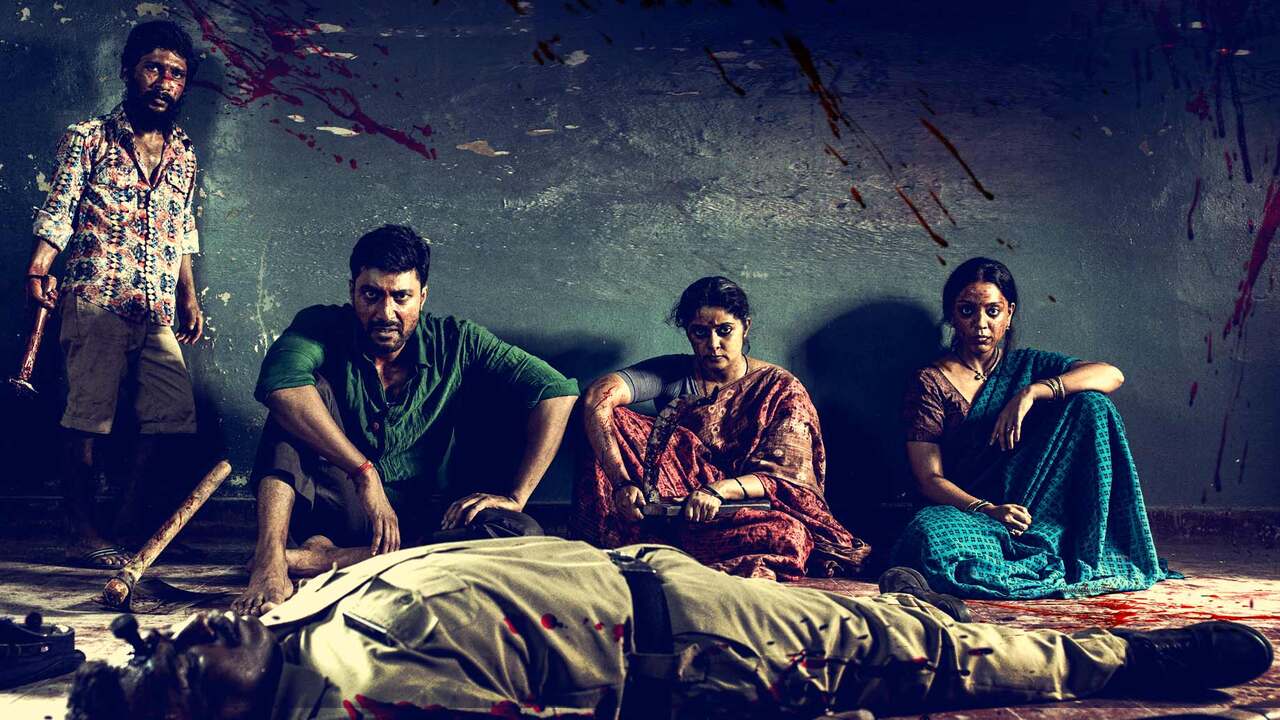 Shaitan starts by showing a minister distributing homes to the poor under a national scheme. Bali hides a gun in the garland and steps on the stage. He came to support Nagi Reddy and as soon as he clears his intentions, all the Police officers shift the point of their guns. This indicated that Baali was stepping up for a good cause which even the Police force was supporting. Shortly, we're shown that Baali is dead and there's a bullet wound in his forehead. His whole life flashed before his eyes before he finally closed them. This story is his story and why he became the most wanted person in the state.

The series is raw and if there were no bold scenes, it would have been fit for a family entertainment night. In 1995, Baali's mother is seen having sexual intercourse with a police officer in her home while the kids were sitting on the bench outside the home. These three kids could hear everything that was happening inside. It was very weird to watch this scene because I wasn't able to digest the fact that a mother would allow her kids to be in such proximity that acts were being done inside. They were able to hear every moan. As Savithri (Baali's mom) was aging, Officer Yakub wanted her daughter to be ready for him next time. Watching how he expected even the daughter to warm his bed was saddening.

There's a line in the series that the women who sell their bodies are called prostitutes, but what should we call the men who go to them because they should also be called something? This line hits hard and makes us think about why society only defames the prostitutes and not the men visiting them.

Baali wasn't happy with what his mother was doing as he didn't understand that she had no other means to bring food to their table. He promises his mother that he'll be responsible and earn money for the family. As he's the son of a prostitute, nobody was willing to give him a job. The shopkeepers even went to the extent of saying that they have a job for his mother but not him. All these scenes reflect the thinking of society and how prostitutes and their family is treated.

Baali's first kill was Officer Yakub as he dared to lay his hands on his sister. The skills he learned at the butcher shop came in handy, and he chopped off Yakub's head like that of a chicken. This was the start of his journey. People are often seen taking advantage of their families to earn money, he started doing odd jobs and got referred to as a Naxalite.

In the beginning, Shaitan seemed to be inspired by Asur. Apart from matching titles and the madness in the main character, nothing else is similar. Shaitan is a good series, and the cast has done an excellent job. With nine episodes having an average duration of 25 minutes each, the show grabbed the attention of the audience from the start itself. This Telugu series knew what it was doing and with such a plot, they made a good series. It is rated A and would make a good series to watch this weekend. I am stunned by the good projects the South Indian industry is bringing forward and hope that Bollywood can learn a lesson or two. We see how circumstances force a man into becoming something he didn't even consider.

There is no chance that we would get another season of Shaitan because it was a dead end. The main character is shown dead in the first episode itself so, we know how things will end. The series is about Baali's journey of how he became Shaitan i.e., a devil. The audience is shown the love of a mother and how she was compelled to become a prostitute to provide meals for her three children.

Final Score – [7/10]
Reviewed by - Riya Singh
Follow @_riyasinghhh_ on Twitter
Publisher at Midgard Times