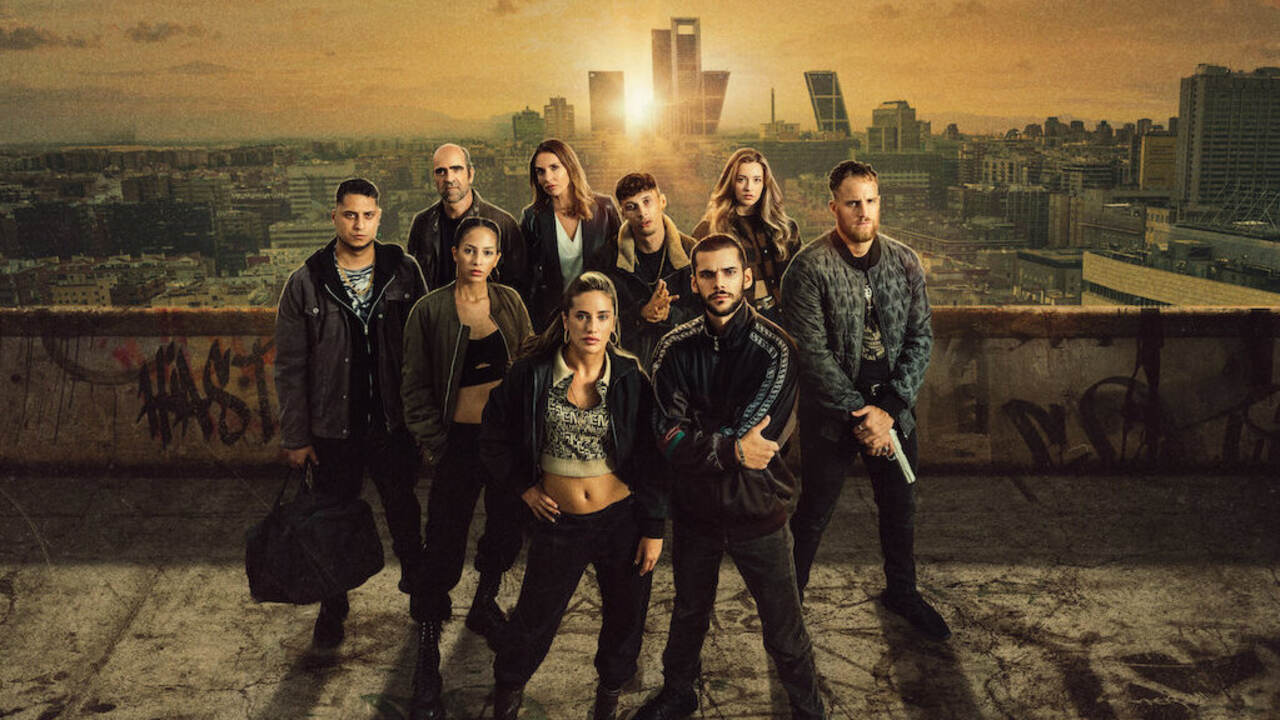 Sky High begins by telling the audience that the series is inspired by real events. The audience is taken to Madrid where Police van sirens can be heard and men are seen stealing a truck. They then progress further to a godown where ham worth millions is stored. They are escaping the Police and can be seen throwing hams at them so as to delay the progression. The boss of these robberies is Rogelio whose sole business is to steal things and then sell them directly. The reason why this man isn't caught by the Police is that he never stores the loot things. As soon as the stuff is stolen, it is directly sent to the buyers.

The amount and scale of robberies Rogelio's gang is doing are unbelievable which makes you think that is Police this dumb. It is either they're dumb or Rogelio's getting help from the inside. Rogelio's daughter Sole recently lost her husband Ángel, and she had a son with him, Pablo. The woman wants to make things work as she has to earn money.

Sole is seen walking on the steps of her father and runs a similar business alongside owning a clothing store. The woman seems strong, and the dedication she has for her son makes her do things that she didn't do before the death of her husband. This is what we're made to think but, I feel like she did it because the apple doesn't fall far from the tree.

The Police are after this daughter-father duo and they even employed Fernan to infiltrate the gang. The man soon comes into a romantic relationship with Sole and we know what'll happen next. He falls in love with the woman and ruins the set-up of Police officials.

The next important character is Mercedes. She's a lawyer and a snitch who pretends to help Sole when she had ulterior motives which soon get busted in the second episode itself. I felt like the writer included many incomplete subplots in the story and it could have been much better had every character been given its due space and time. All the characters are seen hiding something and hiding behind a mask. Police are involved, there is an international gang, and then there is the father-daughter duo who has a lot to face. You can not consider anyone loyal in this series.

I think the Sky High series is an average watch as it fails to hold the attention of the audience. The plot looks promising initially, but as we progress further in the story, everything seems to be like it is seen before. Sole is portrayed to be a strong contender against her father and looks like a promising character still, it didn't have a charm. The shooting has been done on a wide scale including helicopter shots, they've included many cars and different cities.

The crime thriller does its best and shows us a world where you can not trust anyone, just like every other crime series does. The only thing that the series lacks is strong and bold criminals. Sole is doing robberies, deceiving her father, and whatnot, but it seemed from her body language that she didn't have the capability to do all that. The casting can be blamed for this as characters like these needed more appropriate choices. Things didn't seem to fit and it got a bit absurd at times.

The show takes its time in setting up the plot, and you want to see what these characters can do, however, I was disappointed as expectations are a bad thing. Overall, it is an average show which fails to stand apart from the ones of the same genre. I even wanted to skip watching this series, but there was an inquisition to see what'll happen and things can get even worse.

Final Score – [6.5/10]
Reviewed by - Riya Singh
Follow @_riyasinghhh_ on Twitter
Publisher at Midgard Times