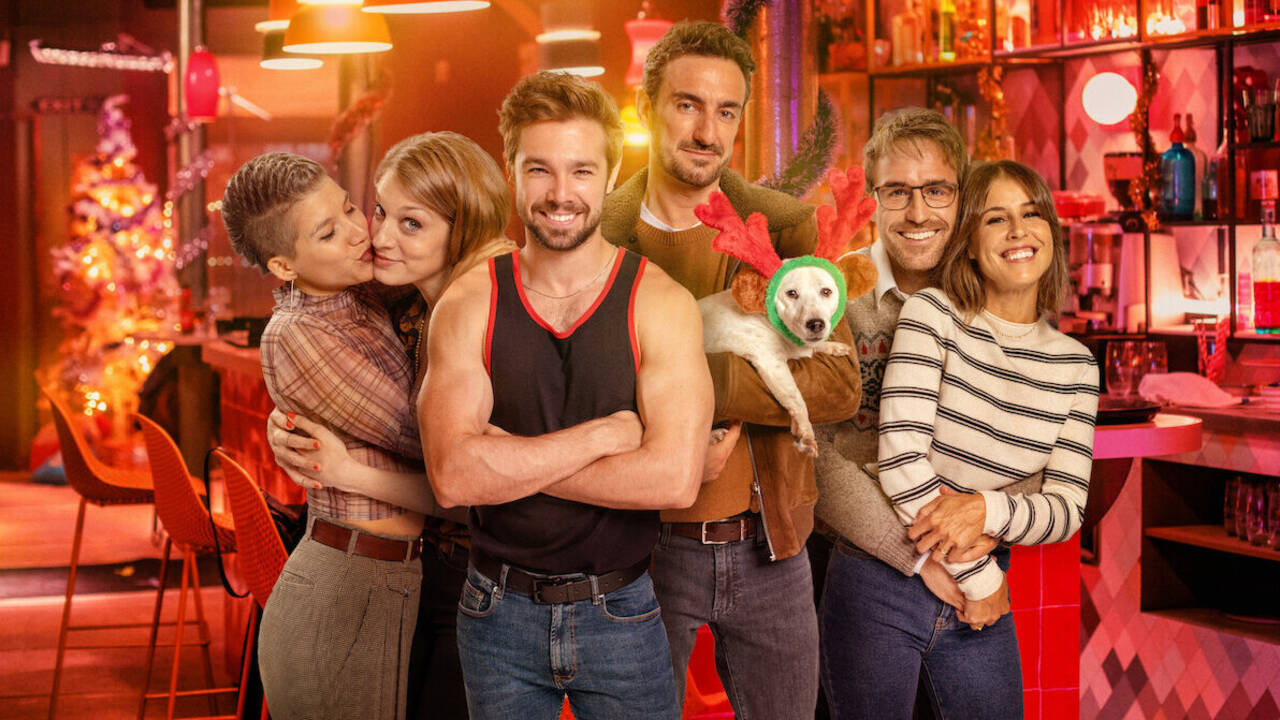 If October is reserved for a plethora of horror shows and films, December comes bearing rom-coms set during the holiday season, resuscitating old tropes with love and Christmas cheer. Boy meets girl. Everyone knows they love each other. They, too, have the same sentiment but hesitate to reveal their feelings to each other. The plot generates complications, like inserting different suitors. Boy and girl hook up with other people, though deep down, they are unable to forget each other. After going around in circles for the entire runtime, the two lovers finally unite and kiss under the starry night.

Every series and film follows this template in one way or another, and the eight-episode Spanish series, Smiley, is not so different. Instead of boy meets girl, boy meets boy, and the rest of the routine takes place as usual. Àlex (Carlos Cuevas), a bartender, is charming, has well-built muscles, and is the kind of hot guy whom nerdy people like Bruno (Miki Esparbé), an architect, avoid because they think they don't have a chance to go on a date with them. And there is some incompatibility between them. Bruno is a movie buff whose taste ranges from Italian neorealism to Howard Hawks. He is a fan of rom-coms and can tell you the name of the movie as well as its director if you simply quote a dialogue. He laughs at Àlex when the latter mentions Frozen.

Àlex and Bruno's initial face-to-face conversation is packed with insults and magnetism. The two of them make it clear that they cannot bear to stand each other. Yet, they wildly make out and wake up together in one bed. Notice how Àlex lovingly looks at Bruno while the latter is asleep beside him. Or how Bruno draws a smiley face in Àlex's bathroom mirror. That smiley face has a meaning, which I will leave for you to find out. My intention is to not avoid spoilers (storywise, there are not many surprises) but to allow you to have a first-hand experience of the account as it's delivered by Àlex swiftly and with fervor. One of the pleasures of Smiley is the energetic atmosphere conjured during Àlex and Bruno's heated and flirty exchanges. When the two of them argue or insult one another, the screen fires up with passion, and the kiss that follows is charged with intense emotion and eroticism.

Apart from Àlex and Bruno, there are other characters with their own romances. There is Patri (Giannina Fruttero) and Vero (Meritxell Calvo), Àlex's friend and colleague at the bar. The latter is offered to move to Ibiza for a job but has hidden this news from her girlfriend. Núria (Ruth Llopis) and Albert (Eduardo Lloveras) are married and have three children. Albert works with Bruno in the same company and feels bored with his job. He wants to "find himself," and his relationship with his wife is sailing on rough waters. Àlex's mother finds someone from her past, and the same man gets attracted to Javi (Pepón Nieto), Àlex and Vero's friend and co-worker/performer.

Expectedly, the aforementioned relationships get sorted by the end, though not all of them receive the happily-ever-after treatment. Some couples end up staying with one another, while some break up, recognizing that they do not have real love between them. But it's better to understand your problems instead of rotting in tedium. Such kind of diagnosis followed by repairment, no matter how painful it might be, is also nothing short of a happy ending.

Observe how the various threads are resolved. Núria and Albert find their happiness on New Year's Eve. Smiley solves this hetero couple's issue in the most clichéd manner. With Patri and Vero, and Àlex and Bruno, the series takes a slightly different route. The former couple is freed from a loveless hole, while the latter's airport scene is tweaked, though it's still predictable. There are moments where characters refer to someone as a cliché or talk about breaking out of a cliché. Smiley does not shatter any rules and is content with retreading the familiar grounds. However, it's also made with a lot of love and by someone who has an affection for rom-coms. The actors are good-looking and perform with conviction. Ultimately, you don't mind spending a few hours of your time with them.

Final Score- [7/10]
Reviewed by - Vikas Yadav
Follow @vikasonorous on Twitter
Publisher at Midgard Times