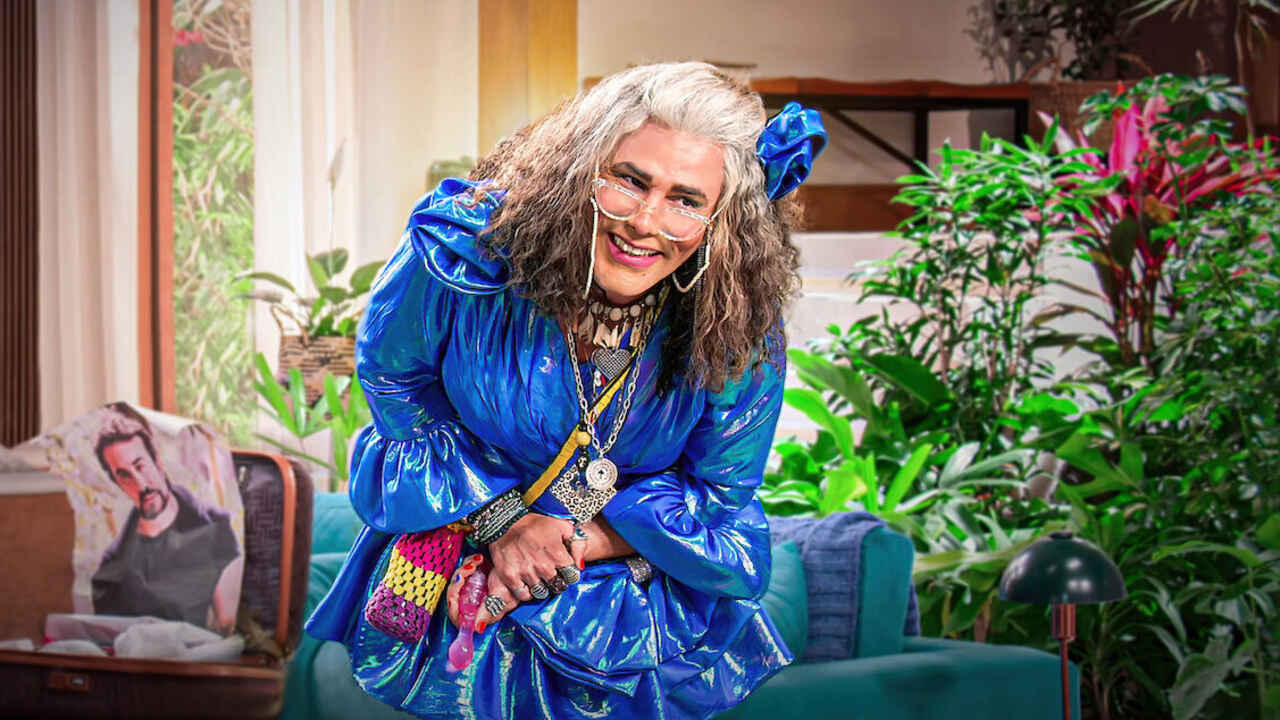 Smother in Law season 1 ended with Isadir going to jail as the limo they were traveling in had drugs. She spent seven months in jail, and her entry scene in the first episode has a Latin pop song in the background which completely matches the vibe of the character. Wearing a reddish-orange jail uniform, she quickly changes into her signature leopard print clothes. We are told what Isadir learned in jail and it included all crimes like getting credit cards cloned and kidnapping people.

As at the end of Season 1, it was revealed that Alice was pregnant, Isadir jumps on the chance to plan a gender reveal party for her grandchild. Well, we know when Isadir is involved, nothing goes as planned which often includes lots of booze and gay parties. Every episode has its plot which involves Isadir ruining things in attempts to do good deeds like becoming a sales coach and ending up injuring an old lady.

Fatima, Isadir's best friend is a traitor, and despite knowing the things she does, Isadir remains a good friend to her. We get to see two pregnant women in the same house and on top of that, we have Isadir. Imagine the levels of hormones that would be present in that household. Just like the first season, popular series like Squid Game, Invisible City, Queen's Gambit, and others have been mentioned. Also, the manner Isadir climbs up the stairs, facing sideways, using one leg at a time hasn't changed. It was also funny how the writers included in the plot Jonas dating Kelly who is his father's ex-girlfriend.

Ten episodes have a duration of 25 minutes each. These 250 minutes proved that the actors and the writers of Smother-in-Law were successful in capturing the attention of the audience. The best thing about Smother In Law is the bloopers that are included at the end of each episode. Through these, we can see how the cast also enjoyed playing their respective roles. There was a studio audience also present at the time of the filming of the series and I'm sure just like us they also had a good time.

The amount of energy put in by the cast is wonderful. I'd like to mention Rodrigo Sant'anna as he pulled the role of Isadir so smoothly in both seasons. I like his walk, it's not a normal walk, he'll bet a bit forward with his face in front of his chest, and run like he's having paralysis of his thighs. He'd be dragging his legs, and with that constant gaze, he's given a unique touch to the role of Isadir. Playing the part of a woman in the series, his character is a troublemaker.

The character of Isadir is hard to forget. The woman brings life to the show. If there's anything wrong, just consider it done by Isadir. You'll laugh at her jokes. There's a line in the series where Navalha says that "She'll cut my dick" and Isadir replies "I didn't even use it". Lines like these make you appreciate the wittiness of the writers. The script is bang-on, and for those who like sitcoms, this should be on your watch list.

Both the seasons had some things in common, like how in the end, both Alice and Carlos try to send Isadir back to her home (for which she always finds a good excuse), and how they emphasize the term "family" (like she's not a part of it). Isadir is chaotic but has a good side to her, and the audience will find it hard to forget this series.

The sets used in the series are placed in front of the studio audience and the laughter you hear is real. I liked the idea of bloopers, the wittiness, and how despite her age in the series Isadir brings magic to the screen. One thing that this woman clearly states is that it's unnecessary that you'll not be horny in your old age or this certain age brings specific limitations to the thing one can do.

Final Score – [7.5/10]
Reviewed by - Riya Singh
Follow @_riyasinghhh_ on Twitter
Publisher at Midgard Times