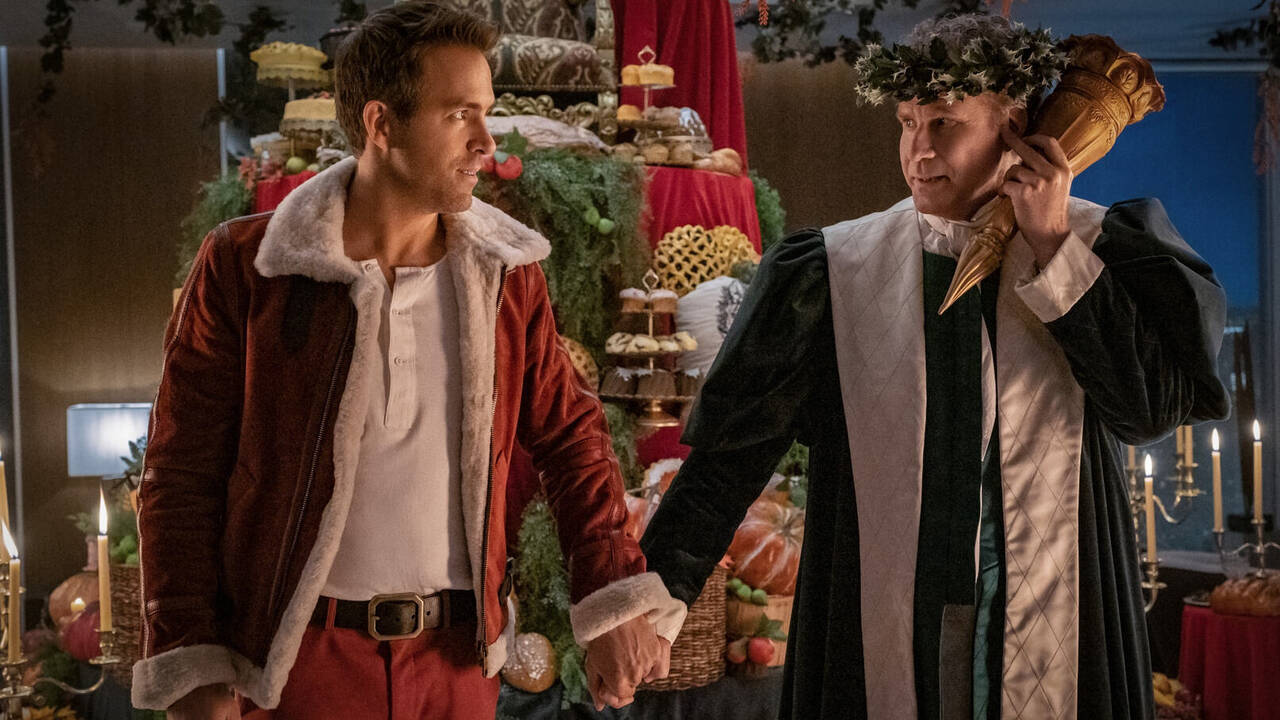 Spirited is Apple Tv's new Christmas movie starring Will Ferrell as Ghost of Christmas Present and Ryan Reynolds as Clint Briggs. It's a modern musical take on Charles Dickens's classic, A Christmas Carol but has been reinvented as a modern-day musical. While the theme of the movie is quite clear, the musical numbers add a contemporary feeling. The performances during the musical numbers are fantastic, from the leads to the background artists, the cast gives it their all. Combining the great musical theatre writers with excellent choreography, both elevates the timeless tale as the haunted Clint turns the tables on his ghosts of Christmas past, present, and yet-to-be. It's an endearing movie with a great twist.

Any musical theatre fan will instantly recognize the works of Benj Pasek and Justin Paul in terms of musical numbers. Following their success of La La Land and Dear Evan Hansen, Pasek and Paul deliver some great musical numbers that will have you laughing such as Good Afternoon but also emotional hits such as Unredeemable. Unfortunately, while the musical numbers hit perfectly almost every time, some of the comedy aspects of the movie fall short., which isn't expected given the dream pair-up of Reynolds and Ferrell.

The overriding theme of Spirited is how one good thing can cause a ripple effect and turn the hauntings of some of the most awful of people, into an actual business. It was an interesting concept, especially given that the ghosts were once human and when they retire, they have the chance to spend a life as a mortal. The Ghost of Christmas Present (Will Ferrell) has his own doubts. He spends the first part of the movie doubting if people can truly change and then Clint Briggs (Ryan Reynolds), a man who profits off internet chaos, gives him the chance to redeem an unredeemable. It highlights Present's own past and how it had impacted his own choices, something Clint actively exploits for his own benefit and the cost of that.

While the movie was enjoyable overall, the first part of the movie seemed like it was having a little bit of an identity crisis. Spirited struggles to find its footing, with jokes falling flat on multiple occasions, which is surprising given Reynold's previous work. While the musical numbers do save the movie in both comedic and dramatic terms, one of the annoying things is the interruptions. Often, it feels like the movie is trying to be too meta. Yes, it was funny the first time but when it keeps happening, it disrupts the pacing of the movie. The first half of Spirited runs a bit too long, between struggling to find its footing, it feels as if the writers had struggled with finding that balance between comedy and drama.

Once Spirited moves into its second part, more so after the brilliant number of Good Afternoons, it really picks up its pace. Instead of relying on ill-timed and sometimes dragged-out jokes, it finally finds its balance. Will Ferrell is endearing as Present, battling between his own self-doubts of his past and his dreams. Nothing throws his world more off its axis than Kimberly (Octavia Spencer) and her desire to be good in a company that depends on deplorable tactics. Between Will Ferrell and Octavia Spencer, they both steal the show until Reynolds is given something of more substance, he is outstanding. Given more than just one-liners that were meant to be comical, Reynolds delivers almost flawlessly in the second part of the movie. While it shouldn't take around 1 hour and 24 minutes for the film to start becoming truly enjoyable, the latter part does save it and makes it an enjoyable watch.

Overall, Spirited will make an enjoyable watch for a Christmas movie, it does take its time to get there. The message of the movie is clear, just because someone is lost doesn't make them a lost cause and it takes more than one moment to change someone for the better. Will Ferrell and Ryan Reynolds are a great pair up, but what lets them down is the writing of the first part of the movie. It's still funny, Christmas treat once you get to the second half of the movie.

Apple TV+ Original movie, "Spirited" will release on November 18, 2022, exclusively on Apple TV+.

Final Score- [6/10]
Reviewed by - Leigh Doyle