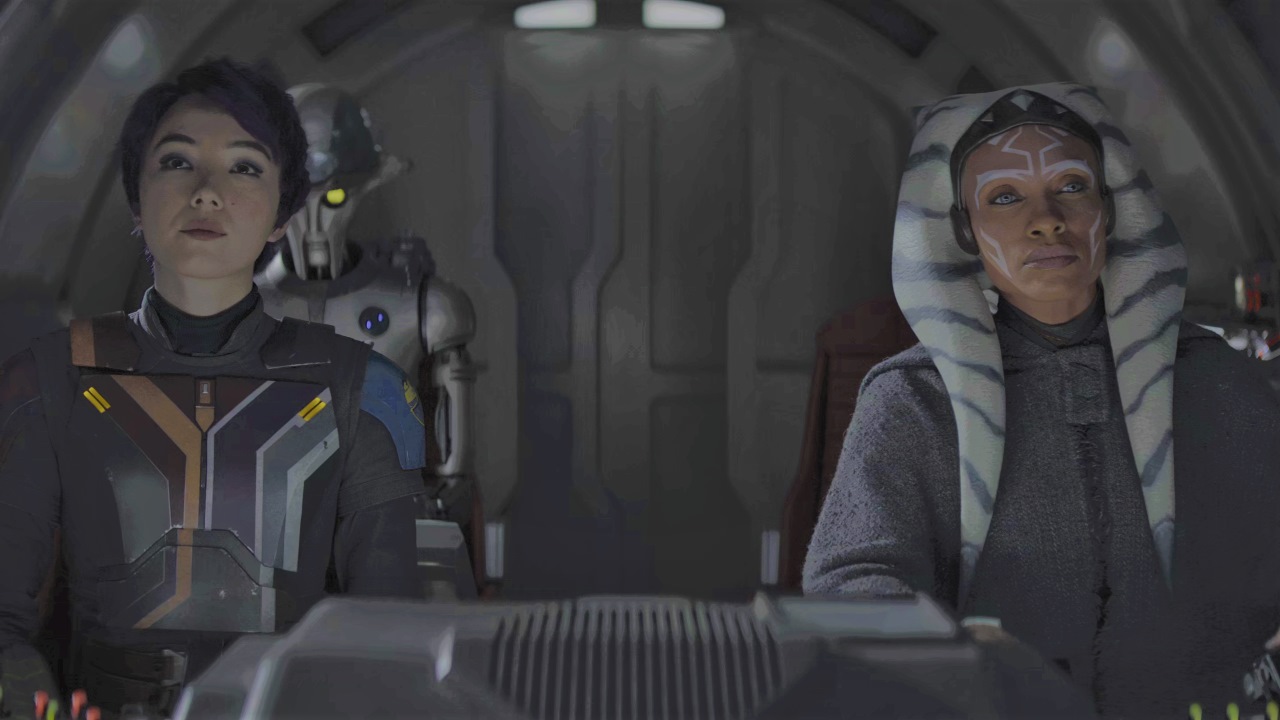 The second episode of Ahsoka left us with an interesting note when Sabine Wren showed up in a Mandalore dress with a helmet and Ahsoka Tano took her under her wing as Padwan. For those who are not aware, A Padwan is a Jedi in Training or Jedi Apprentice in Basic, referred to as a Force-sensitive teenager who had begun one-on-one instruction with a Jedi Knight or Master outside the Jedi academy.

In Episode 2, Ahsoka and Hera went to Corellia to investigate Morgan's shipyard, but they faced trouble from the ex-Imperials who worked there and were still loyal to the Republic. Meanwhile, they get attacked by Morgan's henchmen, who are looking for the same thing as Ahsoka. Ahsoka fought Marrok, while Hera and Chopper chased a ship that had the Hyperdrive that could power the Eye of Sion, however, they managed to get away with it, but not before Hera placed a tracker on their ship.

The series is said to have eight episodes and after this blistering start, it will surely slow down a bit, but up to what extent, I wonder. Like every other Star Wars or Marvel content, there are a lot of rumors floating on how the story will progress and how many fan-favorite characters will show up in this series. As I said, we still have six more weeks to go before we have all those surprises, but for now, we can report the rumors and leaks floating for the third episode which is less than three days away.

Even though with a very exciting start in the first two episodes, I am not seeing the same buzz about the third episode, but I could be wrong. The reason is the rumors and leaks that are saying that the third episode may not be as exciting as the previous episode or the upcoming ones. However, there are some important events that are rumored to take place. In episode 3, Mon Mothma is likely to make an appearance. Genevieve O'Reilly reprises her role as Mon, who was last seen in the Andor Season 1. Timeline-wise, Ahsoka is set after the events of Andor. Jacen Syndulla is also rumored for the third episode. Born during the Galactic Civil War, Jacen Syndulla is the son of General Hera Syndulla and the late Jedi Knight Kanan Jarrus. There will be a few more things like Sabine training with Ahsoka as they build up for their next encounter with Morgan and the team.

Even with a mixed critics reaction, Ahsoka has started on a high, but for an 8-episode series, it is expected that it will get a bit slow in the middle like every other show. I hope that doesn't make fans move away from the show as similar things happened with Andor that was a bit slow in the middle, but in the end, it turned out to be gold.

Ahsoka is a Star Wars spinoff series set within the timeline of The Mandalorian. Ahsoka Tano was a female Togruta who served as Anakin Skywalker's Padawan learner and a Clone Wars hero. Rosario Dawson is leading the series as Ahsoka Tano after appearing in The Mandalorian and The Book of Boba Fett, previously. The limited series is developed by Jon Favreau and Dave Filoni, who wrote the series and also directed a few episodes including the first one.

The third episode is directed by Steph Green (episode 2 director) and is rumored to be shorter than the second episode which was 42 minutes including the credits. Ahsoka Episode 3 will be released on Tuesday, August 29 at 9 PM EST on Disney+, worldwide. In India, it premieres at 6:30 AM IST on Wednesday.