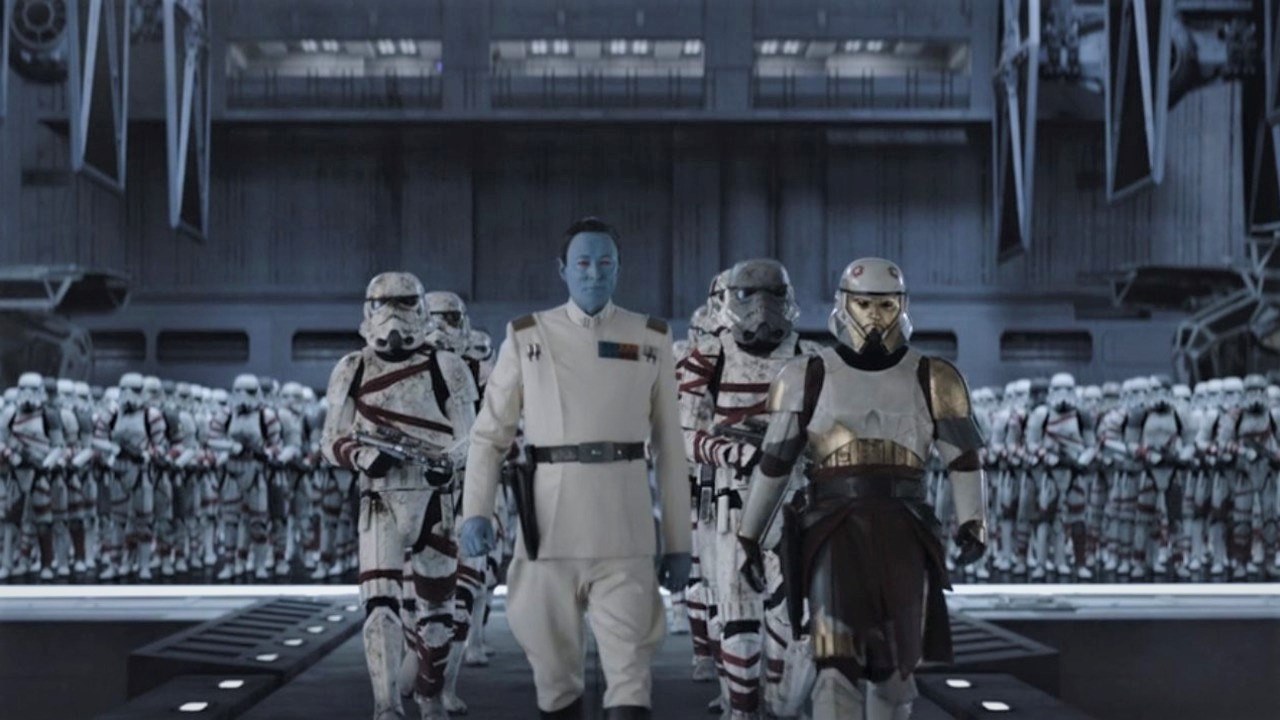 Star Wars: Ahsoka is a live-action Disney+ series that follows the titular character, a former Jedi Knight who survived the Clone Wars and the rise of the Galactic Empire. The series is set five years after the events of Return of the Jedi and follows Ahsoka as she investigates a new threat to the galaxy.

Ahsoka's quest to find Thrawn leads her to Peridea, a planet where the Purgils go to die. Sabine has been captured by a pair of bounty hunters working for Thrawn. Sabine has a deal with them.

Thrawn, meanwhile, is not interested in Sabine. He sees her as a pawn in his larger game. He offers her a chance to escape, along with some supplies, weapons, a mount, and a clue to Ezra's location. He also sends the bounty hunters after her, hoping to eliminate both her and Ezra once and for all.

Sabine takes the bait and sets out to find Ezra, who has been living on Peridea for a long time. He has befriended a group of Notis, cute creatures who wear the Rebel symbol on their fur. Sabine follows the Notis to Ezra's hideout, where they have an emotional reunion. Sabine is reluctant to tell Ezra the truth about her arrival, fearing that he might be in danger.

The episode ends with a cliffhanger: Thrawn and his ally, Morgan, learn that Ahsoka is still alive and heading their way. Thrawn orders Morgan to research everything about Ahsoka: her past, her origins, her master, and her powers. He also expresses his distrust of the bounty hunters, who are former Jedi themselves. He knows that Ahsoka will not be easy to defeat, and he prepares for the final confrontation.

Star Wars: Ahsoka Episode 6 is a thrilling episode that sets up a satisfying season finale. The episode is packed with action, suspense, and emotional moments. The visuals in the episode are stunning. Peridia is a beautiful but dangerous planet, and the showrunners do a great job of capturing its atmosphere. The action sequences are also well-choreographed and exciting.

I was very impressed with Star Wars: Ahsoka Episode 6. It is a thrilling and satisfying episode that sets up a promising season finale. The episode has everything that I love about Star Wars: great visuals, epic action, and emotional moments.

I am particularly impressed with the way the episode handles the reunion between Sabine and Ezra. It is a complex and emotional moment, and the showrunners do a great job of portraying it.

I'm excited to see how the reunion between Sabine and Ezra plays out in the remaining episodes of the season. It's a complex and emotional relationship, and I'm sure that the showrunners will do it justice. Ezra has been through a lot since the events of Star Wars Rebels, and I'm interested to see how he has changed and grown. I'm also curious to see how Ahsoka will react to seeing him again after so long, assuming the fact that she will see him.

I would also like to add that I appreciate the way the episode explores the themes of trust and betrayal. Sabine is forced to put her trust in Thrawn, even though she knows that he is a dangerous enemy. Baylan is also struggling with his inner conflict, as he is torn between his loyalty to Thrawn and his own interests. I'm interested to see how these themes will continue to be explored in the remaining episodes of the season.

Finally, after half a dozen episodes, Sabine is going through some character development in this episode. Her interactions with the 'cute' Noti creatures won my heart. She is also learning to rely on her own strength and abilities. This is a positive development for Sabine, and I'm excited to see how she continues to grow as a character in the remaining episodes of the season.

The episode is a testament to the vision and creativity of Dave Filoni, who has been expanding and enriching the Star Wars universe with his storytelling. And this is my favorite episode of Ahsoka, though maybe the bar I set for my expectations is too low.

Final Score - [8/10]