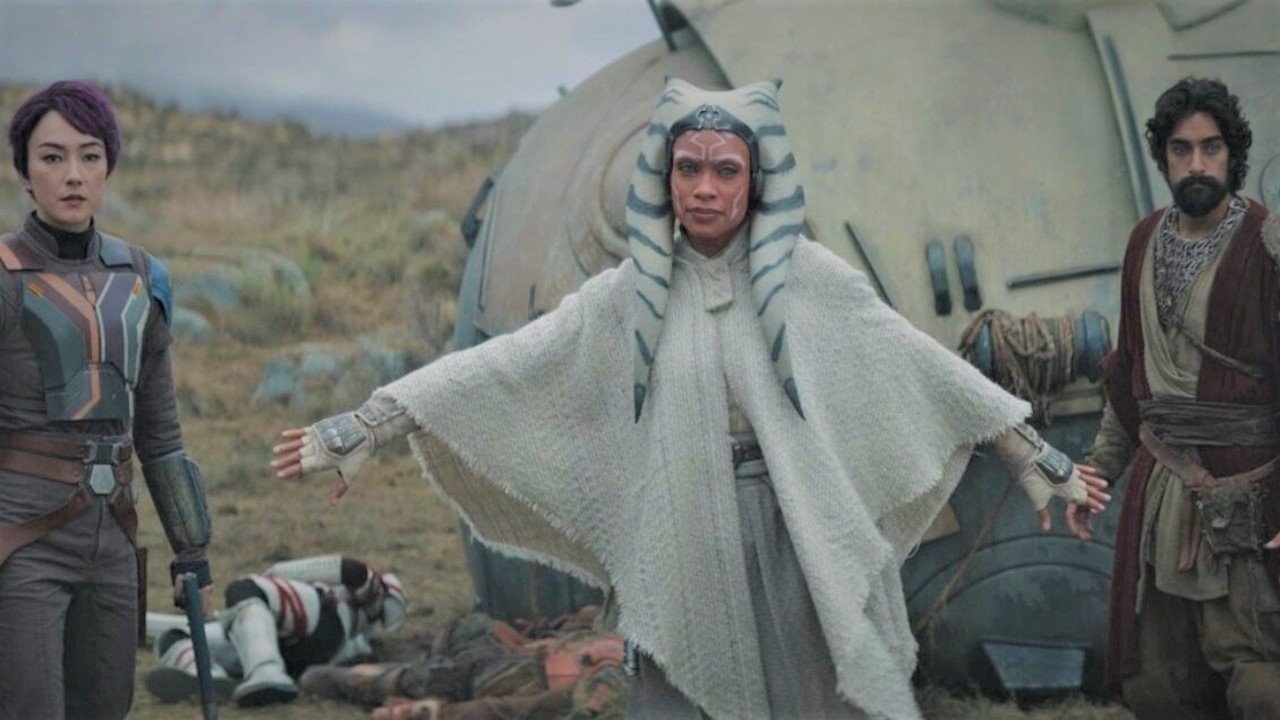 Ahsoka is a Star Wars live-action series that follows the adventures of Ahsoka Tano, a former Jedi who survived the Clone Wars and the rise of the Empire. The series is set five years after the events of Return of the Jedi and explores Ahsoka's quest to find her lost friend Ezra Bridger, who disappeared with the Imperial warlord Thrawn in the finale of Star Wars Rebels. Along the way, Ahsoka encounters new allies and enemies, as well as some familiar faces from the Star Wars saga.

The episode starts with Hera facing a trial for her unauthorized missions, but C-3PO comes to her rescue with a data transcript from Leia that clears her name. Meanwhile, she continues her quest to find Ezra Bridger and Sabine Wren with the help of Huyang and the Purrgil. They encounter a minefield set by Thrawn, who is using the Nightsisters to track Ahsoka through the Force.

Ezra and Sabine are traveling with the Noti, a peaceful alien race when they are attacked by Baylan Skoll, Shin Hati, and their bandits. Ezra reveals that he doesn't need a lightsaber or a blaster, only the Force. Sabine tells him that Ahsoka is her master, but she thinks she is dead.

Ahsoka and Huyang reach the planet where Ezra and Sabine are, but they are met by Thrawn's Night Troopers and Baylan Skoll, who challenges Ahsoka to a lightsaber duel. Ahsoka escapes on a Howler, a flying creature, and joins Ezra and Sabine in the fight against the bandits and Shin Hati. They manage to repel the attackers, but Thrawn is ready to leave with his cargo, which could leave them stranded.

Ahsoka reunites with Ezra and Sabine and hugs them. Huyang picks them up and they prepare for the final showdown with Thrawn in the next episode of Ahsoka. One of the episode's biggest strengths is its character development. Ahsoka, Ezra, and Sabine have all grown and matured since the events of the Star Wars Rebels, and it is heartwarming to see their relationships with each other evolve. The episode also does a good job of developing the character of Thrawn, showing his cunning and ruthlessness.

The episode is a thrilling ride that balances action and emotion, as well as fan service and plot development. The opening sequence of Ahsoka navigating through a minefield is a stunning display of her piloting skills and her connection to the Force. The training scenes with Anakin are touching and nostalgic, as they show how much Ahsoka has grown since their days as master and apprentice.

I also like how the episode builds tension for the upcoming confrontation with Thrawn. It is clear that Thrawn is a formidable opponent, and Ahsoka and her friends will need all of their skills and resources to defeat him. Thrawn is also a very intelligent and strategic leader, and he is always one step ahead of his enemies.

The cameo of C-3PO is a delightful surprise that adds some humor and warmth to the otherwise tense situation. The episode also reveals some important details about Thrawn's motives and methods, as well as his connection to Anakin and Darth Vader.

The episode also features some great action sequences. The lightsaber duel between Ahsoka and Baylan Skoll is particularly well-choreographed and exciting to watch. The episode also features some great spaceship battles and ground combat scenes.

One thing that I particularly enjoyed about the episode was the way it handled the reunion between Ahsoka, Ezra, and Sabine. The three characters have been through a lot since they were last together, and it was heartwarming to see them finally reunited. The episode also does a good job of showing how their relationships with each other have evolved over time.

Despite these flaws, this penultimate episode is my favorite episode till now. I do feel a little sad as the series ends next week, I would've liked more episodes and runtime.

Final Score - [7.5/10]